How Abu Jani and Sandeep Khosla stay together
Sandeep Khosla talks about how the designer duo gets past disagreements and also about their favourite star looks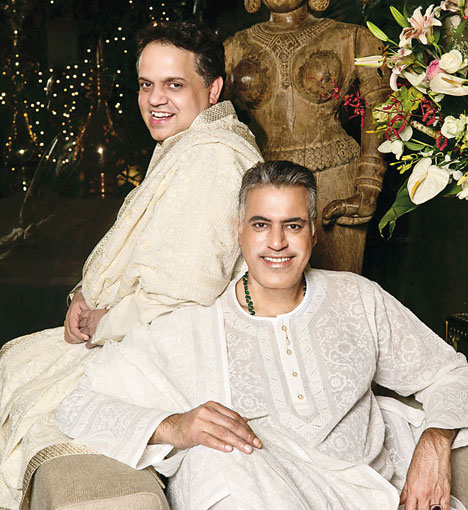 Sandeep Khosla (left) and Abu Jani.
Courtesy: India Fantastique Fashion. All pictures copyright: Abu Jani Sandeep Khosla
---
Published 15.09.18, 06:30 PM
|
---
Your label has stood the test of time for almost 30 years. Tell us how it all began...
Thirty-two years ago, on August 15, the two of us met! Abu used to work as a ghost designer for a lot of bored housewives and I had worked with an export house in Delhi previously for two years. I had also run a boutique of my own called Limelight. That's how we started in this industry.
Our parents gave us Rs 50,000 each when we started. Our parents were wealthy when we were born, but by the time we came into our teens, unfortunately they had lost everything. So I went to Doon School, but the moment I came out of school, it hit me like a ton of bricks that this is the real world. Abu's family was in the same situation. So we both started working very young. I did my first internship at age 17. My parents live in Kapurthala in Punjab even today and they were very cool with me and my sister.
We did not go to any design school because there was nothing 32 years ago — you had to be very very rich to go abroad to study design because in India there was nothing. And we both believed you did not need to study fashion, you could hone your skills with experience.
Abu sketches like a dream. That's how embroideries also happened to us, because every embroidery pattern he used to draw himself. Even today, the master samples are made with both of us sitting on something and then Abu drawing the first draft himself… the first khaka, as you call it.
The two of us came together and launched a brand called Matahari, with someone else. From there we started our own brand, Jashn. We met everybody in our lives through clothes… whether it's Jaya Bachchan or Dimple Kapadia. When we launched Matahari, the first person to walk through the door was Dimple Kapadia.
Abu had worked with her in the past, designing some clothes for her, and that's how she came to us. Then Jaya came through, then Parmeshwar Godrej came through. Within two or three years, it just took off. We were like a breath of fresh air, maybe because there was something original in our design. We were called 'the boys' then… we are still called the boys. (Laughs)
Our first brand Jashn was almost 30 years ago, in 1989 or 1990. In 1990, we switched to Abu Jani Sandeep Khosla.
You're among the first batch of fashion designers from India. How have you adapted with the changing times and design sensibilities?
Whenever you see a collection of ours or a show of ours, we are telling seven to eight stories in each. Also, we are impatient and we are constantly trying to outdo what we have done.
When we had started, it was about reinvention. Abu and I had very clear goals in the beginning of our lives — I wanted to be famous (laughs) and we had to create something very original and at the same time revive Indian craft to its old glory. When we revived chikankari and made it in chiffons and pure fabrics, it was an impossible dream. It took us one year of experimenting before we could come up with a collection because the girls had not done chikankari on chiffons so fine. Then the work became finer and finer. So you have to put in a lot of hard work and you have to believe in what you are doing. Abu and I always say there's no shortcut.
If you ask how we keep ourselves young, we used to do clothes for Jaya and Shweta and now we dress up Navya. We used to do clothes for Amrita Singh and now we do for Sara; it was Dimple and Dimple's daughters and now we are doing things for Rinke's daughters. With a lot of our other clients also, we are dressing three generations across. And that's how we also remain young.
The other thing is, we have always created for ourselves first — what pleased us. We were catering to our own sensibility.
No other designer duo has lasted as long and as successfully in Indian fashion as you two. What's the secret?
Abu has nothing to do with business at all. So I have done that to a certain extent and now for the past five to seven years, my niece (Saudamini Mattu) has been heading the company; she handles everything. Abu and I always ideate together. Of course we disagree to begin with; we first start with a fight and then agree. Every time I give an idea to Abu, he is like, "I don't understand a thing. I don't know what you're saying". And then I, in my bad drawing way, will draw it out and he will mull on it for an hour and say, "Actually what you're saying is fab… let's do it." That's how we come to it. Both of us are very sensitive to each other. We pretty much have to agree on every collection that goes out. It's a lot of love and respect for each other. I think in any partnership you have to respect your partner, most importantly. If you don't respect him or her, then half the magic is gone.
YOU ARE KNOWN FOR DRESSING THE BACHCHANS AND OTHER STAR FAMILIES...
We were introduced to Jaya when we were doing an exhibition with a white-on-white khadi collection in 1990-91. People were like, white is a widow's colour, we can't wear it, can you do it in a pink or a green for me? We said no, it's this or nothing. We met Jaya at that exhibition and that's how our association started. We became friends. Then there was a big wedding and she wanted us to dress the whole family and so we did. That's where the clothes relationship with the Bachchans started in a big way and after that we have always dressed them. They loved what we did.
Mr (Amitabh) Bachchan is the most adventurous dresser of the lot. He loves wearing colour. He can be very, very subtle and he can very, very bright. Like during festivals we have been giving him reds and oranges and he is happy to wear that. And he's a clotheshorse. With Jaya, back in the day we experimented… with 48 kalis; we dropped the length to the ankle, and she loved it.
Abhishek and Shweta grew up in front of us. Shweta got married and we did the clothes; then Abhishek got married and we did everything again. Abhishek is also adventurous. Aishwarya, we have known for many, many years. One of her first shoots she did in a garment of ours just when she became Miss World. For her wedding, we dressed her for a few occasions and now we dress her on and off.
The other family in our life was Dimple Kapadia and the children. Dimple was a muse for us. She is just the most beautiful woman in the world. We have always dressed her in a lot of whites and off-whites.
2 Reasons why you love white:
Both Abu and I have always loved white and white is the mainstay of the brand. The first thing was, both of us have been influenced a lot by ladies like Meena Kumari, Nargis Dutt and how they wore white… so many white images in our mind. The second thing is, it's so versatile as a colour and you can't go wrong with white.
2 Loves of your life that find reflection in the brand:
Mirror work. When we did Rima Kapoor Jain's wedding, we did a mirror outfit for the first time, and the mirror work is still going strong 30 years later. Then we did the iconic Devdas mirror-work ghagra for Madhuri (Dixit Nene).
Then chikankari, of course. Abu and I have always loved chikan. I had an aunt in Lucknow, so one day we sat on the Shatabdi Express from Delhi and went to Lucknow. And there we went to these ladies who do the chikan work, with our sketches. We started chikan 25-26 years ago. At that time it was done on cheap fabrics, with cheap stitches across. It was a kurta you wore to work, it was never a formal garment or a garment you wore with pride. Now it's the garment of pride. And we can't produce enough; the demand is more than the supply.
2 Looks that will always remain special to you:
We did this beautiful zardozi outfit when Tina Ambani got married. It was a sherwani which was done like a velvet carpet. It was stunning! And we did this outfit with lotus mtoifs in Swarovski for one of our clients.
2 People who have influenced the brand:
One has been Sunita Pitamber. She's no longer there. She was a very, very stylish woman of Bombay, a prominent name in the social circuit and very fashionable. In our initial years, she exposed us to a lot of people. We went to London with her and she introduced us to a lot of prominent people there like Sean Connery, Roger Moore, Bianca Jagger… all these within the first three-four years after the brand started. Then, of course Jaya (Bachchan), who always stood by us, and Dimple (Kapadia) who always inspired us.
2 Milestones in your career:
There are too many… (laughs). About four years ago we did a bridal fashion week in Delhi after a long time and that kind of revived the brand completely. Immediately after that we did Lakme Fashion Week in Bombay, where we presented 14 different looks. That I think put a spin to the brand.
Sonam's (Kapoor) appearance at Cannes in our sari. It was a concept sari with a blouse; that was kind of iconic, a game changer. Abu Sandeep was suddenly young. Because in the middle, we had settled in the classic space. Abu always said younger, younger, younger, and I kept on saying classic is good, but then I had to change and say that I agree with you, let's go younger.
2 Things you would've done differently:
The one regret is that we could not afford to document each and every design we have made. There was a time when we used to produce for little boutiques; we used to do four-five designs a day. Also, some of our own earlier work, some of our clients have them. We now tell them, please give our clothes back, we will give you something back in exchange…. So much of the work has gone undocumented. Though we have two books to our credit — we did something 18 years ago called Abu Jani-Sandeep Khosla: A Celebration of Style and then India Fantastique Fashion a few years ago.
Another thing we would have done is get a CEO much earlier in our life. We could've been a much bigger brand today. We are a self-made, self-financed brand, we don't know money at all. We can earn it but we don't know how to spend it, how to manage it. If God had given us the business brains, the brand could've been much bigger today.
2 Things you ask a client when they come to you:
What's your dream, what's your fantasy. And what jewellery are you wearing.
2 Childhood memories that have influenced your design aesthetics:
A few of my aunts would dress beautifully and Abu's mother and grandmother were big influences on him. The Bohras dress up very well… a lot of handicraft in their blood. So there were few women in his family, too, who were very stylish.
And growing up on films like Pakeezah and Mughal-E-Azam. Ladies like Meena Kumari and (Greta) Garbo; looking up to these iconic women influenced us. Pakeezah for us is a game changer of a film where style is concerned; Meena Kumari did her own costumes apparently. It was a movie that took 13 years to make… it was incredible. And Guru Dutt... the music, the sound.
Abu used to go with his grandmother to watch a movie every week. In Doon School we were allowed to go out on Sundays, I would do a double — a 12 to 3 show and another 3 to 6 show. It was Rs 1.80 paisa on the front row. So movies played a role in our lives in a great way.
LABEL DECODE
ABU JANI SANDEEP KHOSLA: It is like a fantasy, it is couture… the finest. It is all handmade.
ASAL: It is diffusion. More accessible. It is also hand, but it is hand-machine. We don't use computerised machines.
GULABO: Gulabo just came about from Waheeda Rehman's character in Pyaasa. It was such a fantastic character, so naughty. We thought we have done whites and off-whites for a long time, so let's do a line called Gulabo. This is for a younger lot, it is resort wear.
KHOSLA JANI: It's our interpretation of going younger with an international line. We always wanted to show what we are capable of. This is our way of reaching out to the world and say, guys here we are in India and we can produce some fabulous garments. And we've been lucky that people like JLo have worn it.