Louis Vuitton presents an edgy, futuristic women's Cruise '23 collection
Designs with a futuristic look, a touch of nomadic ruggedness, exaggerated robes and drapes and even an LV-monogrammed skateboard made its appearances at the fashion show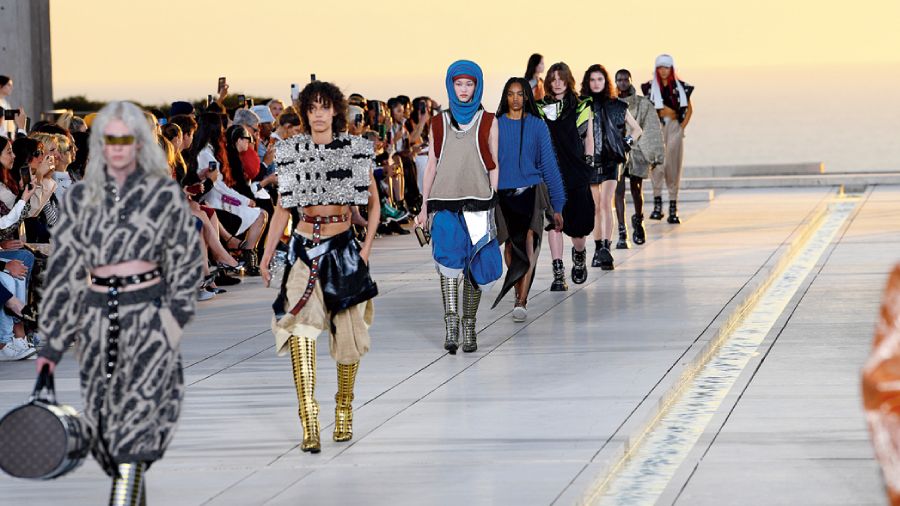 ---
Published 16.05.22, 12:57 AM
|
---
If "experiences" are the order of the day then the one had by guests at Louis Vuitton's women's Cruise 2023 fashion show must have been one to reckon with. Foremost in the scheme of things for creative director Nicolas Ghesquière was the venue, with the iconic The Salk Institute for Biological Studies, designed by architect Louis Kahn in San Diego as the chosen one, and the sun as the "guest of honour". In continuation of his other venues such as the Bob Hope House in Palm Spring, the Niteroi Museum in Rio de Janeiro and the Miho Museum outside Kyoto, architectural design has been playing a pivotal role in Ghesquière's Cruise showcases. "Architect Louis Kahn puts the sun, the creator of natural life, at the heart of the Salk Institute, a brutalist from 1965 designed as a serene concrete monastery for enlightened souls. At a specific time of the day, during a blazing sunset, the sun is perfectly framed by building within the precise axis of the central fountain," said a release on the choice of setting. And the sun played a winning role as the beautiful backdrop with models sashaying down the runway in designs that have, therefore, kept in mind how to both enjoy and take guard from the sun. While the show began with a spectacular West Coast sunset, the sun lent itself as a stylistic device as it fell on "linen, jacquard, silk, leather, tweed", giving "the illusion of a metallic palette, reverberating and shimmering under the sun". Designs with a futuristic look, a touch of nomadic ruggedness, exaggerated robes and drapes and even an LV-monogrammed skateboard made appearances. The effect rendered on to the runway was that of a women's collective, glorious in their abandon yet powerful in the way each design embraced their bodies. The music by Sparks chosen for the showcase, which also included Never Turn Your Back On Mother Earth, added to the moodboard of Ghesquière's broader message.
A packed front row included celebrities such as Léa Seydoux, Miranda Kerr, Chloe Grace Moretz, Emma Roberts and Deepika Padukone, who was recently announced as a house ambassador for Louis Vuitton.
Pictures: Courtesy of Louis Vuitton