Look who's paying
Read more below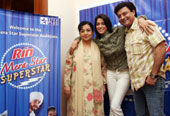 ---
Published 10.09.06, 12:00 AM
|
---
SELL WELL: Farida Jalal, Shilpa Sakhlani and Sachin on the sets of Rin Mera Star Superstar
Bowled over by those reports of luxury flats you saw on your favourite TV channel? Before you begin to ponder the possibility of buying a flat, get this: the programme did not exactly mirror objective journalism. Rather, the real estate you saw on TV was being cleverly marketed under the guise of a property programme in a business bulletin.
Ditto for that half-hour capsule on keeping the environment clean. The show on the news channel is probably funded by a major hygiene soap brand with its brand message tactfully embedded in the content.
And it's not just news channels that are using advertisers' cash to make and air TV shows for them. According to Zoom's business head M.K. Anand, the channel created a travel show for its viewers that was paid for by the travel company Kuoni. Hindustan Lever Limited too funded a beauty hunt programme called Pond's Banungi Mai Miss India on the channel to push its Pond's cosmetics brand.
Advertiser-funded programming (AFP), also known as branded content, is the latest buzzword in the broadcasting industry where companies are going beyond vanilla advertising to woo customers. Earlier, the content was determined by the channel and commercial time was bought around the shows. Today full-length shows are being funded by brands that advertise on TV. Observes Atul Phadnis, promoter of Media e2e, the company that measures the efficacy of branded content, "Earlier there was "spot" sale (ie, spots of TV time were sold for commercials), today there is "slot" sale." Adds Sony Entertainment Television executive vice president Rohit Gupta, "Today advertisers are willing to fund good, expensive shows."
AFP is a far broader area than the usual product placement that you see in your serials and shows where brands are embedded in content with a view to gaining exposure. "In placements, a brand's priority is reach. In branded entertainment though, the brand assumes the role of a co-producer of the programme," explains Anand.
Technology is one of the reasons pushing branded content on TV. In the US and other developed markets, Digital Video Recorders (DVR) are increasingly being used to record television programmes in a hard disk, to be watched later. The advantage for viewers here is that they can fast forward commercials. In India, Zee group's direct-to-home Dish TV has already introduced a DVR that can store up to 100 hours of programming.
If viewers are going to avoid watching ads through DVR, the only way to ensure exposure to your brand seems to be AFP. "Since ad avoidance through zapping is one of DVR's most frequently used functions, it is fuelling AFPs in the developed markets," says Anand.
Those who are not worried about DVRs are also targeting AFP. Some 270 channels beam into India and advertising clutter on channels is unprecedented. Star India's president (advertising, sales and distribution) Paritosh Joshi backs the point, "On over 200 channels with 4,000 minutes of free commercial time during prime time, it is getting very difficult for clients to get their brands noticed."
Little wonder that HLL approached Star Plus with the concept of the children's show Rin Mera Star Superstar, a programme that went on air earlier this week. Joshi says that the Rin commercial has a child in dazzling white. "That's her mom's commitment to her child. And that's the message in the show — Rin Mera Star, that is, the child is a "superstar," he explains. Joshi claims that Star will focus big time on AFP this year. "We are exploring the entire AFP spectrum and more such programmes are in the offing," he says.
Zoom claims that last year it put up 15 such programmes on its channel, including shows funded by brands such as Close Up, Tuscan Verve and Kuoni. HLL, meanwhile, pushed a show on Doordarshan to promote its Wheel detergent brand. The programme, called Wheel Smart Shrimati and conceptualised by ad agency Mindshare, ran for 26 weeks. "The brand values were delicately highlighted in the show, that is, the woman who uses Wheel is bright and takes the right decisions," says Hiren Pandit, general manager at Mindshare's Mumbai office.
OMS, the media specialist arm of Mudra Communications, is also working on several TV shows for its clients. Says OMS president C.D. Mitra, "Two AFP proposals are at the discussion stage," he claims, without giving details. The company is also reviving its TV software company Mudra Videotec to make these programmes for clients.
Though the Television 18 group (which owns CNBC, Awaz, CNN-IBN and IBN 7) has a special 45-people team to look at events that it creates for companies, its advertising sales head B. Sai Kumar says that the division does not really function on the AFP model. "It's not a Medianet operation," he says, referring to The Times group's "paid for news" venture. "We did 140 events last year for companies that are either just ground events or are covered on air," he adds.
Media industry experts, however, argue that most such programmes telecast by channels are paid for by companies. Narendra Tripathi, ad sales expert in the broadcasting industry, has reasons to believe that profiles of the top brass in companies, awards functions or panel discussions are all paid for by companies. "The unfortunate part is that the end user is not aware of this," he says, adding that even the most scrupulous of channels bend rules for profit. "Ultimately, content will take a hit," he says.
AFP is likely to become popular on radio stations as well. "It's just that currently there aren't too many shows and the FM stations play non-stop music," says Star's Joshi. But when Hutch changed its brand logo colour to pink, Radio Mirchi's radio jockeys were chattering away on the colour pink for a week. The radio station even changed its tag line for a while — from "Radio Mirchi. It's hot", to "Radio Mirchi. It's pink."
"It's the channels that are pursuing the brands. There is tremendous pressure on their bottomlines. Channels are no longer content making money just during the ad breaks," says Tripathi.
However, Joshi sees nothing wrong in advertiser-produced programmes. "The print media have been doing it for years. We have taken a cue from them. It's good to talk of editorial freedom but ultimately the paper has to deliver profitability," he says.
But Zoom's Anand says that since the viewer is not aware if the programme is advertiser funded or channel funded, all the do's and don'ts of regular programming apply here. "Whatever the stakes, a channel should never accept an AFP idea if it does not stand the litmus test of standing on its own as a genuine channel-funded activity," Anand warns.