Long road to nowhere
Read more below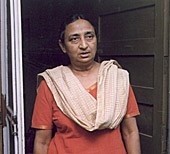 ---
---
HOPE FLOATS: Damayanti Tambay at her residence (top) photo: jagdish yadav; with her husband Vijay
Vasant Tambay in 1971
Few understand the meaning of the word, waiting, better than Damayanti Tambay. One evening, she heard on Radio Pakistan that her husband, Flight Lieutenant Vijay Vasant Tambay's plane had been shot down and he taken prisoner of war in the 1971 Indo-Pak conflict. Thirty-three years later, she's still waiting for him to come back home.
So, when the former national singles badminton champion went to Islamabad late last month as the manager of the Indian women's badminton team for the South Asian Federation (SAF) Games, she was also on a private mission: To try and find out anything about her husband.
Early April, even as Damayanti rejoiced in the team's gold medal triumph, she also met senior Pakistan government officials hoping to find a sliver of light in an area of darkness. "Let us assume there is one per cent possibility. But unless I try, how can it happen? Anytime I find a possibility, I try. I will not let it pass without trying because it is the least I can do," says Damayanti, who now works as deputy director, physical eduction, in New Delhi's Jawaharlal Nehru University.
The former badminton champion speaks in a voice that betrays no emotion. But she doesn't smile the way she does in a black and white photograph kept in her drawing room. She was 22 then. Now, 55, there is a hint of grey in her hair and a lingering sadness in her deep-set eyes.
In the 33 years that fell in between, Damayanti has met four Prime Ministers, petitioned many union ministers, written dozens of letters to joint secretaries and penned appeals to the human rights commission. All in the hope that it might set in motion a diplomatic process that will eventually lead to the release and return of her husband, who was captured on the other side 18 months after they were married and is one of 54 missing defence personnel still believed to be in Pakistan. "Miracles do happen but somebody has to make them happen," she says, sitting in her modest residence in the university's sprawling campus.
Her drawing room is full of trophies and silver cups. They remind you of a time when she teased and tormented her opponents with her deceptive strokes. Strokes that helped her claim three national singles title in a row from 1968-70. She was Damayanti Subedar then.
In April 1970, before winning the third national title, she got married to Vijay, a fighter pilot with the Indian Air Force. Daughter of a Maharashtrian lawyer father and school principal mother, she moved from Allahabad, where she was born and brought up, to Ambala, where Vijay was posted.
Those were happy days. But by November, 1971, the war clouds were beginning to gather. After 1948 and 1965, India and Pakistan were heading for a third conflict. Ambala is a forward base of the air force. "I could see the troop movement," she remembers.
War was declared on December 3, 1971 and Vijay's entire squadron moved to Amritsar. Before leaving, he wanted to park his green Fiat in a safer place. It was a little dark and being war time, no one was allowed to switch on the lights. "So we drove in the dark and parked the car in the cantonment garage. And he left," she recalls. It was the last time she saw him.
In the next two days, Damayanti witnessed the war at close quarters spending the nights in a trench infested with ants, hearing the burst of anti-aircraft guns and watching dogfights in the sky. Then, some air force officials came to her and said, "It's not safe here, why don't you go home?" With little option but to leave, she travelled back to her parents' home in Allahabad.
She was trying out different stations on her transistor when she heard that her husband was among the Indian pilots who had been captured. He was carrying out a retaliatory strike at Shorkot Road, 72 miles east of Multan, when his plane was hit. The next day a telegram from the Indian government confirmed the news.
Damayanti's first reaction was of relief. She was happy that her husband wouldn't have to fight the war anymore. "I thought since he is captured, he is out of danger. And as a prisoner of war, sooner or later, he would be sent home. There was never any doubt that he will come back," she says.
Her father-in-law, a secretary in the Maharashtra state government, had chanced upon a Pakistani newspaper which had published the names of five Indian pilots captured alive. And "Tombay" — as misspelt by the newspaper — was one of them. That gave her further hope.
But with the passage of time, hope dimmed. After the Simla Agreement in July 1972, the two countries agreed to exchange PoWs. India had over 90,000 Pakistani PoWs. Both countries brought out two lists each of their prisoners. But Tambay's name did not figure in either of them. Yet Damayanti was still optimistic. She, like many others, waited for a third list. It never came.
As Damayanti dangled between optimism and despair, her father-in-law suggested she take up a job to keep herself occupied. So she joined as a sports officer in JNU — a day after collecting the prestigious Arjuna Award in November 1972.
Taking up the job in Delhi meant it was easier to meet top defence officials and other government functionaries. But slowly, the days, the weeks, the months and even the years passed by without any breakthrough.
What angered her was the government's unwillingness to act urgently. Once the Indian government had released over 90,000 Pakistani PoWs without ensuring that each of its own men was returned, it didn't have the same bargaining power. "How did you not make sure that each of your men came back? How could you slip on this," she asks. "I keep wondering why the government has not been able to do anything."
She was not the only one with unanswered questions. Damayanti relates the story of Major A.K. Ghosh who was declared killed in action but his photograph appeared in an issue of Time magazine published in 1972 with the caption, 'An Indian prisoner behind bars in a Pakistan jail'.
Further proof of Indian PoWs being lodged in Pakistani jails came in BBC journalist Victoria Schofield's 1979 book, Bhutto: Trial and Execution. The book says that the former Pakistan Prime Minister went through a harrowing time in Pakistan's Kot Lakhpat jail because he was lodged next to some Indian PoWs who had gone mad and screamed all night.
Finally in 1979, Union minister of state for defence production Samarendra Kundu told Parliament that 40 Indian defence personnel were still in Pakistan jails. R.S. Suri, who ran a yoga ashram in Faridabad and whose son was among those missing, formed a group, later called the Missing Defence Personnel Relatives Association.
Once, when the group went to meet a defence minister, recalls Damayanti, he began to pose for a photograph with the harried relatives. "We had to tell him we had come only to present a memorandum," she says.
Hopes went up in September, 1983, when the two governments finally agreed to allow a group of relatives to travel across the border and identify their own people in the jails. From India, members of six families, including Damayanti, went. From Pakistan's side, high commission officials were scheduled to go to Patiala jail to check out the prisoners.
"But a day before the identification in a Multan jail, we read a newspaper report in Islamabad which said that India had gone back on its words," recalls Damayanti. Whatever the truth, the Indian delegation was sent back without being shown any defence personnel. The mission had failed.
It was a major setback. But Damayanti's hopes flickered again in 1989 when Jayant Jathar, her husband's uncle, went to Pakistan as a manager of the under-19 cricket team. During a tea party in Gujranwala, he met the infamous General Tikka Khan (then the governor of Punjab), and pleaded with the senior armyman to allow him to see his nephew just once. The general relented.
Jathar said in an interview sometime ago that he was driven in a car from Lyallpur (now called Faisalabad) to a cell where a man, dressed in a kurta-pyjama, was reading a newspaper. The man, he recognised, was his nephew although he was not allowed to speak to him.
Since then, another 15 years have gone by. Several of those who had formed the group of 40 (the union ministry of external affairs now says, there are 54 missing defence personnel in Pakistan) are dead. And, Damayanti also realises that the whole issue has become too tricky and long-winded. "Just because the political atmosphere has improved between the two countries doesn't mean that problems will be solved in a jiffy. The release and repatriation of these missing defence people has to be part of a general negotiation and sorted out," she says.
Yet, the former badminton player tries to stay positive. "I have got used to staying alone. But I still get lonely at times," she says. She goes for classical music concerts and is still involved with the Badminton Association of India. When she was in Pakistan last month, she spoke to Akram Baig, a Pakistani badminton player she had partnered in the early Sixties as a 14-year-old girl in Lucknow. She also met his son Ali Yaar Baig, who now plays for Pakistan. "Akram wanted to know about my husband. I asked him, 'How do you know?' He said, he had seen me on television," she recalls.
Damayanti is not sure whether anything will emerge out of her recent Pakistan visit. Many have said that they would try and help. As they have always done, and will always do. But Damayanti will keep trying, even after she retires from her job a few years from now.
Damayanti V. Tambay will always keep the faith.