Lioness in winter
Read more below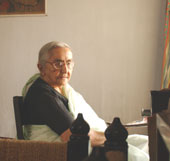 ---
---
PIC: Subhendu Chaki
Vidya Munsi sits for hours on her chair, reading carefully through sheaves of paper. In the darkened room, with only her face visible, her silver hair pulled back in a tight bun, she looks almost like a painting by Vermeer. She peers through her thick spectacles and uses a magnifying glass to read in the light of the reading lamp. Occasionally, she stops and leans forward to make notes with her left hand. One observes, speechless, that there is absolutely nothing that can deter the indomitable Vidya Munsi, not even a cerebral stroke that paralysed the right side of her body four years ago.
The first working woman journalist of Calcutta, Vidya Munsi is now 87 years old. But her memory is crystal clear even now. She runs me through her student life in Mumbai before World War II, the influence of her father who was a well-known criminal lawyer, her love of books, her induction into the Communist Party in England, her experience as a journalist and her deep commitment to and involvement in social and political causes. Every debate, every issue of the women's movement that saw her in the forefront in the streets of Bengal and in solidarity with movements in Vietnam, Cuba or the former Soviet Union, is etched clearly in her memory.
Vidya-di, as she is affectionately called, was barely 18 years old when, ranking first among girl students in the matriculation examinations, she set off alone for England to study medicine. Her maternal grandmother stood by her against family resistance, saying, "Why should she not go? Her father has the money, the girl has the courage." Courage she certainly had. Vidya Munsi, nee Kanuga, had left home to become a doctor, but politics occupied all her attention and in 1942, she joined the band of Indian Communists in the UK when the Communist Party was still illegal in India. She has never looked back since.
In her book, In Retrospect. War-time Memories and Thoughts on Women's Movement, Munsi has captured vividly the spirit of the times and the important phases of her political life ? the war years spent in England and in the headquarters of the World Federation of Democratic Youth; her visits to different countries as a representative of the women's movement after Independence ? and some important events and debates on women's problems in India. The book will be released on February 4 in Calcutta at the fourth national conference of the Network of Women in Media, an all-India body of women journalists.
Unfortunately, the articles written during her 10-year stint as a reporter from 1952 to 1962 have not been included in the book. At that time, she was the Calcutta correspondent of Blitz, a Bombay weekly critical of government policies and excelling in investigative journalism. One of her 'scoops' was on two Canadian pilots who were to fly from Hong Kong with gold and drop it on an island in the Sunderbans, which was then to be smuggled into Calcutta. Another of her major stories that made headlines was on the Chinakuri mine disaster in Asansol where hundreds of miners were killed; the famous playwright and actor Utpal Dutt went on to script the tragedy into a chilling play, Angar.
"Journalism those days ? as it is now ? was not without its professional hazards," Munsi remembers. The police once beat up journalists at a rally where she was present, injuring veteran reporters and smashing their cameras. When she was interrogated by an enquiry commission, Munsi resisted the pressure to indict Blitz. Her boldness made her famous and endeared her to media persons.
On her return from the UK after the World War, Munsi married Sunil Munsi, a geographer and editor of the now-defunct journal, The Student. There she was groomed as a reporter. A Gujarati by birth, Munsi learnt to write Bengali many years later. "From sheer necessity," she guffaws. "I was suddenly asked to edit the Bengali periodical, Chalar Pathe. You can't have an editor who does not know the language!"
In subsequent years, Munsi, a former member of the National Council of the Communist Party of India, endeared herself to women as she found common cause with them. Her majestic 5' 7" frame could be spotted leading huge demonstrations against dowry or rape or women's right to work. She was equally comfortable taking part in heated debates on the new feminism that developed in India since the 1980s.
Her non-sectarian attitude and her ability to work with women from different organisations on a common platform will perhaps be remembered by many. "Left groups were usually rigid and boycotted autonomous women's organisations. Vidya-di was different," remembers Sutapa Neogi, a member of Sachetana, a non-party affiliated women's group. What made her different, Neogi says, is that she did not hesitate to speak her mind or do what she thought was best for the cause of women.
Many comrades, chuckles Munsi, deplored her decision to work for women's issues through the Paschim Bangla Mahila Samiti. "They wanted me to stick to journalism. But if women do not take responsibility and give priority to women's issues, believe me, the men will not either. If we depend on them we would still be waiting for things to change," she laughs.
In fact, Munsi took the battle right into the lion's den. The Communist Party is not known to easily give women a voice or space. To the discomfort of some party bosses, Munsi advocated that women's issues "was a running battle ? a priority ? with all other battles' and that socialism itself would not automatically solve women's problems. A close colleague remembers that at a conference when some leaders lamented that young women were not joining the movement, Munsi retorted that if the party patriarchs did not mend their ways, even the older women would be forced to leave.
There is certainly no arguing with Munsi. On February 4, the day her book is to be released, she plans to walk down the three flights of stairs of her house to the applause of women journalists and friends. Even today, Munsi does not fail to surprise ? or to inspire.