Limelight
Read more below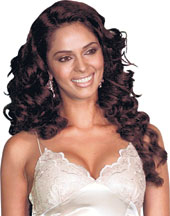 ---
Published 13.08.06, 12:00 AM
|
---
Photo finish
Margaret Bourke-White, who?, the uninitiated may well ask. And you can't really blame them, for the legendary American photographer — who captured Gandhi for posterity — belonged to a sepia-tinted world where cameras were manual and images, black and white. But Pramod Kapoor, the owner of Roli Books, is set to commemorate the nearly-forgotten lenswoman in an event organised to mark the 50th year of Khushwant's Singh book, Train to Pakistan. The special golden jubilee edition, to be released in Delhi next week, will include pictures of Partition taken by Bourke-White. A foreword by Kapoor underlines her relationship with India. Bourke-White had quite a passion for India, just as Indians, it appears, had a tendre for her. Among those smitten, says Kapoor, was the former editor of The Indian Express, Frank Moraes. That would have been the best of photo-journalism.
Laugh out loud
Call him what you will — Jack of all trades, or an ace multi-tasker — but you can't put Neelesh Misra down. The journalist who works for a foreign wire news service, now better known as a Bollywood lyricist, has finished work on his new project. After writing two books on the Kandahar hijacking and the Nepal Palace massacre, Misra is set to release his new book. This time, it's a fiction — a romantic comedy about a call centre worker in New Delhi and his customer in New York. The last two books were grim accounts. So it remains to be seen whether Misra is as adept at evoking laughter.
Time for a makeover
For those with an environmental bent of mind, the prime time slot on Doordarshan may be worth checking out in about a month's time. And if you're expecting little more than a revamped Krishi Darshan on offer, you might be pleasantly surprised.
Earthy matters
Delhi-based filmmaker Mike Pandey has been rolling his camera all over the country over the past year to address certain key issues that threaten our environment and lives. The net result is a 26-episode programme called Earth Matters, due for telecast in 15 different languages on the national network. "The episodes cover diverse issues, including HIV, maternal mortality, tobacco, water, pollution, wildlife and mental health," says Pandey. Certain episodes are more specific and deal with subjects such as the disappearance of vultures or the management of wildlife in urban backyards. "The objective is to sensitise people and motivate them to contribute towards the environment on an individual level," he adds. So watch and make a difference.
Director's choice
Is Mallika Sherawat's career going south? No, her career in Mumbai is not taking a southward dive, but she has found a nice spot for herself in south Indian cinema. First, she did an item number for Mani Ratnam's Guru, and now she is doing a full-fledged role in Kamal Hassan's forthcoming film, Dasavatharam. Apparently, all that La Sherawat asked for was five minutes with the veteran actor-director. And Hassan, we hear, was bowled over by what he described as her "enthusiasm". Roll over, Jackie Chan, it was nice knowing you.
Star value
Those who can, do. Those who can't, judge. Take Urmila Matondkar, who is finally making her debut on television. Not as an actress — though cruel critics think it's time she moved to the idiot box, for she is hardly seen on the silver screen these days — but as a judge. Matondkar holds she was drawn to Sahara One's reality show Super Stars because it develops a contestant as an all-round performer. Matonkdar, who first made an impression as a dancer in films such as Rangeela, knows the worth of that. Just as Purnendu Bose, chief operating officer of Sahara One, knows the worth of Matondkar. Bose declares that she is an ideal fit. After all, a reaper of hearts can be the harvester of eyeballs too.