Like father like son'
Like father like son? Bose to bosons Stone?s throw Over boundary Tittle tattle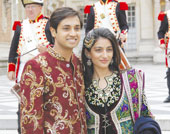 ---
Published 15.01.05, 06:30 PM
|
---
GONE GLOBAL: Aditya Mittal with his wife, Megha
Like father like son?
Sanjay Gandhi would have approved. Master Aditya Mittal, the schoolboyish son of Lakshmi Mittal, need no longer be f?ted as his father?s son.
In fact, it may not be long before Lakshmi Mittal will be known as Aditya?s father, for the son has just been named one of 237 ?young global leaders?.
These whiz kids from around the globe, all aged 40 or under, have been selected by the eminent people who run the World Economic Forum in Davos. The kids will have their own summit, the Forum of Young Global Leaders, in Zermatt from June 24-28, when they will discuss how to make the world a better place (it should be great hunting for ambitious mothers-in-law).
The bratpack from India includes Rajiv Bajaj (Bajaj Auto); Kumar Mangalam Birla (Aditya Birla Group); Sulajja Firodia Motwani (Kinetic Engineering); Dayanidhi Maran (minister of communication and information technology); and Malvinder Mohan Singh (Ranbaxy Labs).
The Big B?s nemesis, Rahul Gandhi, also couldn?t be excluded ? it is being assumed he won?t have time for such jaunts once he becomes PM.
Aditya, who is president and chief financial officer of the Mittal Steel Company, is best known for having his wedding reception held at the Victoria Memorial Hall.
Actually, I have heard good things about the 28-year-old. His grandfather, Mohan Lal Mittal, once told me that Aditya was even cleverer than Lakshmi. Another is that unlike his wife, Megha, he doesn?t write poetry.
REMEMBERING BOSE: Sharon Ann Holgate with Falguni Sarkar
Bose to bosons
Was the physicist Satyendra Nath Bose, who impressed even Einstein and gave his name to sub-atomic particles called ?bosons?, being ironic when he told a prospective biographer: ?Why do you waste your time in writing my biography? Indians are incapable of achieving anything great in science.?
A young British physicist, Dr Sharon Ann Holgate, who last week presented a remarkable BBC Radio 4 documentary on Bose called The Indian Particle Man, says: ?He should have got a Nobel prize.? Her view is Bose, who was born in Calcutta in 1894 and died in 1974, ?wasn?t a self-publicist?. He was a modest man, happy to just get on with the work that he loved.
Holgate, who herself did an undergraduate degree and a PhD in physics at Sussex, paints an affectionate portrait of Bose, who intrigued her after she had chanced upon his name on the Internet. She has talked to, among others, one of Bose?s former students in Calcutta, Professor Partha Ghose, who told her his teacher was a great lover of cats. Holgate also met one of Bose?s grandsons, Falguni Sarkar, who ?has been researching his grandfather?s life for the past 10 years?.
The interaction between Bose and Einstein appears to have changed the course of physics. Einstein acceded to Bose?s request to allow him to translate the great man?s paper on general relativity from German into English for readers in India, even though a London publisher had wanted to assert his copyright.
In 1924, Bose approached Einstein with a new derivation of Planck?s radiation law, which no scientific journal would touch. Einstein was convinced by Bose?s work (?the Indian Bose has given a beautiful derivation of Planck?s law?) and secured its publication in Europe after personally translating it into German. Bose came to Europe for two years, met Madame Curie in Paris and then Einstein in Berlin. It is worth recalling the Bose-Einstein friendship, for 2005 has been designated ?International Einstein Year? to mark the centenary of his theory of special relativity. (My contribution is using a 1947 photograph of Einstein by Philippe Halsman as my current bookmark).
Did Bose influence Einstein? Holgate reckons Bose certainly ?changed the focus of Einstein?s research, and his reworking of Bose?s ideas led to a type of mathematics known as Bose-Einstein statistics?.
Further research into what is known as ?Bose-Einstein condensation? allowed the three American scientists involved to share the Nobel prize for physics in 2001.
According to Holgate, Bose was ?something of a renaissance man?. He was a linguist ?who championed the use of the Bengali language for scientific discussions?, a player of the esraj, a friend of Tagore and he was ?vehemently opposed to British rule?. His dress sense was engagingly ?eccentric?, she says, for he would affect full Bengali dress ?worn with French beret and neckerchief?.
MOM?S THE WORD: Angelina Jolie
Stone?s throw
In LA in Lagaan year, I remember the film producer Deepak Nayar raving and ranting about how the Indians had given Oliver Stone the runaround when the American director visited India on a reconnaissance trip for Alexander. Apparently, Stone, who had difficulty in hiring a helicopter and then getting clearance to fly over certain areas, got fed up and decided to give India a miss as a possible location for his film.
Well, I have just seen the film, quite enjoyed it but this Alexander isn?t the Greek conqueror I hero-worshipped after being taught about him all those years ago at St Xavier?s in Patna.
?Alexander the Great, Born near the long bathroom gate,? we would recite, in tribute to the legend who became king at 18 when his father, Phillip of Macedonia, was murdered.
We weren?t also told that Alexander (played by Colin Farrell) had an Irish accent or that he preferred male bonding after a hard day?s slaughter.
Alexander?s mum (Angelina Jolie) seems to have a very dubious relationship with her son. In any case, one cannot now see Jolie on screen without recalling her alleged ?steamy phone sex? with Brad Pitt. According to the News of the World, that is the real reason why Pitt?s marriage to Jennifer Aniston has ended.
Alexander might have avoided these quirks had Stone filmed his much-panned blockbuster in India, with Deepak Nayar to hold his hand.
Over boundary
Remember Isa Guha? She is the (?Bend it like Botham?) fast bowler who was picked to play for the England women?s cricket team at 17 in 2002. She has been picked for the England side for the World Cup in South Africa in March.
Andrea Wiggins, the England spokeswoman, says: ?She was named NatWest Player of the Series against New Zealand last summer. It will be her first World Cup, so it will be a massive test for her. The opening game will be the first time she has played Australia.?
Isa will be 20 on March 21. ?Isa is now in her second year of a biochemistry degree at University College, London,? adds Andrea. Her parents came to the UK from Calcutta.
Tittle tattle
The stage version of the musical, Jerry Springer: The Opera, has been filmed and shown on BBC television, despite over 7,000 protests from Christians who found it offensive. And it is offensive as it depicts Jesus as a ?special guest? on the show, wearing a diaper and confessing he is ?a little gay?.
When the run at London?s Cambridge Theatre ends on February 19, the musical will tour Britain. No one approves of violence of the type which caused Behzti to be pulled from the Birmingham Repertory Theatre after Sikh protests. But if Jerry Spinger: The Opera has to be stopped after similar disturbances, the media, while not condoning the violence, will be much more sympathetic towards Christian protestors.