Life after KBC
Read more below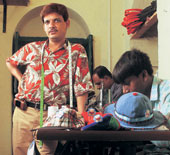 ---
Published 31.07.05, 12:00 AM
|
---
LOOK BACK IN WONDER: (From top) Ramesh Dubey, Harish Mediratta, Lopa Mudra Mishra, Harshvardhan Nawathe with Amitabh Bachchan and Satinder Singh with his family
Andy Warhol had it all wrong. The 15 minutes of fame that the artist famously bestowed on every human being don't just end there. It now appears that the glory tends to leave a halo behind.
There is a band of men and women in India who'd second that. Five years ago, they went on a prime-time eyeball-collector called Kaun Banega Crorepati (KBC). And even now, as a new 85-episode series gets ready for telecast starting August 5, they are reliving those glorious moments of fame.
For some of the contestants, life after KBC ? with its record ratings on television ? was never quite the same. For those who won big money ? from Harshvardhan Nawathe, the first to win Rs 1 crore, to Satinder Singh, who took back home a neat packet of Rs 12.5 lakh ? the brief encounter with compere Amitabh Bachchan is something that people still talk about.
Customers in Satinder Singh's furnishing shop in Haldwani, a small town in the foothills of Nainital, never forget to mention his KBC haul. A picture of Singh with Bachchan ? proudly mounted on the wall ? ensures continuing grandeur. "Even now, five years after the show was telecast, people ask me about it," says the 41-year-old businessman. "It's a town where everybody knows everybody. So something like KBC can make a big splash."
Just as Harish Mediratta's patients never tire of asking the paradontist ? who won Rs 50 lakh five years ago ? about his KBC encounter. Or, as Bangalore-based Wipro employee Lopa Mudra Mishra finds, people still remember her for her KBC appearance in September 2000. Mishra, who was a 23-year-old civil services aspirant from Cuttack when she won Rs 25 lakh, recalls how she was in Pune when an elderly lady stopped her on the road two years after the show to say that she had seen her on KBC.
But it wasn't all about fame. What helped, in many cases, was the wealth that came with it. For some, the prize-money helped overcome family problems, for some, it was an investment, and for a few others, a road to the realisation of dreams.
Take Calcutta-based Raj Kumar Chakraborty, who won Rs 12.5 lakh in 2000. His father was seriously ill then, and the middle-class bank clerk stresses that the money ? despite the 30.6 per cent income tax cut ? helped in his treatment. Apart from the usuals ? money spent on gold ornaments for his wife and mother ? Chakraborty put his money into his house, renovating and constructing parts of his residence in Dum Dum in north Calcutta. "Itwas a one-storey house. Now we are in the process of building another floor," he says.
Like Chakraborty, many of the prize-winners invested in property or land. Lopa's family, too, bought a plot of land. "The stock market is too risky and mutual funds were unheard of," she says. "That's why my father invested in land," she says.
KBC left its mark, and in some cases, may have changed destinies as well. Post-KBC, Lopa ? earlier a low-on-confidence girl ? found that she had come out of her shell. "It gave me confidence ? and I lost my stage fright. After KBC, I made friends easily and became an extrovert," she says.
Some, like Harshvardhan Naw-athe are making plans for their future, considerably egged on by their KBC success. Nawathe, who was studying for his Indian Administrative Service (IAS) examinations when he got a call from KBC, went on to win Rs one crore, hogging considerable air-time and newsprint for a while. Nawathe did not ? or could not ? join the IAS. His family still lives in its old house in Ghatkopar in Mumbai, but Nawathe is now in England studying business management.
Clearly, in a country where education is still a coveted ? and sometimes elusive ? object of desire, quite a few of KBC's winners spent their money on higher studies. Lopa's parents, for instance, decided to spend the money she won on their children's education. "The money was lying in a fixed deposit account in the bank. We decided to put it to good use," she says.
Quite like Ravindra Prabhakar, who was a regional manager in a Bangalore firm when he went to Mumbai for his KBC shoot. Ravindra, who passed when he was asked who presented India's first budget (R. K. Shanmughan Chetty) spent the Rs 12.5 lakh he won on getting an MBA from Insead-Font Ainebleu in France. Now, he is based in Singapore and is responsible for the Asia-Pacific market development of an MNC.
Harish Mediratta ? who figured in a duo-special with his son, Mayank ? has put the money away for his son. "I had thought he would need the money for studies abroad, but he managed to get into a good institute like XLRI in Jamshedpur," says Mediratta. "The money is there for him ? if he still wants to go abroad for higher studies, or whatever," says the retired army colonel.
But money and fame apart, for most winners there was a glorious KBC moment as well. What Mediratta relishes the most is that old friends ? from his student days at the King George's Medical College in Lucknow ? got in touch with him after KBC. "People I had completely lost touch with got my number and called me up," he says.
The KBC moment for Satinder Singh was the day he appeared on the show, in August 2000. Singh recalls how Haldwani town completely shut down that day. "Everybody was at home, watching TV," he says. "It seemed like curfew had been imposed on Haldwani."
The one who celebrated his victory the most was possibly Singh himself. He bought a cottage with his prize money in Mukteshwar, in the picturesque Kumaon Hills. The cottage doesn't have a name yet, but Satinder Singh knows what it's not going to be called. "I know what the name won't be ? and that's KBC," he says, laughing.
The spell, after all, has to end somewhere.
Just another day
Number 209 AJC Bose Road, Calcutta, is better known as Karnani Estate. It is a huge, impersonal, old building — formerly a residential complex for soldiers of the British Army — with long, dark and lonely corridors lined with musty wooden doors.
This is where Ramesh Dubey lives. This is where he lived before KBC happened — when he walked out of the studio with cheques worth Rs 50 lakh in his pocket — and this is where he plans to live happily ever after.
"No, my life hasn't changed all that much since I won the money," insists Dubey. He did, just for a while, contemplate moving to a better house with his wife, 16-year-old daughter and nine-year-old son. "But we are a big, joint family and my roots are here." His parents, four brothers and their families live in different units of the same building.
Clearly, despite the glory that came with KBC, life goes on as always for some of the big-time prize winners of Kaun Banega Crorepati, a Star TV show that notched up a high 27.13 TVR in its 2000 series. The unassuming Mishras of Cuttack, for instance, shot into fame when daughter Lopa Mudra came back home with Rs 12.5 lakh. But, Lopa insists that nothing much has changed since then. "We are the same as before. The KBC money did not upgrade our lifestyle in any way. It was just a bonus," she says.
Dubey won Rs 50 lakh, but didn't buy a car. He still travels by bus, if he can help it. So what did he do with all that money? "Well, I went on a trip to the Himalayas with my family after the win," he says.
The Dubey patriarch ? Ramesh's father ? deals with financial matters at home. All that Dubey knows is that part of the money went to charity, and quite a large chunk went into business ? not the old sari business which his family owns, but a children's garment business that Dubey started about three years ago.
"I've always wanted to do this. Other than children's clothes, we make caps and hats for kids." Says Dubey, "Maybe I would've never ventured into it had I not won the money."
But bank clerk Raj Kumar Chakraborty puts it in perspective when he says, "There's always need for more money."
And while he is very happy to have won Rs 12.5 lakh, he doesn't think it's a huge amount in this day and age.