Layer upon layer
Winter allows a lot, from too many clothes to minis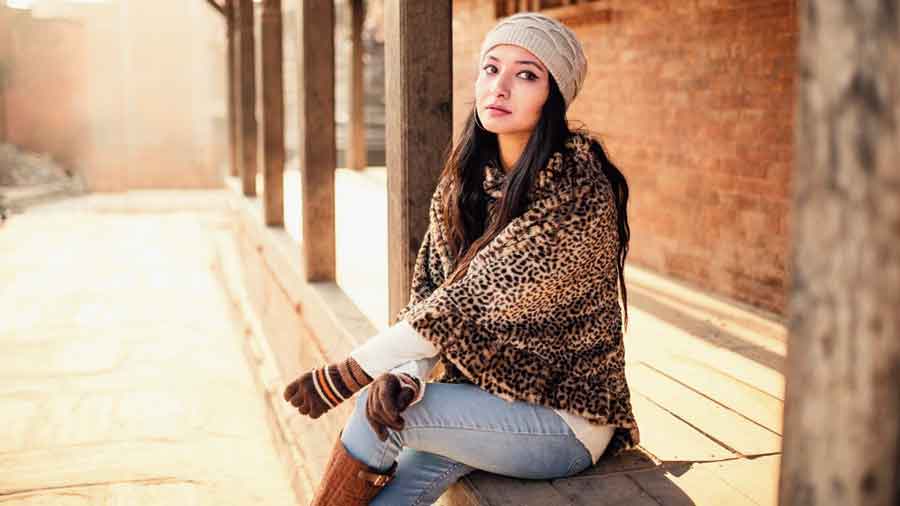 ---
Published 25.11.21, 12:14 AM
|
---
It's that time of the year. You can wear too many clothes and still look good. But there are other options too. Our pick of winter looks:
Sweater dress: Easy peasy, sassy and comfy. Trending. Choose a fitted sweater or a loose one. Look up your Bae's, Bro's or Dad's pullovers and call it a party. Add a belt, wear it with stockings, don a scarf or just be.
Puffer jacket: Jackets which look like they have air bubbles. These are trendy, smart and outdoorsy. Perfect for a winter picnic or a weekend getaway. Puffer can be a vest type or a regular jacket.
Stockings: My all-time favourite. They hide and protect. For the beauties who go unwaxed during the winter months, the opaque stockings are your besties. They look chic and high street, worn with boots or pumps. And during the cold party evenings these will keep us warm and cosy.
Glitter & gloss: Glitter has been in for some time now. Go glitter with accessories, make-up or clothes. It is an instant mood-lifter. Gloss is a yes for your lips this season. Try transparent, or maybe a colour gloss. Note: Glossy skin is also in, so do what you need to do with the oils and lotions. In any case healthy skin has always been in!
Hats & mufflers: Fedora, Beanie, Bucket, Cloche, Bowler, Floppy, the variety is heady. Hats and caps save a bad hair day and show that someone has actually made an effort to plan her attire. Mufflers, too, serve the dual purpose of providing comfort and upgrading the style meter.
Top pick for muffler loops: European and Double Loop.
Blazers: Structure and darts make blazers an absolute must have for everyone. Choose a colour, checks or a conservation one. The blazer can do justice to a brunch, business meeting or a fancy do. Perfect with formal trousers, casual skirts or denims, the blazer is a versatile number.
Mini skirts: Get those legs in shape gurls! This season, mini skirts must get some fashion airtime. Dreams of thigh high boots with short minis or ankle length boots with stockings make winter soirees that much more stylish. Fitted short skirts are my pick for the season.
Layers upon layers: Comfort cuddles and warmth. Layers are all about these things, plus one can wear the summer specials too while layering. Wear a T-shirt, then a soft cardigan, and top it up with a jacket, maybe a muffler, wear a brooch on the lapel of the jacket. Uber chic and snug all the way.
Finally, a word for the overcoat and woollen trousers. These are both winter staples and classics.
Stay warm stay stylish.
The columnist, a personal stylist, speaks her mind on everything about fashion. Contact @sanikakakirde