Label watch
We check out a sustainable brand called Ode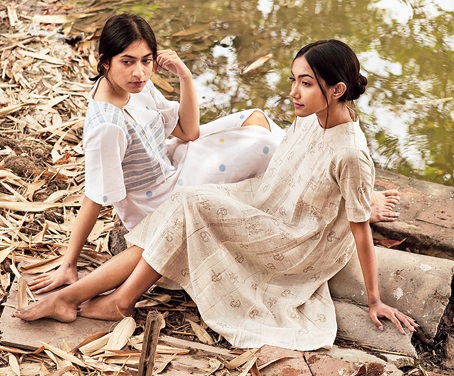 ---
---
Bardhaman girl Oindrila Choudhury (25) and Dhanbad boy Arka Kundu (26) came to Calcutta six years back to study at NIFT and fell in love with the city. They passed out in 2018. While Oindrila was in fashion design, Arka studied fashion communication. The couple decided to stay back and start work, which materialised in their sustainable label Ode by Oindrila and Arka, this March. Yes, in the middle of a pandemic. That hasn't been a deterrent though. "We learned about the marketing part and it was an experience for us," says Oindrila, who ideates with Arka for Ode. The label is present on platforms like A Charmed Life and The Loom and a "concept store" and "a collaborative space" is on their minds for the future. The Telegraph caught up with the duo.

Who are you paying an 'ode' to?
Arka: We are paying an ode to nature. Our brand is a sustainable one. We are working with local artisans and supporting their families. Our dyes are natural and you will find dokra buttons in our collection. Ode is also a homage to Bengal and its numerous crafts and culture. We want to take that to the global market.
Oindrila: I was drawn towards crafts from the time I was studying fashion. I have discovered many other kinds of crafts too which I will try to incorporate in my forthcoming collections.

Sustainability and crafts make for a crowded market. What do you think will make Ode stand out?
Arka: We have tried to merge fashion and communication. For Borno, our first and only collection till now, we have developed a new typography by merging English and Bengali typography. The idea is to give Bengali a global approach. The name Borno came from Bornoporichoy.
Oindrila: We have the hand-block prints with natural dyes and we have incorporated kantha embroidery on the garments.
Arka: Jamdani weaves too.
Who are you designing for?
Oindrila: For someone who loves comfort. You can wear it to work as well as to a party after your office. Our clothes are weather-friendly as well as easy-breezy. And, of course, if you love sustainability and culture, you will like Ode.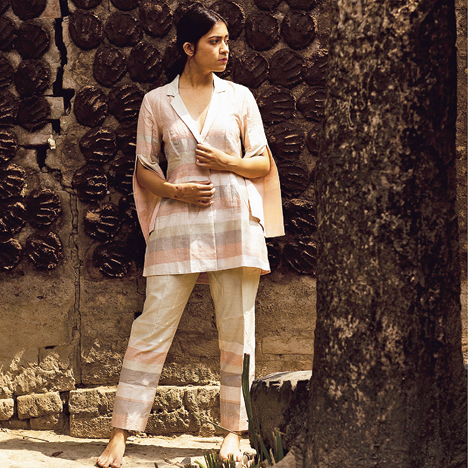 What is truly sustainable for you?
Arka: We are not incorporating anything extra in our garments. We are using what is already present and making it contemporary in a visual way.
Oindrila: We are looking at upliftment. Everything is hand done.

Where do you operate out of?
Arka: Our tailors are in Lake Town and our weavers are from Samudragarh, near Phulia. We also work with craftspeople in Santiniketan. We get our dokra from Dariyapur, Guskara. They are very poor.
Oindrila: They are about 20-25 families who work on that craft.

What textiles are you working with right now?
Oindrila: We are working with matka tussore, mulmul, khadi, linen, cotton.

What are your favourite textiles and crafts?
Oindrila: I want to work more with jamdani. Every motif has a story to tell.
Arka: We were planning to incorporate ikat in our next collection. Since our USP is to communicate through our garments, we are planning to do something on Braille and use ikat as craft on that collection. Patachitra is one of my favourite crafts from Bengal.

What is the language fashion should communicate in today's times?
Arka: For now, sustainability is the need of the hour in terms of fashion and lifestyle. Minimal and reusable clothes should be the fashion statement now.
Oindrila: People should invest in things which they can use for three-four years.

Who are your favourite designers?
Oindrila: I have worked under Sharbari ma'am (Sharbari Datta). She was a global icon and how she worked for the survival of art and craft was something to imbibe and learn. She also showed the path of how to present it globally. I have also learned a lot from Aditi Holani. Rahul Mishra is also one of my favourite designers.
Arka: In terms of graphic designing, there is Stefan Sagmeister and in terms of typography, I am a huge fan of Neville Brody and David Carson. Neville Brody is an industrial typographic designer and I am very much inspired by his work.

What are you working on presently?
Arka: We are working on a sari collection which is actually an extension of Borno. Due to coronavirus, we are working towards a seasonless collection.

What is the biggest lesson you have learnt as entrepreneurs?
Oindrila: To be patient.
Arka: I lose patience sometimes, but Oindrila is there to control me.