June turns interior designer for hubby Saurav
With work from home as an essential part of THE #newnormal, we get to you a sneak peek into the work space of Saurav Chatterjee and others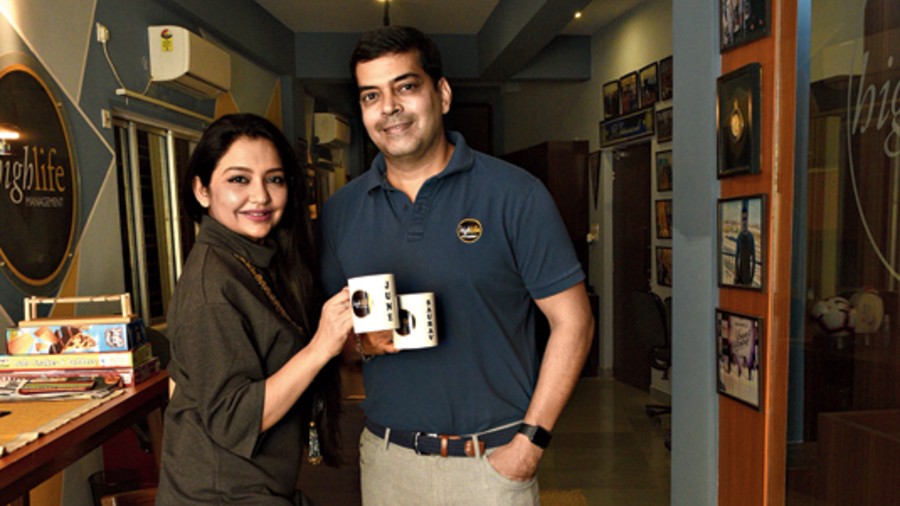 ---
---
June turned interior designer for husband Saurav Chatterjee's new office, a stone's throw distance from his Picnic Garden Road house. "Saurav's office used to be on Park Street. This was an empty new building. You can see our balcony from Saurav's cabin. It is very convenient and because of that I cajoled him to take this space," said the actor, as she took us through the making.
Did you do it up in the lockdown?
Saurav rented this place before lockdown and very sweetly the office boys asked him 'Can ma'am do up the place?' I was a little apprehensive in the beginning that whether I would be able to do it. I am very house-proud and I love doing up the little corners in our house, but I have never done it professionally. And, when you are doing up someone's office, it is professional. Never mind if it is your husband's, but it is an office at the end of the day where his clients will come. I thought of giving it a try.
Since it was a sports management office, I didn't want to make it look like a typical office and wanted to make it a fun place and have a nice energy.
I started designing before lockdown and called my guy who does my carpentry. I wanted to mix and match. When the lockdown was announced and everything came to a standstill, I got a lot of time to work on it. I would look up references every day.
My father-in-law's study had a lot of old furniture, which was not being used. So, I have used his old study table. We have stuck to the yellow-and-black colour scheme, which is High Life's logo. I have put bursts of yellow wherever I could. We put powder blue and grey to tone it down. Saurav wanted an open cabin. So, we put a glass partition with High Life's logo and I gave him a nice metal table.
I wanted a community table for the boys to have their lunch. There is a small seating area too. The single couch which is a turquoise chair was a gift to Saurav from his sister. There are two single wicker chairs inherited from our friend's grandmother. So, it is a blend of old and new.
I filled up the walls with lots of pictures and signed jerseys, say by Pele, Diego Forlan and (Lionel) Messi. If you come during the day, there is a lot of sunshine. Even my Bruno and Diego (pets) go to office every day.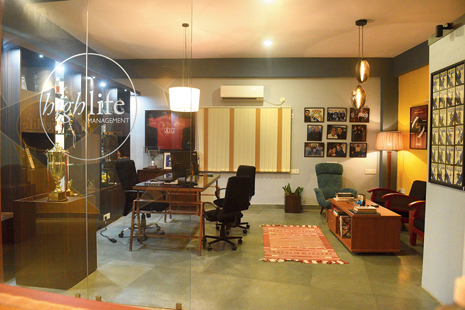 What kind of feedback have you got?
I was a little sceptical because it wasn't looking like an office, but every time people entered, they would have a smile on their lips. The cool effect on people made me happy! (Smiles) Of course, my friends and family appreciated it and a lot of people told me I should get into this professionally…. I really like doing interior designing. So, I did it with a lot of passion.
This was a complete break from what you had been doing…
This kept me alive during the lockdown. My brain was active… thinking what more can I do. I was happy that I wasn't shooting and I could just concentrate on this. We started working on it the minute the lockdown got over and it took us a month-and-a-half to complete it.
If you had the opportunity to design a dream space, what would it look like?
A lot of sunshine. I love natural lights and Saurav's house has lots of it. As I am growing old, I feel depressed if I don't see sunshine streaming in when I wake up. I have also started gardening in the lockdown. I want my walls to be subdued but my furniture to be nice and bright. There will be a lot of happy family pictures on the walls.
I don't restrict my pets, but yes, I do cover the sofas and furniture, say during monsoon, when they come in with muddy paws. I also don't like marble any more and prefer tiles, or sandstone.
I don't want my house to look like a hotel lobby. It should look lived-in and reflect my personality and those of my family members'.
Their wfh space...
Swarup Dutta, scenographer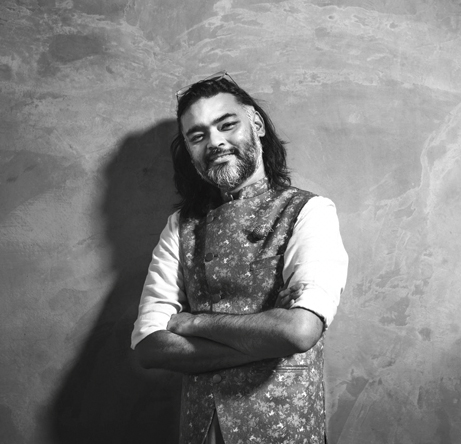 Did you always have a work-from-home set-up?
The nature of work that I have, I always have to have a set-up at home because we respond to clients at odd times. Now, it's become more extensive. There was always a physical space that we needed to transcend, go meet people. Now, we are all meeting people virtually. So, you need a certain kind of a bandwidth and set-up. That wasn't there. Here videoconferencing wasn't the norm. I also teach. We are trying to figure out how best to modulate that.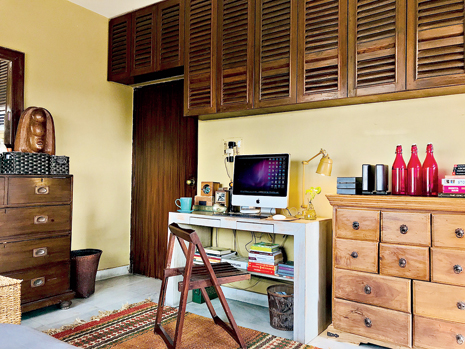 What was your set-up like? What have you added?
I had a table where I would keep my computer, my laptop, and the hard drive. I am shooting, and then I am sending images across. How I have improvised is by thinking of ways to function from here only. So, it has become slightly more elaborate. I have made it a little cosier. The tea selection has come closer, so that I can have access to tea. I have put in a little green, so that it's nicer.
What is work from home incomplete without for you?
A room with a view always works. It really is your escape. Light is absolutely essential for me because I am daylight person. A little soundproof room is also essential and you need to make the space a little calmer.
Eshaani Jayaswal, fashion designer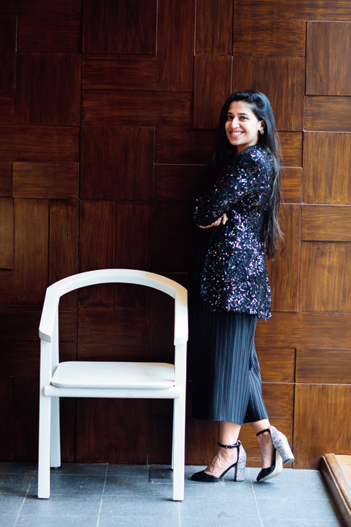 You've always had a work-from-home set-up. How did you go about setting it up?
I have my flagship store in the same building that I live in (on Southern Avenue). Being an old building, the high ceiling works well for a store space. Cream walls, lots of mirrors, browns accents.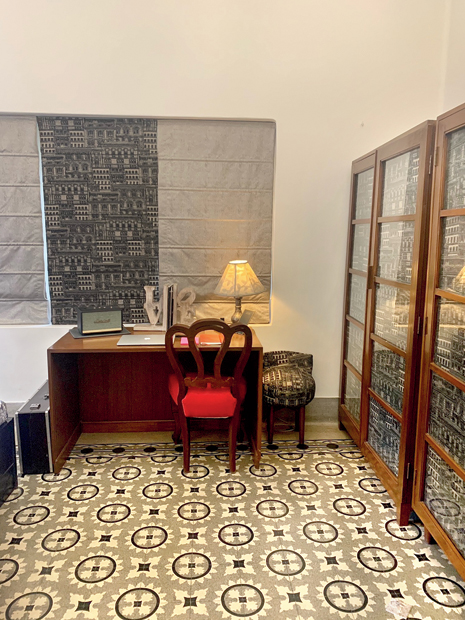 Describe your corner...
My new workspace is currently under renovation. Earlier I was sharing the workspace with my team. A glass table with a vintage chair. My architect friend Anjum created a billing table with optimum utilisation of space. It has space for files, bill books, a printer and delivery bags. I do use the billing table often to work on my collections with jazz playing in the background.
In the lockdown, you created another mini corner too. What kind of a space did you have in mind?
As creative people we have many moods. Depending upon our frame of mind we choose our working space. I've always loved everything vintage and pop. For me comfort is of utmost importance in any environment. My laptop, a pair of speakers, my fountain pen, a sketchbook and I'm good to work.
What would be your top tips for those trying to build a work-from-home corner? Good lighting can make all the difference. Try setting up your desk next to a window or somewhere with plenty of natural light. If your windows aren't made accordingly, try to equip your desk with cool-toned lighting. Get yourself a desk and a chair with back support. Keep your space clean.