Weaving rugs is equal part a creation of art and equal part a creation of legacy. And the kind of weaving legacy that India holds within every nook and cranny is what makes each piece of woven fabric an object of beauty. So how can we leave behind women from this robust ecosystem of dexterity and artistry? Tapping into this is Jaipur Rugs that boasts of an 85 per cent female workforce amongst its network of 40,000 artisans, criss-crossing the length and breadth of Rajasthan. But for the rug-making company, employing women is not just about achieving a numeric target — they mean business and so do their skilled female workforce.
From providing opportunities such as allowing the women to work from their homes, much before WFH became colloquial, and providing an app-based troubleshooting system, they have helped overcome obstacles pertaining to logistics and conservatism to reach a point where a woman from rural Rajasthan who started out as a weaver is also getting to design her rug and then travel to Germany to receive an international award for the same. And this is just one success story amongst many. Yogesh Chaudhary (inset), director of the company, tells us more:
What led to the inclusion of women in the workings of Jaipur Rugs and what role do the female members of the workforce play in the company?
Right from the beginning when my father started his journey in a small village in Churu, Rajasthan, he realised that the women weavers were very perceptive. He also saw their brilliant managerial skills from the way they juggled their home, societal responsibilities and work. Their seriousness towards their art and zeal to learn was what led us to work with more women weavers over the years. Currently, Jaipur Rugs has a network of 40,000 artisans of which over 85 per cent are women. Roles of weaver, quality supervisor, designer, rural development manager, director, storyteller, and production manager are all deftly handled by women at Jaipur Rugs.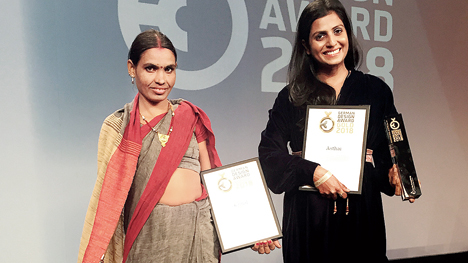 In February 2018, Bimla Devi (left), a weaver-turned-designer with Jaipur Rugs, journeyed from rural Rajasthan to Frankfurt, Germany to receive the prestigious German Design Award for her rug, Kamal, along with Kavita Chaudhary, design director, Jaipur Rugs. Going from Aaspura, Rajasthan to Frankfurt, Bimla Devi walked on stage to collect the award. Jaipur Rugs achieved this feat, competing with over 5,000 applicants from 56 countries, 40+ Gold award categories and 45 gold award winners, joining brands such as Audi, Porsche, Samsung and Puma.
What led to the conception of "doorstep" entrepreneurship and how does it make a difference?
During the time my father started working with weavers going door to door, he realised that there were too many middlemen in the trade who were exploiting the weavers. He envisioned a business model that eliminated the need for middlemen.The unique business model provides livelihood to the artisans at their doorstep. Weavers receive raw material at their doorstep and work from the comfort of their homes while taking care of those around them. Having found sustainable livelihood in villages, many weavers don't have to migrate to cities and add to the ever-ballooning clutter. In case of any difficulties or challenges, the weavers can report the same to their quality supervisors digitally and the quality supervisor can update the same on the in-house 'Tana-Bana' app. The app sends alerts to the head-office in real time and helps solve the problems at the grassroot level without physical intervention.
Last year when factories shut down globally, the weavers at Jaipur Rugs continued to work on long-term orders and other projects as per their convenience. This people-centric business model will hopefully kick-start a new conversation around truly sustainable businesses that can stand tall even when faced with unsurmountable odds. Perhaps this is what they must call, "value creation".
Rug-making is a labour-and-craft-intensive process that is often carried out by generations of a craft cluster. Most of these craft clusters are historically known to be conservative. In lieu of that, what are some of the challenges of fostering women employment from such communities and how does the company address them?
One of the things my father says is that poverty exists in the villages not due to lack of skills, but due to the mindset of the people. He believes that by working with them, we can change their mindset and bring about change.
The fact that work is provided at the doorstep of the weavers along with all raw material and necessary tools has helped us surpass several challenges that hold back women from working in these communities. Also, we understand the workings of the community and do not introduce any out of the way changes to their functioning. Regular inflow of income has also been a big factor in changing the mindset of the people. We have seen 26 per cent reverse migration from even the male members after finding the meaningfulness and consistency of work.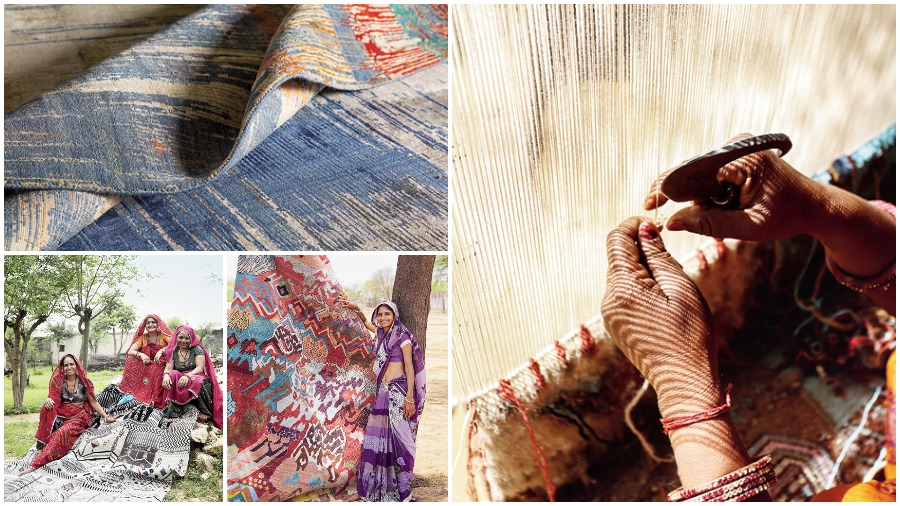 What does it entail from the perspective of a large business like yours to have 85 per cent of your workforce be female? What sort of changes and restructuring did you have to initiate within the company to accommodate this figure?
So, 85 per cent of the 40,000 artisans associated with us are women. This includes weavers, spinners, wool-sorters and gultarash artisans. We provide raw material directly to their doorsteps and the finished goods are picked from their home. This flexibility of working from home at their convenience is what has helped us get so many women on board. Instead of trying to mould their schedule to fit ours, we have given them the flexibility and freedom to decide their own working hours.
Tell us about some of the Jaipur Rugs programmes for women and some success stories.
Well, Manchaha is one of our most awarded initiatives under which weavers get to be the designers of their own rugs for the first time ever. Each rug in the collection is a masterpiece for the design inspiration it weaves. It is imbued with the individuality of its artisan evident in unique artistry. This collection has won numerous awards including the German Design Award, Elle Decor Award, Carpet Design Award, Deezen Award, Archiproduct Award and the European Product Design Award.
Through the Manchaha initiative rural men and women who have either had no education or just primary education, have stunned the world with original designs competing with professional designers and mega design houses on the global stage. This one-of-its-kind social innovation has resulted in important transformations in the life of the weavers.
It has renewed their passion for weaving, given them self-confidence and recognition from their own communities. They have discovered themselves in a way they had never imagined. The project has facilitated the economic transformation of weavers who used to work as mere wage earners.
The Jaipur Rugs Foundation also runs an Alternate Education Program under which young women and girls are trained to read and write. Modules are designed to educate them and help them carry out their daily life with dignity.
Pictures: Jaipur Rugs