It's money, honey
Read more below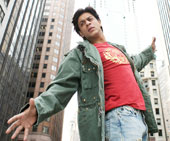 ---
Published 20.08.06, 12:00 AM
|
---
Shah Rukh Khan in KANK
If Omkara got rave reviews but poor box office collections, the case was just the opposite with Karan Johar's Kabhi Alvida Naa Kehna. The multi-starcast, mature love story didn't please the press as much as it did the paying public. Some audiences definitely found the subject of infidelity unpalatable, but box office collections proved that the number of people who didn't mind the film topped the number of those who found the story unacceptable. However, whether viewers were for or against the film, one thing is clear — KANK has become the most widely discussed film of Bollywood. Johar's third film as a director is the topic of conversation on the party circuit across the length and breadth of the country.
Made at a cost of Rs 50 crore (including publicity expenses), KANK will make around Rs 25 crore to Rs 30 crore from overseas alone. Add to that another Rs 12 crore for satellite rights, Rs 2 crore to Rs 3 crore for other electronic media and ringtone rights, Rs 5 crore for audio rights and you have almost its entire cost recovered. That leaves the total business from India as a bonus or profit. In the worst scenario, the film will rake in Rs 25 crore in India. And so you have Karan Johar making a neat packet of at least Rs 12 crore to Rs 18 crore (after paying commission to his distributors because the film has been released in the entire world by Johar himself at his own risk; his distributors are only exploiting the film on his account) on his investment of Rs 50 crore in a film which got him bad reviews, criticism and a disgruntled section of cinegoers.
The actual profits will be more than Rs 12 crore to Rs 18 crore because one is considering the worst possible situation here. Given the economics, no wonder Johar says, "Frankly, no review can make or mar a film."
As for the feared erosion of his brand value, it exists only in the minds of the trade. Will the public not see the next Karan Johar film just because KANK may have hurt his or her sensibilities? As for the industry, all of Johar's existing distributors are ready with their cheques to acquire the rights for his next film which, incidentally, is not even being directed by him.
Finally, film making is a money-making enterprise. So what is the media screaming about? And if films were so opinion inducing, why did runaway marriages not stop after Aditya Chopra's idealistic hero in Dilwale Dulhania Le Jaayenge refused to run away with the heroine when her father was against their alliance? The reaction to KANK is more than Johar had bargained for, perhaps because of its 'un-Indian' theme. Secondly, viewers never expected Johar to tackle a subject of this sort. Similar criticism, though to a lesser extent, had greeted Sooraj Barjatya when he digressed from his rich-in-family-values film making and made Main Prem Ki Diwani Hoon with some bold scenes between Hrithik Roshan and Kareena Kapoor. But, unlike Karan Johar, the Barjatyas lost money in the Hrithik-Abhishek-Kareena starrer.
Hrithik Roshan and Abhishek Bachhan get us to the promos of their second film together, Dhoom 2. The film's trailer has been included in the prints of KANK and they are outstanding! If the trailers of Krrish were responsible for the initial bumper take of the film at the box office, this trailer of Aditya Chopra's Dhoom 2 surely suggests that all previous records are going to be smashed on November 24 when the Hrithik-Abhishek-Aishwarya-Bipasha starrer hits the screens. Frankly, Farhan Akhtar should thank his stars that the Chopras shifted the release date of Dhoom 2 from Diwali. Otherwise, his Shah Rukh starrer, Don, would have definitely been pipped to the post on Diwali, at least as far as the opening goes.
P.S.: If you found Rani Mukherji very beautiful in KANK, there's only one man to give credit to — make-up artist Mickey Contractor. During the long US schedule, the Bengali actress developed a lot of acne on her face. But Mickey did such a marvellous job that the pimples were buried under layers of make-up.
Shah Rukh Khan is not going to abdicate his throne. Not just yet. The throne one is talking about is the superstar's toilet seat. Every once in a while, Shah Rukh spends two to three hours on the commode. No, the Baadshah does not have bowel problems. Just that he prefers replying to all his sms-es from his bathroom. And considering that he gets around 100 to 200 messages on his phone every day, the 120 to 180 minutes in a fortnight or 20 days isn't much for sms-ing replies to some!
Komal Nahta is editor of Film Information