?It helps to have an Indian passport in Iraq?
Read more below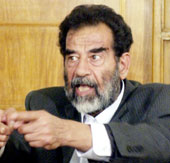 ---
Published 12.12.04, 12:00 AM
|
---
zone of conflict: Iraqi police and US soldiers gather at the site of a car bomb blast in Baghdad (above); Aparisim Ghosh (top); Saddam Hussein (below)
Aparisim Ghosh still remembers the little boy. Barely seven or eight, the victim of a car bomb attack lay lifeless at the shrine of Imam Ali in the holy city of Najaf. His body was burnt but his face was untouched ? and was almost a picture of calm.
It was late August, 2003. Ghosh, Time magazine?s senior correspondent in Baghdad, was waiting to meet a religious leader not far from the shrine when he heard a distant boom. ?It sounded more like a faraway thunderclap,? he says. Then, a second bomb, unmistakable this time, exploded.
Ghosh sprinted to one of Shiite Islam?s holiest shrines, responding to cries for help. For a moment, he forgot that he was a journalist. ?You couldn?t reach for the notebook at that moment,? he says.
So, the journalist rolled up his sleeves and started pulling out bodies from the rubble, hoping to find survivors of the blast that occurred after a Friday prayer, killing more than 80 people including Iraq?s top Shiite political leader, Ayatollah Mohammed Baqer al-Hakim. That was when he noticed the boy in one corner of the mosque.
That peaceful face would haunt Ghosh, the only Indian journalist in Baghdad today, for months. He couldn?t sleep well for days together. He often woke up in the middle of the night, sweating. Just when he thought he had blanked it out, the face popped up in his mind.
?Memories haunt you. It?s hard dealing with them,? Ghosh, now on a visit to Calcutta, says.
A business journalist-turned-war correspondent, Ghosh ? Bobby to friends and colleagues ? has seen it all: the US-led attack on Iraq, the fall of Saddam Hussein?s regime and statue and the chaos and mayhem that followed the war. He moved to Baghdad barely four months before the war and has been there since, off and on.
Hardly a day goes by in Baghdad, or in other major Iraqi cities, without bombs going off and civilians getting killed. Reports of kidnapping ? and beheading of hostages shown in graphic detail on websites ? add to the chill in the air.
Working in the embattled country ? whose streets now are far more dangerous than they were during the war ? is tough for foreign journalists, the target of hardcore insurgent groups with ties to the al Qaida. But, as Ghosh has found to his surprise, ?it helps to hold an Indian passport?.
In a country where people still adore Shammi Kapoor and Hema Malini, Indians are regarded as ?friends?. In fact, one reason why the Saddam Hussein regime allowed Ghosh into the country ? despite his working for a US publication ? was that he is an Indian.
?They told me it was one of the main considerations in granting me a visa. They felt that being an Indian I would understand their problems better than a Western journalist. This is debatable, but that?s what they had thought,? Ghosh, 37, says.
Ghosh has the added advantage of being mistaken routinely for an Arab in the street, an impression, he says, he wants to bolster by learning Arabic. ?I could get away with a little more than other international correspondents in Baghdad, but not much,? he says.
What saddens him is that no Indian publication has a correspondent in Baghdad today, though the events in Iraq have serious consequences for India. ?Even countries such as Mexico and Uruguay have their journalists stationed in Baghdad,? Ghosh says.
Contrary to what many believe, he says things have improved in several respects in Iraq following the war. There is, Ghosh believes, freedom of religion and of information. An Iraqi can buy a television set and watch cable TV, something that was unthinkable and punishable in Saddam?s days. Consumer products are all there for those who have the money. A government employee, who earned barely $2 a month in Saddam?s regime, now makes nearly $200 a month.
Iraq has a free education system. ?Before the war, even if you studied physics, 70 per cent of the syllabus had to do with Saddam Hussein. No longer,? the Time correspondent says.
The trouble, however, is that parents sending their children to school are not sure if they are going to return home alive. ?Even the parents themselves don?t know if they will live to see their children return from school,? he says.
Lawlessness in Iraqi streets, Ghosh acknowledges, ?negates? all the improvements brought on in post-Saddam Iraq by a US-led invasion. ?It?s a little hard to appreciate the benefits of an education system when you are not sure about the lives of your children,? he says.
Things have come to such a pass that even journalists are afraid to venture out of their secure houses unescorted. When Ghosh steps out of Time House, his home and office in downtown Baghdad, he always has a car trailing him with armed guards hired by the magazine.
The idea, he says, is that if a gang stops his car and tries to grab him, the second car will come screaming in, guns blazing. Even the driver or the translator in his car carries a firearm. ?Having grown up in liberal, democratic India, I am not comfortable having guns in the house. But I recognise that we need to do this to keep us safe and to allow us to do the important work of telling the story of Iraq,? he says.
Before the war, Ghosh says he could go to a neighbourhood caf? or tea house and do a bit of saku maku, Arabic for what?s happening and what?s not. He doesn?t dare do so now. Instead, he sends his translator or a go-between to find out what?s going on. ?They are our eyes and ears now. I am lucky that Time has an outstanding team of local staff.?
Even making an appointment is tricky. The magazine?s local staff meets those Ghosh wants to interview a week before the encounter takes place. ?I wouldn?t go anywhere unless I have personal guarantees of my safety from the sheikhs controlling the area or from my contacts in the insurgency,? Ghosh says.
But for all that, journalists are increasingly being attacked and killed. An Iraqi translator working for Time was shot dead on his way to the office some time ago. ?It was a big blow for us as he was terrific,? Ghosh says. Michael Weisskopf, veteran war correspondent for Time, lost his hand last December when a grenade was lobbed into the Humvee he was travelling in with American soldiers.
Caught up in bloody violence, Iraqis have virtually laid the memories of Saddam Hussein to rest. ?He?s yesterday?s man. Iraqis have far more to worry about now than Saddam Hussein,? Ghosh says.
The only way to end violence, according to Ghosh, is to have a ?legitimate? government elected by the Iraqis. Elections are slated for January 30, under a UN mandate. The interim government will draft Iraq?s new constitution and then hold a referendum on it in the shape of a general election scheduled for December 2005, paving the way for a five-year government and the withdrawal of the US troops.
Ghosh, however, has his misgivings. ?You need at least two weeks of dead calm before the election so that people feel confident enough to come out and vote. But honestly, I don?t see that happening,? he says.
Things were very different even two months ago. The minority Sunnis ? who make up 20 per cent of the country?s population and 90 per cent of the rebels ? had almost come around to the idea of an election, with the Association of Muslim Scholars, a group representing 3000 Sunni mosques, pledging not to stand in the way of a poll.
But the recent US offensive in Fallujah changed all that. ?The Sunnis (the community Saddam Hussein belongs to) now feel they are being singled out for punishment by the present government with US help,? Ghosh says.
With disorder consuming much of Iraq, those who have taken up the risky job of keeping the world informed of its affairs are under siege. But it?s not the job that stresses them out as much as the ?worries that our families are worrying about us?.
They have found a way to deal with it, though. Each time a bomb explodes in Baghdad, Ghosh and other correspondents race to the phone. Not to call their offices but their families to say they are safe. ?You know that your wife or your mother would be watching it on TV within minutes of an explosion. They will think the worst if they don?t hear from you,? Ghosh says.
But for all that, Ghosh has no plans to get behind the desk again ? he was a senior editor in Time?s Asia edition in Hong Kong for several years. If anything, he is preparing himself for another ?flashpoint? ? he has Iran in mind. But it?s only when Iraq lays its ghosts to rest that Ghosh will pick up his notebook and move on.