Every object tells a story
Indian crafts should be treated as an economic sector with huge potential, says handicrafts activist Laila Tyabji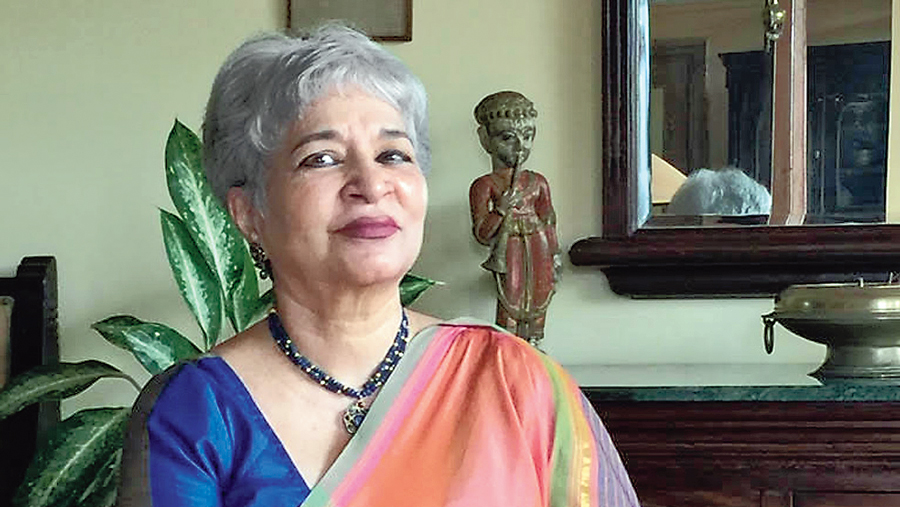 ---
---
Laila Tyabji, chairperson and founder member of Dastkar Society for Crafts & Craftspeople, New Delhi, speaks to The Telegraph in an email interview.
India is a rare country where multifarious crafts, each with its distinctive regional identity, are still alive in spite of little institutional support. At a time when the Prime Minister is advocating Make in India, what role should the government play to promote crafts?
The Indian craft sector is a potential goldmine, especially at a time when the world is becoming aware of the value of eco-friendly, low carbon-footprint production of things made by hand from natural materials.
So it needs to be treated like any other economic sector with huge potential — supported with investment, R&D, new design, appropriate ancillary infrastructure and skills development, and marketing networks.
But the government also needs to recognise that its diverse skills, communities and locations need different approaches, and that it cannot be looked at as one mass means of generic cheap production.
We should take a look at what other Asian countries with much fewer skills have done — the Phillipines, Thailand, Indonesia....
Are prohibitive prices and high maintenance factors responsible for putting off middle class buyers? What should be done for crafts to break out of this mould?
Again, we need to recognise that some crafts ARE luxury items (folk art, sculpture, jewellery, silverware and other objets d'art, brocaded textiles and fabric, carpets....) and need to be promoted and sold accordingly, and other simple, utilitarian items of everyday use (basketry, terracotta and ceramic wares, folk toys, grass mats, etc) should be available in bulk at wholesale prices, not all lumped together in a craft emporium or mela, where both ends of the product ranges look incongruous.
Costs can also be brought down by easy access to appropriate raw materials, produced in bulk locally.
Most importantly, the public needs to be made aware of the value of the hand-crafted. A crafted product is so much more than a commodity. It has an aesthetic and cultural value, and a story that no machine-made object can replicate.
No one quibbles that a painting is more expensive than a photograph! Good packaging and promotion are essential, if people are to give crafts the respect and price they deserve.
How hard are craftspeople hit by the double whammy of Covid-19 and economic depression? Could a movement be started to bring back the use of crafts in everyday life?
They've been very badly hit. They have no safety blanket of pensions or insurance, and are not covered by government relief schemes like MNREGA. And for six months they've had no sales, no orders, no markets... Everyone's heart bled seeing the plight of the migrant labour, but craftspeople, also without work, were invisible.
And now, even when markets are slowly opening up, consumers have less purchasing power, and craft is sadly not a priority.
An immediate step would be a ban or punitive taxes on the cheap spurious Chinese artefacts and garments that are flooding the market, everything from glass
bangles to Ganeshas and mirrorwork embroidery, which make it difficult for genuinely handcrafted Indian crafts items to compete. The timing for a nationwide ad campaign appealing to our patriotism seems right!