images/look_young.gif
Look before you peep Raving about ragas Roadside savouries God forbid AWARD OF THE WEEK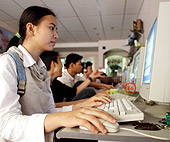 ---
---
Look before you peep
Checks and balances
There's a new guard on the prowl, and it's looking to nab students. Those smart alecs who think the best way to write an essay is by copy-pasting from the Net, a new computer programme is ready to catch you off-guard. The software Turnitin is a smart piece of binary magic — it can check a student's work against 800 million web pages for plagiarism. The Robert Gordon University in Aberdeen, UK, has put the software on trial run in its classrooms. The scheme, so far, has been voluntary for undergrad and postgrad students. And though the check has thrown up quite a few cases of Internet plagiarism, the response from students has been enthusiastic. Maybe they can do something about those guide books now.
Raving about ragas
They don't just groove to trance and go to rave parties. A recent five-day cultural extravaganza at IIT Powai showed that college students in India also sway to the notes of the sitar and the beat of the tabla. Students were active participants at the national convention of the Society for Promotion of Indian Classical Music Amongst Youth (SPIC MACAY), taking notes and brushing up their knowledge of Indian classical music. And with greats such as Bismillah Khan, Birju Maharaj and Shiv Kumar Sharma, there was much for them to soak in. The event was dedicated to the memory of three stalwarts of Indian classical music who passed away recently — Semmangudi Iyer, Vilayat Khan and Kelucharan Mahapatra. Enthusiasm was not lacking, and the open-air theatre would fill up every evening. So, who was saying that the IITs were just about all work and no play?
lit's not a role for the faint-hearted. Singer Mandy Moore has been offered the role of Monica Lewinsky in a new film. She's not sure if she'll play the part, but we'd tell her to go ahead. How often can you get so close to the US President?
Roadside savouries
A Cavalli creation
Star quality isn't always a winner. If you believe Dr Indira Chak-ravarty, director of the biochemistry and nutrition department of the All India Institute of Hygiene and Public Health, the delicacies of five star hotels don't match up to your humble bhelpuri and streetside kebabs in matters of freshness. Speaking at an interactive session in Calcutta, the professor said that because street food is hardly left over, there is little chance of microbes breeding in it. So go ahead, gorge on those phuchkas.
God forbid
Look at the soup Harrods has landed itself into because of its love of all things exotic. The London departmental store was displaying a range of lingerie and swimwear, designed by Italian master Roberto Cavalli, which used Hindu gods and divine symbols as motifs. Now, no upright Hindu wants to wear a bikini which has a peekaboo Vishnu sitting pretty next to...! So enter Hindu Human Rights group with banners and complaints. Last heard, Harrods had hastily withdrawn the range.
AWARD OF THE WEEK
Goes to the Chennai band of teenagers whose first album, Oxygen, has been a runaway success. The eight-member band is busy planning its next album.