images/look_young.gif
Hands off From a distance Food mood AWARD OF THE WEEK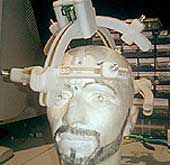 ---
---
The Cerebus headset
Hands off
Move over Nintendo, Mind Balance is here to knock you off your feet, or maybe, your revolving chair. The new video game will allow you to control the contest directly through brain impulses. No jacks, wires or plugs involved! The futuristic technology, developed by MIT Media Lab Europe, was originally meant for people struck by paralysis and capable of limited body movement. It would have helped those patients who can see and hear, but can't move and speak. Then inspiration struck the team of researchers. They found that the Cerebus headset, which uses wireless technology to control the processes, could be modified for user-friendly video games. It aims at creating a brain-computer interface through a direct electroencephalography (EEG). And the way the things are going now, a hands-free video might not be the stuff of daydreams.
Look who's talking! lara dutta, of ANDAAZ fame (remember her dancing away in deserts, on sea beaches, wherever, wearing almost nothing?), has now announced that she feels, um..., "uncomfortable" wearing a bikini on screen. New leaf, or what?
Learn on the phone
For Shreya Mazumder and Purbita Dutta Gupta, college life is not all about phuchkas and adda. The two postgraduate students of Jadavpur University are helping out Thoughtshop Foundation in a training programme for budding telecounsellors. The 20-sessions module, spread over five weeks, is hardly a run-of-the-mill affair. Two weeks into course, the feedback shows that the group is finding it tough, but exciting. Says Shreya, "Some of them came here expecting a classroom atmosphere, ready with their diaries to take notes. But it's hardly that — the course is all about group activity. There's no chalk or blackboard involved." And the learning curve has been good. The present group of 15 have settled in, and there are chances that some of them will finally join the Askline (ph: 24176128) the foundation runs. If you're interested in the course and want to take part in it, call up 24176129.
From a distance
Globewide Network Academy (GNA) is planning a silent revolution. The GNA website www.gnacademy.org has put together a vast amount of data on distance-learning courses from around the world. And what's more, GNA is dedicated to the idea of free use — it actively encourages users to to share and transmit any information that they find handy on the website.
Street smart
Food mood
The room rents are high, travelling from one place to another is a real pain — many first-timers in Mumbai feel that it is only the heavenly street food that makes the city habitable. But these gourmets of the streets may be in for a rude shock pretty soon. If the municipal commissioner and the police chief of Mumbai have their way, the bhel and the paani puri will soon be banished from six tourist hot spots on the city's map — Marine Drive, Gateway of India and Worli promenade are some of them. The movement is part of a plan to clear the city of hawkers and turn it into a world-class place. Where are the protesting teen brigades?
AWARD OF THE WEEK
Goes to the NGO Empowerment of Children and Human Rights Organisation (ECHO) which has helped street children find jobs as traffic police assistants in Bangalore.