images/look_young.gif
Ode to alma mater All you can bite Curiouser and curiouser Playing it up AWARD OF THE WEEK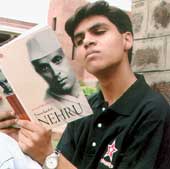 ---
---
Raghav Kuckreja
Ode to alma mater
A long, long time ago, an 18-year-old self-styled poet was waiting to enter what he considered were the Pearly Gates ? the door to St Stephen?s College. The whole process of admission so inspired Arun Kuckreja that he wrote a poem on how he belonged there already. Three decades later, when his son Raghav was going through the process, ?Delhi?s Fellini? decided to go a little more hi-tech than he had in his student days. The result: a short film on the hallowed institution, with specific references to Shakespeare, cricket, Camus, Jawaharlal Nehru, and everything else relevant to capture the spirit of ?Stephania?. The film will be premiered at the Founder?s Day celebrations of the college later this year. And Raghav will debut in it.
All you can bite
If you?re the type that worships the late Atkins as a personal god, here?s further food for thought. A new diet doing the rounds lets you eat whatever you crave for ? even that dollop of chocolate mousse. But there?s one catch. Just remember the number of bites you?re taking. The novel diet keeps a tab on daily intake by allowing upto 85 bites a day. An ideal meal would have eight bites of protein, six of starchy food, an equal number of veggies and four dessert bites. Two bigger (18-22), and two smaller (12-16) bite meals are planned for each day. Legging it on a treadmill isn?t necessary, and you?re even allowed three glasses of alcohol in a week. So quit counting the carbs and bury that nose in the trough. For now...
Gael Garcia Bernal, the Mexican star, has roared straight into the heart of Hollywood as the young Ch? Guevara in a movie version of The Motorcycle Diaries. The movie entered the top 10 list in the US this week. Viva, all rebels!
Curiouser and curiouser
How does a rock star look in drag? Marilyn Manson should know ? after all he?s playing the Queen of Hearts in a a celluloid reworking of Alice in Wonderland. Manson, apparently, has taken up doing trial runs of getting his stockings straight. The movie also has Alan Cumming, Nia Vardolos and Daryl Hannah and will be released next year.
Playing it up
Leslie Lewis with Sonali
You?ve known her to hypnotise audiences with her soulful ghazals, but Sonali Rathod is exercising her larynx in new things these days. The singer has teamed up with Leslie Lewis of Colonial Cousins for a new album. ?Every artist has to keep experimenting. One would never want to stagnate,? Sonali tells us. And it helps if you?re working on something you enjoy doing. ?Music is not just a profession, it?s a passion for me. I?ve projected my voice in different ways, and the audience will surely like the effort,? she reveals. Around eight songs have been recorded for the yet-untitled album, which should be completed this year-end.
AWARD OF THE WEEK
Goes to Vivekananda Law School in New Delhi which organised a two-day national workshop for law students in order to make them aware of the duties and responsibilities of the profession.