Muppet rocks AWARD OF THE WEEK
Pop goes the bubble Life without wires Bard's on the cards Muppet rocks AWARD OF THE WEEK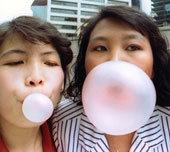 ---
Published 26.09.04, 12:00 AM
|
---
Pop goes the bubble
Look before you spit
Chewing gum is causing a sticky situation on Oxford Street, in London?s prime shopping district. And the city authorities have requisitioned the services of a ?referee? to clean up the mess. A lookalike of hotshot referee Pierluigi Collina will roam the street and show red cards to anyone seen droppng chewing gum on the asphalt. A survey on 503 people who commute into central London everyday, showed that 92.2 per cent had gum sticking to their shoesoles. Some 300,000 pieces of gum can be found on the road at all times, and the city council spends ?90,000 every year to clean the streets. Sixty-seven per cent of the populace want gum companies to pick up some of the tab.
Life without wires
Philadelphia is set to turn into Utopia for geeks ? but for a fair price. For around $110 million, all 135 square miles of the city can be turned into the biggest wireless Internet location on earth. Authorities are looking into the project that will require them to place hundreds of small transmitters across the city ? at times even on top of streetside lamp-posts. All of these will be able to communicate with the networking cards in computers. Once it is completed, broadband services will be available in all neighbourhoods, either for free or for a very nominal charge. Such projects have been implemented in a limited way in other parts of the US such as Texas and Cleveland. Logging on just seems to be getting easier.
Singer Gwen Stefani, of the group No Doubt, now has it both ways. Her first solo album is ready for a November release and she?ll star in The Aviator, where she plays screen legend Jean Harlow. Blonde bombshells, both.
Bard?s on the cards
It?s showtime folks, and the flavour of the season is the man from Stratford. For the first time Shakespeare?s complete canon, including the poems and sonnets, will be performed at Royal Shakespeare Company theatres and other venues in England. It?s all part of a festival that?ll culminate in April 2006. So for now at least, all the world (nearly) is a stage.
Justin Timberlake
Muppet rocks
If you thought his ?wardrobe? antics on stage were weird, imagine what Justin Timberlake will be dressed up as now. The star has just decided to opt for a lightweight cameo role in the latest muppet film, Wizard of Oz. Timberlake?s sudden interest in an audience even younger than himself was roused after seeing his present girlfriend Cameron Diaz lend her voice to the hit kiddies? film Shrek 2. The forthcoming movie will also star singer Ashanti, as well as hotshot director Quentin Tarantino, also in a brief performance.
AWARD OF THE WEEK
To 27-year-old Malaysian Nur Malenna Hassan who spent 33 days in a closed, 12 feet by 10 feet box with over 6000 scorpions, creating a world record. She only left the enclosure for 15 minutes everyday for bathroom breaks.