If a picture speaks a thousand words
Read more below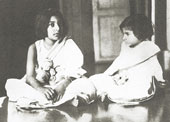 ---
---
1935. Lotika Sarkar. The picture of Sarkar with sister Basanti, was taken by their mother. The activist-lawyer became founder-member of the Committee of Status of Women in India
Back in the year 1991, Malavika Karlekar came across a series of ancient, very powerful, black and white photographs of Indian women, most of whom had led lives of seclusion. The author was then working on her book, Voices from Within: Early Personal Narratives of Bengali Women (Oxford University Press). She was looking for illustrations for her work, she recalls, and her search had taken her to different photo archives throughout the country, where she sat for days sifting through material. ?It became evident to me while I did
1937: Amrita Sher-Gil. The artist photographed by father Umrao Singh Sher-Gil, in Shimla
this,? she says, ?that the photographs had another story to tell ? or maybe many women?s stories to narrate?.
Karlekar decided to let the photographs speak for themselves. This is how the idea to ?weave together a visual documentary on Indian women? was born.
And is now visiting Calcutta. Put together by Karlekar and her colleagues at the Centre for Women?s Development Studies (CWDS), and titled, ?Re-presenting Indian Women 1873 to 1947: A Visual Documentary?, the exhibition will be held at the Seagull Arts and Media Resource Centre from February 19 to March 12.
1899: J.N. Gupta, ICS, wife Sarala and son Sudhi. The Guptas were Karlekar's grandparents, shown here in a Darjeeling studio
The photographs were collected, according to Karlekar, mainly through personal contacts, as well as institutions. ?We were quite clear that we were not interested in only the known names and faces,? she says, ?so wherever we went, we asked ?Do you have photos of mothers, grandmothers, aunts, etc.??
1928: Snatika ceremony at Kanya Mahavidyalaya, Jalandhar. Students pose at a convocation ceremony of one of the first social-reforming schools for girls, founded in 1890. The girls assembled here had trained as teachers. Their robes are an interesting adaptation of the Western-style gown and hood
Invariably the answer was a ?yes? and out would come something ? often faded, torn, but yet appealing in what it said. A niece-in-law of mine, for instance, gave me the picture of her grandmother, Urmila Devi Shastri, and with it came a little printed booklet of her life as a satyagrahi.?
Karlekar explains, ?We decided that the exhibition should span from the earliest photograph we had in our collection ? 1873 ? to the time of the freedom struggle, ending in Independence.?
1942: Amala Shankar and Zohra Segal. The dancer and actress are seen here in their heyday
It took them about a year to put together the first exhibition, of more than 200 photographs, which was held at the India International Centre, Delhi, in 2001 and then another six months for the next one, held in 2004.
The exhibitions have generated a demand for more such events in other parts of the country, Calcutta being one of them.