'I am having the last laugh': Manish Malhotra
Manish Malhotra rewinds his three-decade-long journey and the many firsts he has introduced in Indian fashion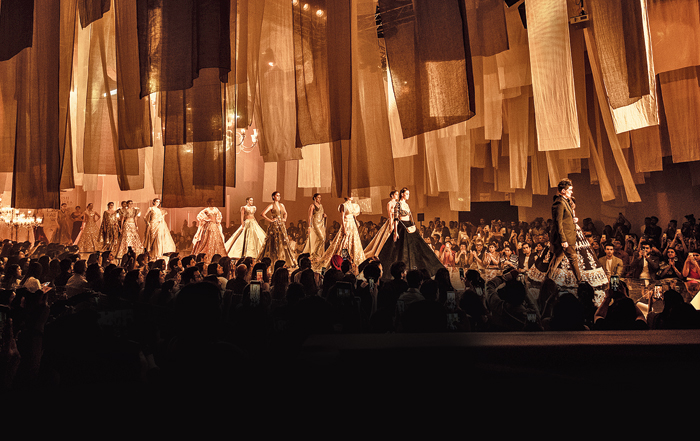 ---
---
We were meeting him a couple of days after a grand show. For a chat we've been planning for close to a couple of months. A chat that seemed jinxed. He bustled in, into his studio at Khar (West) in Mumbai, and after warm greetings, went in for a quick meeting. Back in five minutes, he settled down for our chat, only to break into another appointment. For "that Manish Malhotra touch". That's what the bride's family wanted. Manish Malhotra smiled. Now we knew why that telephonic chat with Manish got perennially pushed back. He is so busy! Crazy busy! He'd tell us in the course of the chat that he loves this 'chaos'. The 'chaos' of 30 years in Bollywood, 15 years of his own brand and many more verticals. The happy 'chaos' that is the 'Manish Malhotra world'.
How much do you travel?!
It's crazy! Yeah, it's too much. It's crazy. You are right. It's crazy, I agree.
But you like it…
I like the craziness…
Doesn't it get to you after a point?
It does… because everyone in my office just sends me messages and they expect instant answers. So, it gets quite taxing. But I answer when I have the right answer. Sometimes you have an instant right answer. Sometimes you need to think about it. Earlier in my life, I used to give impulsive answers. But time and experience teaches you some answers can wait because they become better. My time off would be watching a film, a good meal… I love food…I listen to music….
You don't get angry, right?
I get very angry! I get angry only at work, I don't get angry otherwise. I am very strange. Silly things can irritate me and with big things, I'll be like: 'It's fine'. Actually sillier things irritate me more.
Lots of landmarks coming up next year…
We are starting the preparations from now only… it's mid-next year. I'm in my 30th year... will complete 30 years next year.
For a costume designer to be starting a business and a label and getting into mainstream and then also working with the four generations of actors and being relevant and working with such young people… very few people, whether they are actors, directors, technicians, see that. I feel privileged and honoured I have seen that. There can be no bigger gift than that. Not money. Not success. Not awards. Nothing can be bigger than the fact of having sustained at a level for so many years.
When I came in, there was Sridevi, the top star, Madhuri (Dixit Nene), Juhi (Chawla)… with me came Kajol, Karisma Kapoor, Urmila (Matondkar). The next lot was Kareena (Kapoor), Rani Mukerji, Preity Zinta, Aishwarya (Rai Bachchan)… then came Priyanka Chopra, Deepika (Padukone), Anushka (Sharma). Then came Alia Bhatt, Sonakshi Sinha… now is Janhvi (Kapoor), Sara (Ali Khan)….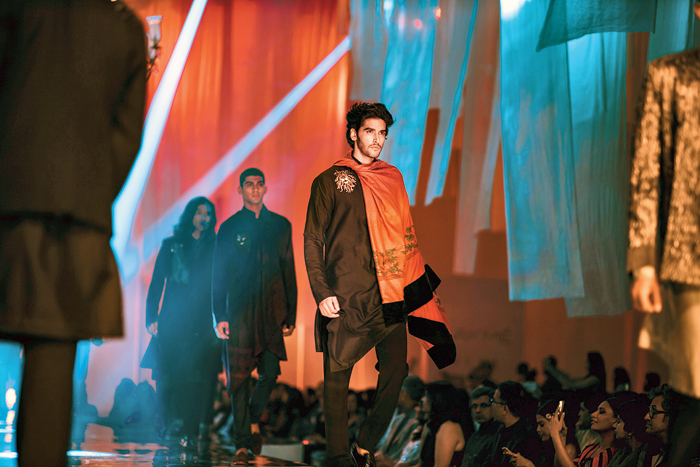 I am in touch with Rekhaji who is a friend and Janhvi is also my dear friend. What more spectrum can anybody want? With Sridevi I had worked almost 30 years and today I work with Janhvi and Khushi. I have known Karisma Kapoor since 30 years… worked with her for 30 years… with Karan (Johar) for 25 years. That's a journey, to work with people for that many years. That means you are very professional because friendship cannot make it last.
How is it in hindsight?
It's great. That's exactly what I would have wanted… super busy. I don't even remember half the things. To sum up all the decades is that I am running. Always, working hard. I am honest to the job. Everything else in my life is secondary. Money, fame, accolades… I don't make a big story out of what I do. Sometimes I also think that's my fault. What I don't sometimes realise is, the world is changing. They want to know stories, whether they are genuine or not, they want to know the story behind everything. I am more of a storyteller through work than really a storyteller.
I am not educated… I haven't studied fashion... in school, I was not good at anything… I was only good at watching films. I became very good at drawing and sketching. That's how I passed my science exams. I don't consider myself educated. I consider myself a person who is very passionate about what he does. I genuinely love clothes and movies. My entire childhood is all about movies and clothes, from my mother's dupattas and saris and cutting them… it's a honest love. It's nothing to do with any kind of pretension… that's one thing I cannot do. I am not an intellectual and I don't claim to be either.
I think when you come from a very strong, supportive, simple, middle class family, you have that strength of facing the world. I am not waiting for people's approval. I get up and do what I do. I don't have an ego or a complex. I have the confidence to walk into a party alone. I do not think coming late means stardom or walking with 10 people means anything. I have never really come with those thoughts. Success is subjective. I am just honest and straightforward.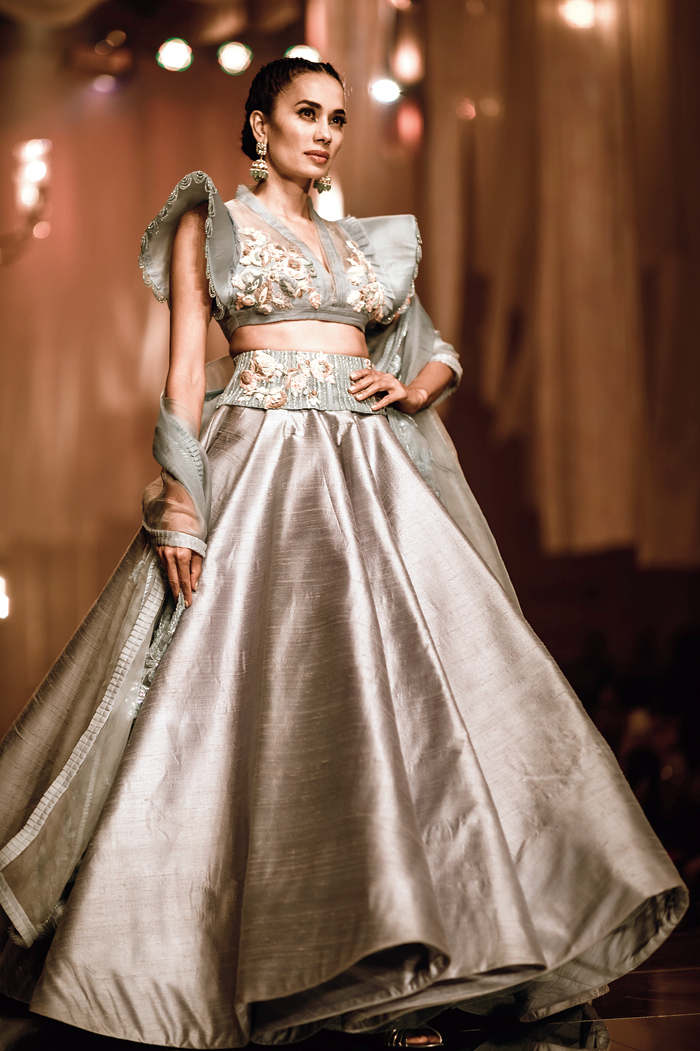 Did the Hindi film industry surprise you?
Yeah, it was very intimidating initially, because it was another world. I don't know what I was expecting.
I single-handedly built a lot of respect for costume designing. Of course there was Bhanuji (Bhanu Athaiya) who was doing brilliant work and then I built that up… by asking for the script, the story, the characters, working on the research, the sketches, the look… I single-handedly introduced look and styling in films. I was keen to do that and that's what I did.
There are a lot of things I have introduced. The award for costume design started with me. I introduced the concept of a showstopper, a front row, styling stars for their events… today every single designer in the country gives their outfits to actors to wear…. I was critiqued for it. I am having the last laugh.
Then I was accused of doing extra bling and sequins and today everybody is doing it. All my movies in the '90s, all those strappy blouses with low backs, every designer in the country is doing that.
What were you references?
I was very interested. I still am... magazines. Then luckily, I started travelling… so exposure. I imbibe things, I imbibe a lifestyle. Sometimes what happens is, you see something and they are at the back of your mind and they come to you…
Did you take a lot of time to convince yourself to take the plunge and launch your label?
The whole idea to start a label was to make diffusion clothes, because I was busy with films. Then the label also started getting me busy. Then I had stores in between.
If you ask me today what is my priority, is it the label, my business or films, I would say my label and business. I love films. It is an eternal love.
But that has taken a back seat?
Phir bhi ho jata hai… if I like the subject and I feel it is a challenge… then.
What is the focus right now?
The brand. And we have done very well for ourselves. I think the business and the brand needs that focus to take it to the next level. So, the first thing is to systemise it and looking into a lot of the changing factors of today.
I started Mijwan nine years ago (the shows in association with Mijwan Welfare Society, an NGO founded by poet Kaifi Azmi) with Shabanaji (Shabana Azmi) and from 40 women, now we have more than 400 women who work. I do a lot of embroidery in Kashmir. Then I did a entire collection on phulkari which the Philadelphia Museum (of Art) took. We have embroiderers and tailors…. We do a lot of chikan. I am looking at a lot more cottons. That's one of our plans for next summer.
For me it is a journey and it is a very honest journey. It is something I like to do, I love to do. I fail, I win, I am successful one day. There are so many ups and downs but I don't let it boggle me down. Ever.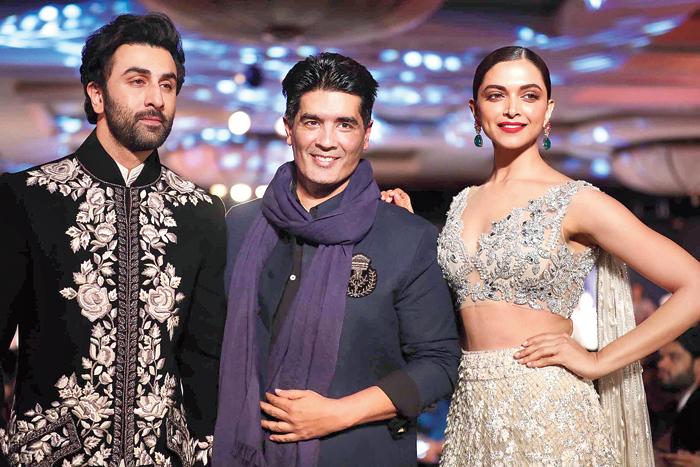 You've ventured into make-up, jewellery and homes now…
All these are verticals to extend your brand. I am a lot involved. I am involved in everything that I do. There are two types of business modules. One is where you do multiple stores. And, the other model is what the international designers do. They have large stores where they house the various things they do…. I am trying to create a Manish Malhotra world. I was the first designer in India to start a 9,000sq ft store in Delhi. Everybody else followed me….
In jewellery we are trying to do uncut diamonds, a little more modern. I like Indian clothes with a bit of a modern twist. That is my sensibility. That is my world.
I love home decor. For me, a home is rich, textured, a lot of embroidery but a lot more thread, velvets… I love velvets… I love the fact of mixing velvets with textured fabrics. It's again got the similar sensibility…. While in clothes I like bling, shimmer, glimmer, opulence, threadwork, I like the homes to be a little more spacious and minimal. In my own house, I have a lot of white walls, mirror, fresh flowers… I find tranquillity and solace in them.
I know for the fashion industry, the best thing is to put me into the Bollywood category, but you can never deny or take one thing away from that many firsts.
What is the future looking like?
What is exciting right now is taking the business and the label to many more verticals, adding a lot more gravitas to ourselves, demographically reaching out to lots of different places. The Manish Malhotra world of beauty, glamour, lots of different artwork, craft, texture… I want to be a one-place shop where you can come and get a vivid variety of clothes.
What is a typical day in your life like? We heard you are a morning person…
I am a morning person… I wake up at about 5.30am-6am…. A typical day is beyond hectic! I jump out happy. I like to work out. I have tea with my mother. I have always lived with my parents. So, I keep reminding her that there is no other son, 52 years and still living with his parents. I have very comfortably lived with my parents. I have been brought up with certain values and may be because I have lived with my parents, those values have sustained. I find it very funny when designers are looking through each other. I find it silly. The biggest blessing is to wake up in the morning and go to do what you like. That tires you less. Work begins by 7.30am-8am. People start messaging me. I have to take a one-hour break for shower and food.