Home alone
Read more below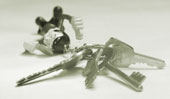 ---
---
Don?t lock her out: Women tenants have a right to their hours Photo: Subhendu Chaki
D?pays?e. That?s how Nisha Mukherjee?s French Canadian ?hostess? described her when she first moved into her flat in Delhi?s GK-1 locality. What did it mean, Mukherjee had asked her. ?It means,? the lady replied, ?a woman removed from her habitual surroundings?. That was the last time she exhibited any desire to define Mukherjee. She systematically underfed her, allowed her no sleep because she partied at full volume all night, expected her to fill in for the frequently absent servants and one drunken evening, gaily accompanied her nude boyfriend into Mukherjee?s room with the charming suggestion that as she apparently had ?no man in your life?, she was welcome to ?share? the one on the premises. For all this kindness, Mukherjee paid her Rs 6,000 a month.
That was in the Nineties. And she was more than 40 years old then.
Nearly 10 years later, surprise, surprise, things haven?t changed. Except that single women looking for a space in cities away from home are greater in number, younger in age and paying a lot more for a place to lay their heads. And very few people are willing to give it to them.
New Delhi
Working women in Delhi are increasingly moving to the less upmarket areas of the country?s capital and even in places such as East of Kailash, Kalkaji, Mayur Vihar or Chittaranjan Park, it?s still possible to find (after a rigorous interview) a single room set for as little as Rs 4,000 (with breakfast and dinner thrown in). But that hasn?t made them feel any more welcome or protected.
Take the case of 26-year-old Seema Arya. ?A lot of people translate ?single? as ?willing to have fun?,? she complains. ?I have had to deal with over-enthusiastic male acquaintances who drop in. And then there would be my landlady who would complain about my ?lifestyle?.? Arya?s found a solution to her problem. She?s got married.
But not everyone?s prepared to go to such extremes, and for the rest of the world of women who have relocated away from home, the problem seems unending. Which is why women?s hostels are so full to capacity. Most of the better ones have long waiting lists and it could take forever, for your turn to come.
Deepti Soni, a press and public relations officer working at the British High Commission, used to stay at a hostel called Shubham, a semi-government outfit run by former National Commission for Women president Mohini Giri. Here, male visitors are not allowed in the hostel gates. The girls have to return by 10 at night, and if they have to work later than that, they are obliged to produce a signed letter from their bosses endorsing the fact. The girls? words don?t hold any water.
Mumbai
And who wants to stay in a hostel, anyway? Certainly not Kalpana Swamy, a 24-year-old public relations professional working with an image consultancy firm in Dadar. ?The restriction of timing? is what she cites as a problem though most other women say it?s the lack of privacy and personal space that puts them off the idea of herding together with a hundred other women under a single roof. Swamy eventually found a PG with the help of a broker in Sion but isn?t terribly content with her lot there either. ?The family I am staying with doesn?t like my late hours,? she says. But what can she do? ?I?m in Mumbai for work reasons, anyway, so I have to give priority to my job.?
Manasi Pinge, 25, is an image manager with a public relations firm. Unable to find anything remotely affordable nearer the city centre, she finally found what she thought was a resting place in Everard Nagar in Sion. But the Gujarati landlady badgered Pinge day in and day out, refused to hand her the flat keys and, if she went out herself late at night, would keep her paying guest (at Rs 4,000) stranded outside the door for hours without dinner while she partied the night away.
So Pinge moved into a tiny flat of her own in the same area. Here, it was the neighbours who proved to be her undoing. They didn?t like her ?returning late?, they told to the housing society, although it was quite all right with them that their own college-going sons came back to the building at all hours of the night. The result of the neighbours? complaint was that Pinge was asked by her landlady to leave. She is now back to a PG accommodation, which she shares with another girl. Expectedly, they get in each other?s way sometimes. ?After a 12-hour working day,? she sighs, ?can?t I have any privacy??
But at least no one?s complaining about her hours any more. Most women working away from home aren?t so lucky, testify Mumbai brokers Rajneesh Kale and Ritesh Lanjewar. ?Landlords just don?t like women who stay out late,? says Kale, who works as an estate agent in the western suburbs of Mumbai. ?I once had a client who worked as a TV journalist. The landlord I approached on her behalf said no when he heard that she wouldn?t be home till 2 am.?
?Even in independent accommodation,? agrees Lanjewar, ?the house-owner has to ensure that the tenant does not create any nuisance which could cause trouble with the society.?
Calcutta
Society. Society. Who cares about society? Unfortunately, Susmita Dasgupta was forced to. The merchandise officer at a leather manufacturing company has an amazing story to relate. When her husband followed his job to another town, she had decided to stay on in Calcutta in order to keep hers. But it felt absurd holding onto the large apartment they had shared (and paid a bomb for), so she embarked on a hunt for a smaller place. ?That?s when it struck me how difficult it was for a single woman to find accommodation,? she admits.
?In one home in Tollygunge, they made me sit down in their drawing room,? she relates with horror, ?and the entire family ? an elderly gentleman, his wife and visiting daughter and grandson ? gathered around me, asking all sorts of questions. The elderly gentleman, who kept reminding me he was the owner of the house ? as if I didn?t get it the first time ? and his daughter were particularly nosy. Prying into my private life. They wanted to know why I wasn?t staying with my husband, whether I had any problems with him, why I didn?t move with him, why did I work ? did I need the money and would I be able to pay the rent? And all the while, they kept looking at me suspiciously. And as if all that was not humiliating enough, I was then told about their ?strict timings? because, after all, they were ?decent folks?.?
You could say Manashri Ghose, who rents out a portion of her apartment in Jodhpur Park, is quite a different sort of landlady. She says she actually prefers taking in lady tenants. ?They?re more responsible,? she says from experience. The current occupant, however, is a gentleman.
Bangalore
Bangalore appears to abound in gentlemen, according to 28-year-old Rashmi Singh, who works for Healthscribe, the medical transcription firm. ?It?s a single woman-friendly city,? she says. ?Women have plenty of places to stay and, even with the outstation professionals swamping the place after the IT boom, finding decent accommodation is easy.?
Almost every house with a room to spare is letting it out to working people, women no less than men. ?In colonies like Indira Nagar and Koramangala, providing PGs has become big business,? says Singh who lives in a bungalow converted into a women?s hostel in Koramangala, an upmarket residential colony.
And the living is easy here. ?There is no curfew,? she exults, ?each girl has a key to the main door.?
And elsewhere in the city? Girls are flocking to the PGs and, recently, to flats of their own. ?Women are increasingly welcome tenants, she says. ?That?s because they stick to the rules.?
Wonder why no one thought of that before?