Highlights from Day Four of FDCI x Lakme Fashion Week
The just-concluded event saw couturier Suneet Varma stepping into the ready-to-wear space and more…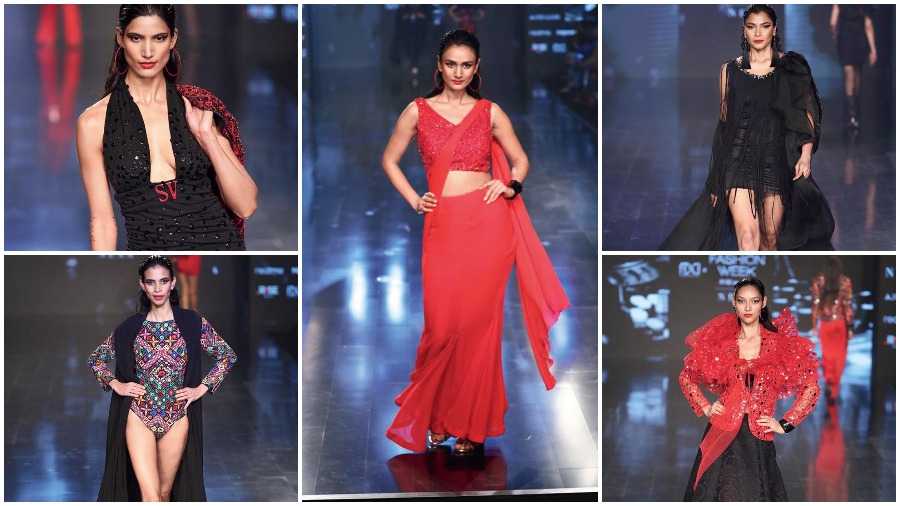 ---
Published 29.03.22, 03:36 AM
|
---
Couturier Suneet Varma stepped into the ready-to-wear space with SV and a fun show on Saturday, Day Four of FDCI x Lakme Fashion Week. And "it needed to be breezy and sexy and sophisticated and emancipated and modern, young, trendy and urban". "I was ready for something sexy and revolutionary and exciting and today. I think the pandemic taught me that I don't want to dress only the 5,000 people who can afford me. I want to dress the world," smiled the ever-genial designer.
A tight edit of 32 pieces, put together in less than a month, made the show, among which 26 was womenswear and six for men. Blacks and reds and an ethnic touch to western silhouettes made it totally party-ready. A mirror-work swimsuit was oh-so-hot and the highlight piece of the show for us. Couture sensibility met Gen Z cool. "I wanted to use something from Bhuj and Gujarat and didn't want to make it bohemian but modern like how I treat my embroideries. I like to imagine that a young person going to a club wearing a jumpsuit can wear a beautiful mirror-work jacket. The clothes should last forever. There are so many indigenous Indian techniques and embroideries, craft that we treat as craft and heritage but it's not always cool to remain heritage. It is cool to become urban, new and trendy. I would love to wear a mirror-work jacket at some point in my life. We made mirror-work hats too. It's important to respect your heritage but to modernise them so that they survive and revive. That's the real revival. Not in the museum," he told us.
There were elements from his couture too, like the exaggerated shoulders, a signature Suneet. "I deliberately wanted to add some elements from my couture because I think that is my signature but at a cheaper price point… instead of doing zardozi, it's mirror work and thread work. I think it's important to continue with that thread so that people know that they are buying into that brand," he said.
Any challenges he felt while designing a ready-to-wear line given his couture background? "As a couture designer, I just felt that I would have liked to experiment with different fabrics… may be look at batik," he told us.
Instead of a bow, Suneet jigged his way to the head ramp, at the end of the show! #happy When we were leaving Major Dhyan Chand National Stadium on Friday night, (actually Saturday morning!), we saw fashion designer Pankaj Ahuja sorting out the set-up of his Saturday afternoon show. He smiled, but we could feel the stress. #fashionweekmadness
Post-show, he was all smiles, with the Pankaj & Nidhi Marbella, a colourful and pretty collection, taking us to Spain.
Summery fresh was the vibe the husband-wife duo splashed girlie dresses and separates with florals. "This time it was just oozing out. Even I was surprised that we were feeling that floral, but it's a very natural progression in our collection…. diaphanous floral textures and a lot of 3D flower textures," Nidhi told us later.
From lunches and brunches to letting your hair down at a party or for your next vacay, at your feminine best. That's what Marbella captured. The Pankaj & Nidhi signature cutwork, beautiful textures… the collection was complete with detailing. Big colourful hoops and dainty bags were the perfect accessories. A bit of shine added to the glamour quotient.
"It's all about colour. The Spanish vibe of tradition and culture, fruit and foliage of the region… orange trees, bougainvillea... so that translated on to the runway," said Pankaj.
For Nidhi, it was a "chic" collection. "We were feeling optimistic and still suffering from wanderlust and want to travel to new destinations via our collection and Spain, southern Spain, beach, sunsets, all these inspired us," smiled Nidhi. The Atelier welcomed guests with the sound of gurgling water for a truly immersive experience at the unveiling of Shivan & Narresh's Fresconian Series. And, the master 'artists' put their signature spin to the Shekhawati haveli frescoes to present a contemporary line of swim, resort, safari, cruise, and ski wear. Holiday and cool, the looks were generously doused in sparkle by way of accessories, making it global wow. Hand-knitting, crochet, hand and machine embroidery, shuttle needle lace featured in the range. Crystal mesh, chain mail fabric, cotton, silk, linen, silk jersey, quilted puffer jackets and pants, knits and 3D motifs made up the collection.
Narresh Kukreja took The Telegraph through the making before the ramp lights came on.
The inspiration: We stand for contemporary high-end fashion and for me, discovering Shekhawati havelis was out the blue. We were sourcing artefacts for the interiors of a house that we were designing. You get a lot of antiques in Shekhawati. In the process, just going around, we see these incredible havelis with frescoes on their walls and it wasn't the kind of frescoes I had seen before. They were contemporary. There were planes and cars and parachutes and British portraits… that got me really curious to start researching as to why they exist like this. All of the havelis are abandoned. We cleared one full day, rented bicycles and then Shivan and I biked around the entire region, documenting and photographing the havelis. My research showed that this was the largest concentration of frescoes in the world. This became an inspiration for the five prints we are doing this season.
The prints of the season: It also became an excuse for me to put in print that I love to do, watercolours. So, in the last two months we sat and just painted. Trees, skies, the landscape that surrounds that region. We were sketching cactus that I saw a lot over there. We were also exploring different mediums like ink and paper, acrylic, crayon. We were literally going back to being kids. That's really the painterly quality that you see in the frescoes there. Not all of them are made with the precision of a Sistine Chapel because all these havelis are about 200 years old and the walls have also kept evolving from the time they were actually built as the generations kept changing and the ownership was changing within the havelis. Initially it started as gods and goddesses on frescoes. Then the owners started putting their own portraits on the walls. Then you saw the British come into frescoes. Then you start to see industrialisation… cars and aeroplanes. People started flying… all the rich Marwari traders of the Silk Route. A lot of it is naive and there are others which are great. A lot of it is landscape.
Two of our prints are landscape, one of them is spending morning in the Shekhawati region. One of them is sundowner, so it is an evening landscape. For me it documents a full day lived in that region. Then there is one dedicated to the arts and crafts of the region. There is a lot of tie-and-dye that we saw there. I saw a lot of bandhni. But I did not want to do a traditional representation of all of these techniques. So, I have done ink on paper and how it spreads on the paper is a contemporary representation of bandhni because it gives you a similar effect. It's very raw.
The fourth one is while cycling around, I saw a lot of cactus. So, I have done a contemporary representation of cactus. So, it's a very childlike representation of cactus and it's not green. It's red and yellow, but it's done on white. I feel that is my safari print for the season. When you go to that region, the sun is so scorching hot and all you want to do is wear white.
The last one for me is very '90s with a Y2K vibe. I also think it's a trend in fashion in general. Everyone is going back to the 2000s. So, I wanted to explore that in a print creative. I actually went back to one of our old signature prints, Leger Leisure. I took massive printouts of my old print and then tore that entire print apart and then reassembled it like a collage.
The set-up: I see this as a glamorous show, physical show after two years. We wanted to have an indulgent experience. The show designer took forward a David Hockney painting where a guy is swimming in the pool and the artist is looking at him. I wanted people to feel that the show is immersed in the pool. It gives me the same vibe of mystery. There is a lot of use of crystals in the show. That represents water. The set is exactly like that. The landscape you see in painting is converted into canvases. The collection is actually the guy who is swimming and the audience is the viewer, looking at these creations. So, for me, it is making the painting into a three-dimensional form and it just really binds the whole collection in a physical way. A chlorine smell, the sound of the swimming pool.
A favourite summer holiday destination: My father was obsessed with the mountains so much so that for the first 20 years of my life, I never went to the beach. It's that ironic (given that they are swimwear designers). And, the first trip that I ever saw a beach on was a swimwear competition that I took part in, in Bali.
Pictures: Sandip Das and FDCI x Lakme Fashion Week