Hand some, bloom some
Read more below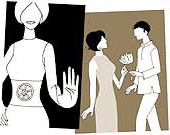 ---
---
Like statistics, the rules of advertising decree that some things are to be highlighted, and some glossed over. Take, for instance, a generic spot on television. The ad would reek of an alcohol-soaked evening. A young man would have a pretty young thing in one hand and a glass of amber in another. A candle would burn seductively, a piano would play softly, merging with the magical sound of ice-cubes clinking against glass. That's when the light fades, and all those watching the advertisement are told, without a word being said, that things go better with blended malt.
That is, everybody, but the government. For the rule-makers, the ad would have a little message as a bottom-line: saying that it was selling playing cards.
The advertisers would like the government — which has banned liquor advertisements — to believe that the couple on the sofa is about to call their old neighbours in to make a foursome for a serious game of bridge.
Surrogate ads are, of course, as old as the hills. If you can't advertise cigarettes, just sponsor cricket. If you can't publicise liquor, pretend that the ad is for a mineral water or a deck of playing cards. And if you can't advertise weed, point out to those interested that the shop is next to a landmark.
In one end of Delhi, for instance, there is a make-shift hoarding for a printing press. "Gita Press," the board says in small, delicate letters, citing a local address. And just below that, there is a helpful message in a screaming font. "Next to the 'Bhang" Shop," it says.
So what else is new? The market may have been doing this for long, but what's novel is the fact that political parties are getting into the act as well.
Reined in by a set of rules that the Election Commission has in place for every election, politicians are finding ways of out-manoeuvring them — through surrogate advertising.
For the last several days, the Congress and the Bharatiya Janata Party (BJP) have been sparring on television. First, the Congress carried a series of advertisements that, without naming either of the two parties, managed to convey the message that the National Democratic Alliance government didn't care two hoots for the people. In one of the spots, a young man is talking about unemployment and the railway recruitment fiasco. In another, an old man is shown lamenting his lost savings, swallowed up by the US-64 scam. "But now, I can change the situation," the men say, looking straight into the camera. "Change is in my hands."
The BJP replied in kind. Television channels went to town with an advertisement that showcased the march of leaders — Jawaharlal Nehru, Subhas Chandra Bose, Sardar Patel, Maulana Azad et al. The ad closed in with Nehru hoisting the Indian flag. And that's when a deep voice rumbled: "Now there is a plot to hand over power to a foreigner." For those who still hadn't got it, the message was spelt out: Videshi, Bharat Chhoro.
Unlike spring, when a young man's thoughts turn to love, election time is when a bit of hatred comes spewing out. Of course, political parties have always had advertisements pumping their own agenda and sniping at the others. But this time, it's a war with all daggers out.
Political advertisements, especially of parties in power, once smacked of government propaganda, as blatant as the Kim il-Sung kind. Government publicity wings carried out newspaper advertisements that gave a ho-hum list of achievements. The change came in 1984 when Rajiv and his boys made a bid for power.
Old-timers still recall an advertisement put out by Rediffusion. Indira Gandhi had been assassinated, terrorism in Punjab showed little signs of giving in, and the Congress ads zeroed in on the strife with scorpions, daggers and acid bulbs as its symbols.
The BJP-Congress war was kicked off in 1999, when the two parties launched a blistering attack on one another. "But surrogate advertising was earlier an embellishment and didn't upstage a formal campaign," says advertiser Sushil Pandit. "In this election, surrogate advertising has become the principal tool," says Pandit — one of the main campaign designers for the BJP.
There are good reasons for that. A surrogate advertisement means a couple of significant things: one, the expenses incurred on the advertisement are not added to a party or a candidate's account of electoral spending. And two, it gives a party a platform to air some real nasties. "Some things are distasteful, and you don't want to say them openly," explains Pandit. "But these are things that have to be said anyway."
So, the Congress and BJP are using fronts to fight their wars for them. In the last election, the BJP's campaign was carried out by Lok Abhiyan, an organisation headed by party MP and minister Vijay Goel. This time, it is by a front called the Kamakshi Educational Trust. The Congress campaign is being led by the Sanjhi Virasat Trust, which has as members leading citizens such as Gandhian Nirmala Deshpande and former editor Kuldip Nayar.
"There are secular people and groups all around who want to do their bit," says Shakeel Ahmed, a Congress campaigner. "They are committed people who want to oust the BJP," he says.
So the attack on the BJP focuses on accusations that as a young man, Atal Behari Vajpayee acted as an informer for the British rulers. And there's more to come. If the Supreme Court's ban on surrogate ads is lifted, the Congress is going to focus on the role played — or not played — by the Rashtriya Swayamsevak Sangh in India's Independence movement. There's another one on the anvil that portrays Vajpayee as a mask for Nathuram Godse. Insiders insist that it was the thought of this ad that prompted the government to move for a legal ban on political ads.
The mask has fallen, as has the gauntlet. The country waits for the towel to drop.