Guru in the dark
Read more below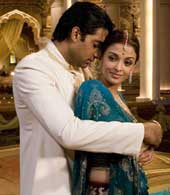 ---
Published 14.01.07, 12:00 AM
|
---
Mithun Chakraborty's many fans, especially in Bengal, are not going to like this. But, after a special and hush-hush screening to which only the cooing lead couple, Abhishek Bachchan-Aishwarya Rai, and a few chosen ones like Vidya Balan (solo, she was told, not even parents allowed) were invited, it transpired that Mithun Chakraborty, who has a significant role in Mani Ratnam's Guru, was not invited to see the film. Vidya too, one learns, was called practically as an afterthought.
Mani Sir, as his cast calls him, couldn't avoid showing his film to Abhishek (and therefore to Aishwarya). But the same courtesy was not extended to a senior actor like Mithun, even though Mani was told that the Chakrabortys looked forward to watching Guru. Mithun was firmly stonewalled by Mani's office which claimed that the film would not be shown to anybody, and that there would be no private screenings of Guru before its release. To prove that they meant business, Mani's gang let it be known that they did not show the film even to Mr and Mrs Amitabh Bachchan. Sure, they didn't. But they don't star in Guru, Mithun does. Isn't there a difference? And why fib about holding no screenings at all when they quietly showed it to Aishwarya, Abhishek and Vidya?
In any case, what was a veteran film maker like Mani Ratnam afraid of? That he'd flop once again in Hindi cinema after Dil Se and Yuva? But how would screening Guru for artistes like Mithun Chakraborty or respected people like Amitabh Bachchan and Jaya, have affected the business of the film?
There was a time when film makers would proudly show their films at least to their near and dear ones. But after Aditya Chopra put a ban on pre-release screenings of his films, it has become fashionable for the film industry to put a premium on their films by not showing it to anybody. For example, when Dhoom 2 was released, even Rakesh Roshan bought a ticket and caught it on the first day in a multiplex since he had not been invited to see it earlier.
But the Yash Raj success story is not solely because they're uppity about sneak previews. There's much more to Aditya Chopra than just his reluctance to socialise or share his film with anybody. Emulating him is no guarantee for success.
Also, if Aditya Chopra does not show his film before release to anybody, he doesn't go to anybody else's trial show either. When his own uncle, Ravi Chopra was sending out invitations for the Baabul premiere, invitations to Adi and Uday Chopra were not sent because they made it clear that they would not attend the function. Uday, gregarious and friendly until recently, has joined his brother in not speaking to the media or going anywhere where there might be flashbulbs.
Mani Ratnam, on the other hand, has no such inhibitions. Remember, he had even screened Bombay exclusively for Bal Thackeray before its release. So a renowned film maker like him acting pricey about a preview show is a bit strange. Unless he was nervous about any pre-release reaction from the Ambanis since, as everybody knows, Guru is loosely based on the ruthless ambitiousness of Dhirubhai Ambani.
By the way, if there's anybody who would have a bone to pick with Mani (other than the Ambanis) it would be Vidya Balan. Sources reveal that what was narrated to her and what was shot were vastly different in importance and footage. Besides, even after her role was reduced during shooting, at least four to five of her important scenes were chopped off on the editing table. Little wonder that Vidya chose to stay out of the promotional junkets, including the recent Toronto premiere of Guru.
Since we've talked about film makers turning unreasonably possessive about their projects, here's a little one on the Hrithik-Aishwarya kiss in Dhoom 2. There's a whisper that when Adi first saw the rush print, it was noticed that sticky saliva could be seen which needed to be airbrushed and corrected. But Aditya Chopra wouldn't hear of it. This shot will not go out of this studio until the film is released, he ruled. He didn't want even one extra person to know about his precious kissing scene, never mind the, ugh, saliva!
A quick query: Does Sanjay Dutt think everybody is as Munnabhai-struck and gullible as certain judges? He's suddenly begun airing girlfriend Maanyata and claiming that she doesn't live with him, that she's a respectable girl from an industrialist's family. Sure, she is. So what was she doing in that item number in Prakash Jha's Gangajal?
Bharathi S. Pradhan is managing editor of Movie Mag International