Glimpses of Masaba for Nykd
The fashion designer gets candid about her first range of sleepwear for Nykaa Fashion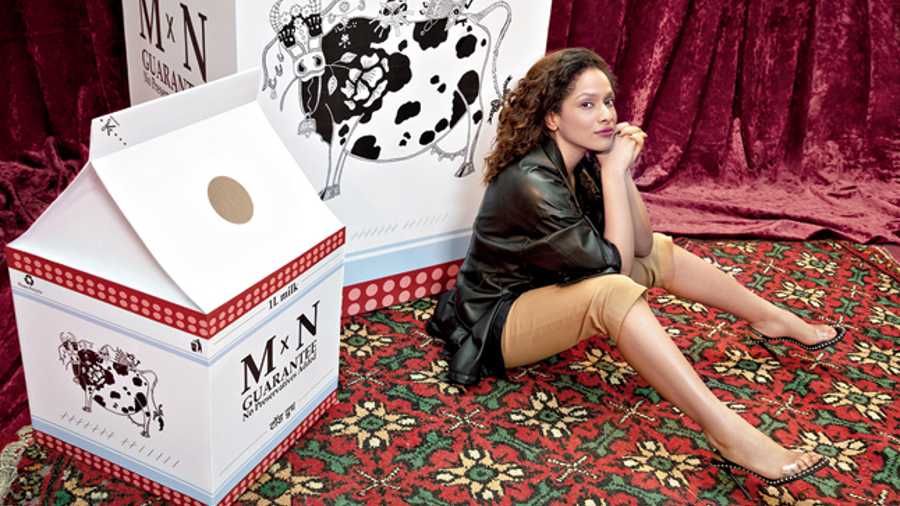 ---
Published 22.11.21, 10:43 PM
|
---
Masaba for Nykd is fashion designer and youth icon Masaba Gupta's first sleepwear collection. Made of cottons, satins and velour, one look at the range available exclusively on www.nykaafashion.com, and you'll know it's Masaba. Her signature prints add to the fun and cool quotient of the range that comprises pyjama sets, T-shirts, shorts set and robes. Masaba tells The Telegraph what makes for great sleepwear and what's on her bedside table. Nykd is the intimate and sleepwear brand from the house of Nykaa Fashion.
Most of us don't pay attention to our sleepwear. The importance of comfortable sleepwear is undeniable though...
You're right... I don't think we pay attention to our sleepwear because we usually wear things that are hand-me-downs from your parents or a sleep dress that you've been wearing for years. But, the pandemic has really shifted that and today, people are becoming a lot more conscious of what's in their wardrobe. So whether it's what they're wearing in the day or what they're wearing to bed, everything has got a lot more focus all of a sudden. Maybe it's because we've spent so much time and we have a better understanding of our bodies, what's in our cupboard, what we like, what we don't like and what we want to spend money on.
What are some of the things you've focused on while designing the pieces?
Great sleepwear is driven by comfort — always. And the second thing for great sleepwear is how playful it is. Sleepwear is a great way for you to express yourself because in a way, no one is looking but at the same time, you are your most vulnerable self when you're going to bed. Just before you go to bed, before you tuck yourself in, when you're taking your make-up off, when you don't have your hair in a do, that's the part when you're most yourself. And that's why you will always pick something that's very you. So, I think a mix of comfort and playfulness makes for great sleepwear.
Tell us about the one thing you love the most about this collection, and why?
When I was designing this range, I became the person who would buy it — the consumer! The first thing was definitely darker colours. We have a few pieces in turquoise and stuff but largely, if you see the collection, it's in darker colours. I wanted to make sure that we don't have too many bright or light colours because you want women to be comfortable when they go to bed. The second thing was, obviously, comfort. So I didn't want to make it an experimental style in terms of cuts and silhouettes. That was very important for me. The third was that it should have a House of Masaba signature and the fourth was that it should be extremely affordable — and I know that affordability is extremely subjective to most people — but I think this is the best pricing (Rs 599 onwards) we could have achieved with the best product possible. Lastly, it should be easily available across the country, which is why the online model made so much sense with Nykd. The one print I loved the most is the milk carton print — it's in a black and a tan. I just love that because firstly, it has the Nandi, it's got the cow so it's very synonymous with what I do and I was trying to see how I can incorporate the Nandi and I thought the milk carton is just so bang on. Because when I think of sleepwear and I think of sleepovers and girls coming over and hanging out just before bed and staycations, I think of milk and cookies. So that's something I wanted to do. And my favourite style would be the V-neck tops and shorts we have done as a part of the collection. To me, they are the Indian version of sleepwear. It's like a kurta and shorts. For me, that's quite cool.
Since we are talking about sleepwear, do you have a bedtime ritual?
I do have a bedtime ritual. I take everything off my face and I put three more things on my face after washing my face. So, I have a night skincare routine. And I try and read at least a bunch of pages from a book that I'm currently reading or anything that calms me down. I don't like to read an article about some achievers in the middle of the night, right before bed because I'm somebody who doesn't like to have thoughts before going to bed or read something that triggers me. And lastly, I sometimes meditate.
What book is currently on your bedside table?
I'm currently reading Jonathan Livingston Seagull again — someone gifted it to me and I thought why not just read through it again? And I'm also reading Indra Nooyi's My Life In Full. I'm a very slow reader so I'm still reading that. I keep alternating between both books.