Glam it up with pearls this party season
Actress Sayani Datta shows you how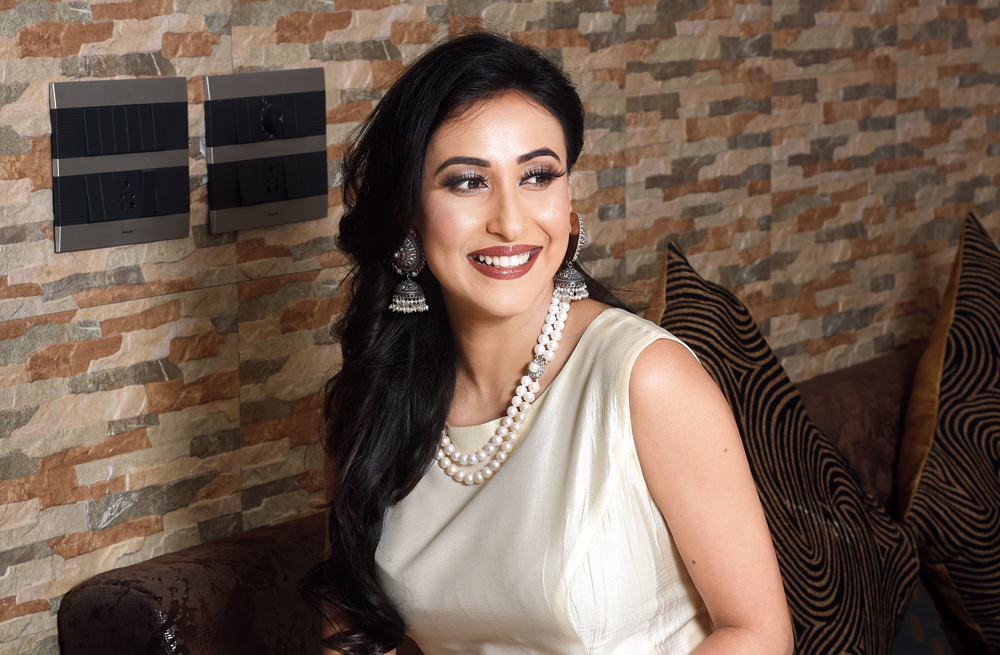 With the party season knocking on the doors, this look is apt for the New Year's Eve cocktail do. Two strings of a rare-sized 12mm freshwater pearls with a side pendant and statement earrings made of sterling silver studded with rubies and pearls, glam up this simple ivory tussore gown.
Picture: Pabitra Das
---
Published 20.12.19, 01:09 PM
|
---
The pearl is the queen of gems and the gem of queens" — Hollywood actress Grace Kelly had once said. Iconic fashion designer Coco Chanel had famously said: "Diamonds may be a girl's best friend, but pearls will make you glow like moonlight!"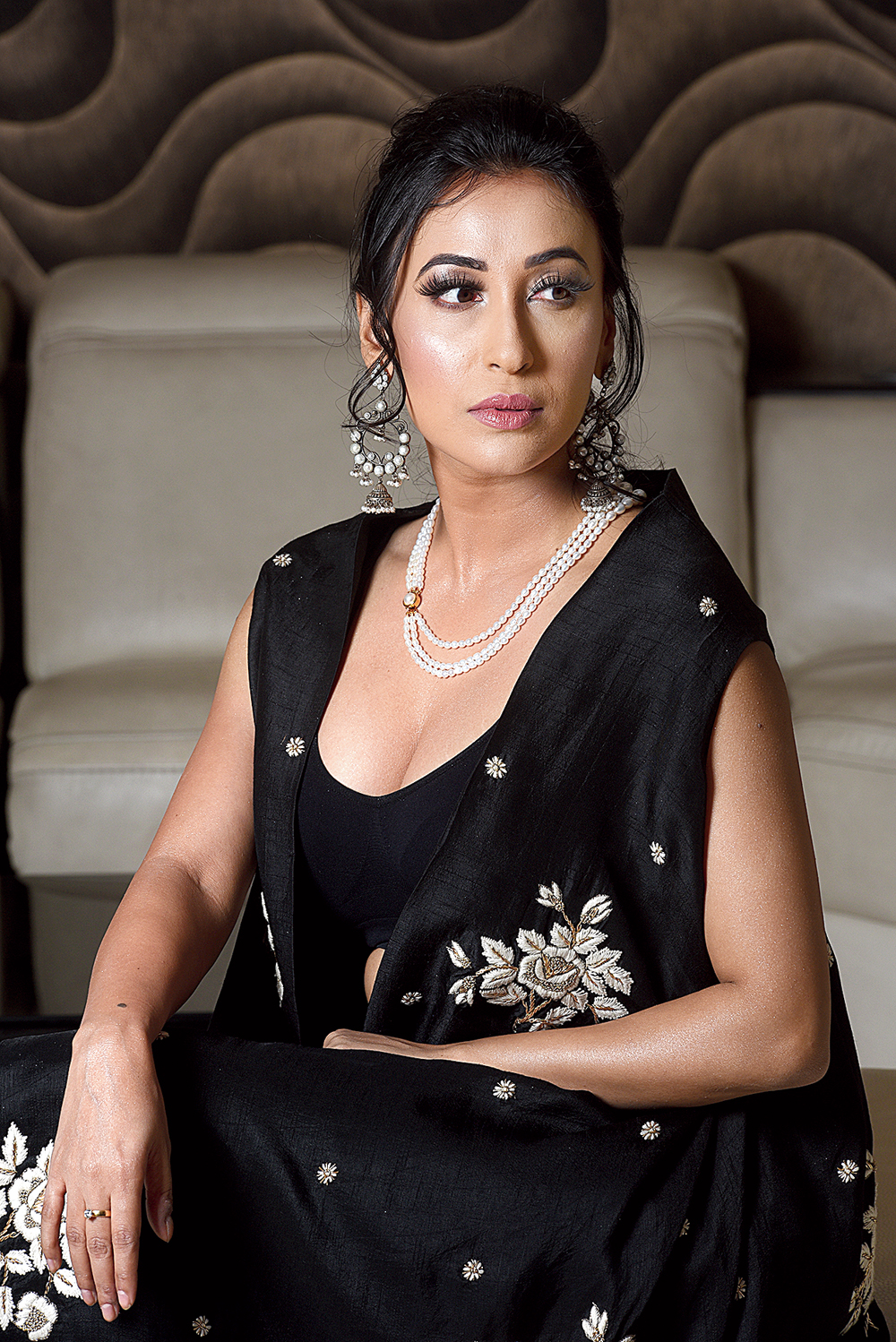 Be it Maharani Gayatri Devi or Queen Elizabeth II, pearls have found favour with royalty across the world since time immemorial. Be it with an LBD or a chiffon sari, nothing spells elegance more than a strand of pristine white pearls.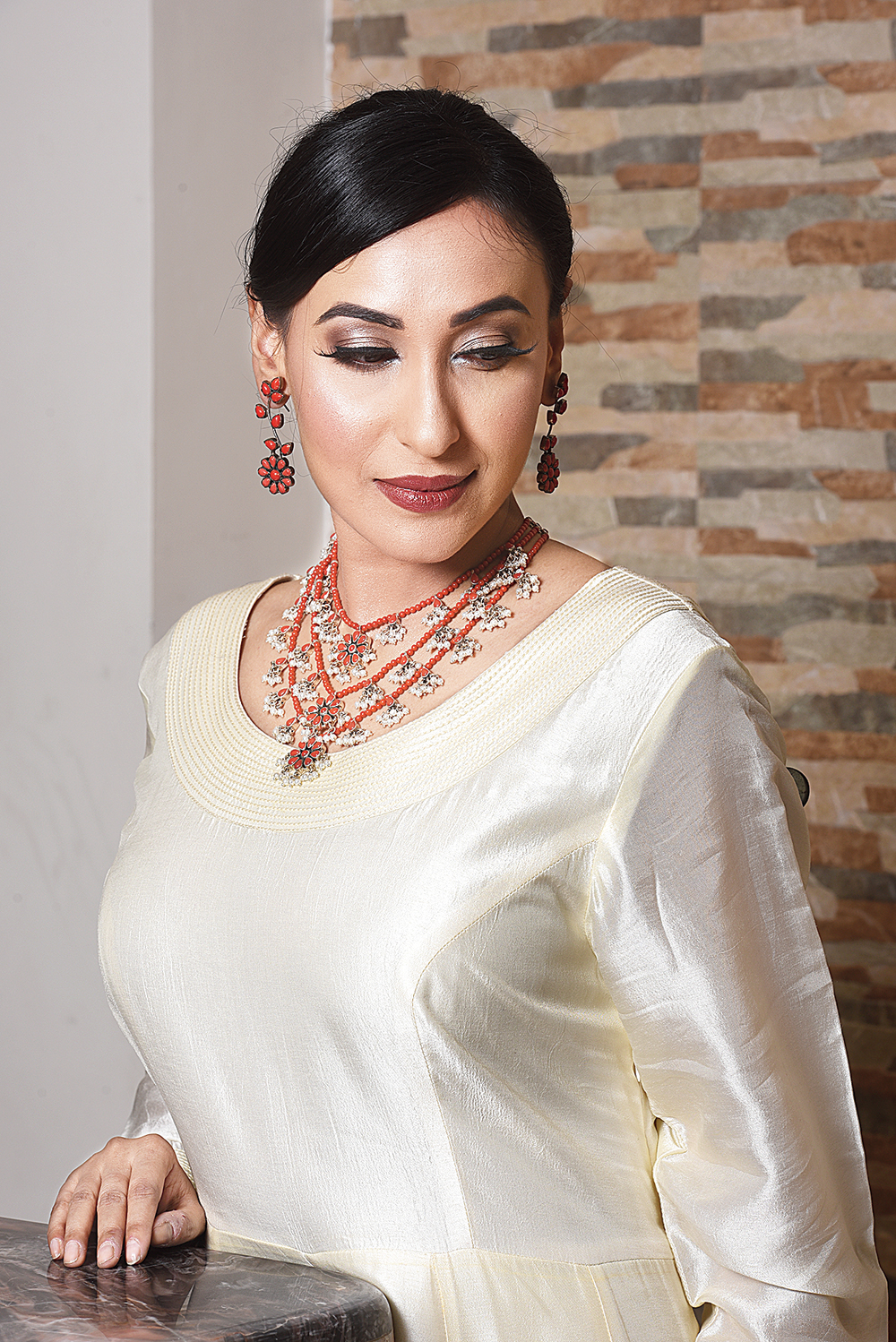 Mandothiya, a house of pearls from Hyderabad, decked up actress Sayani Datta in their jewellery for a Telegraph shoot, teamed with clothes by designer Devika Churiwal. From classic and elegant to casual-chic, the six looks showcased the versatility of pearls.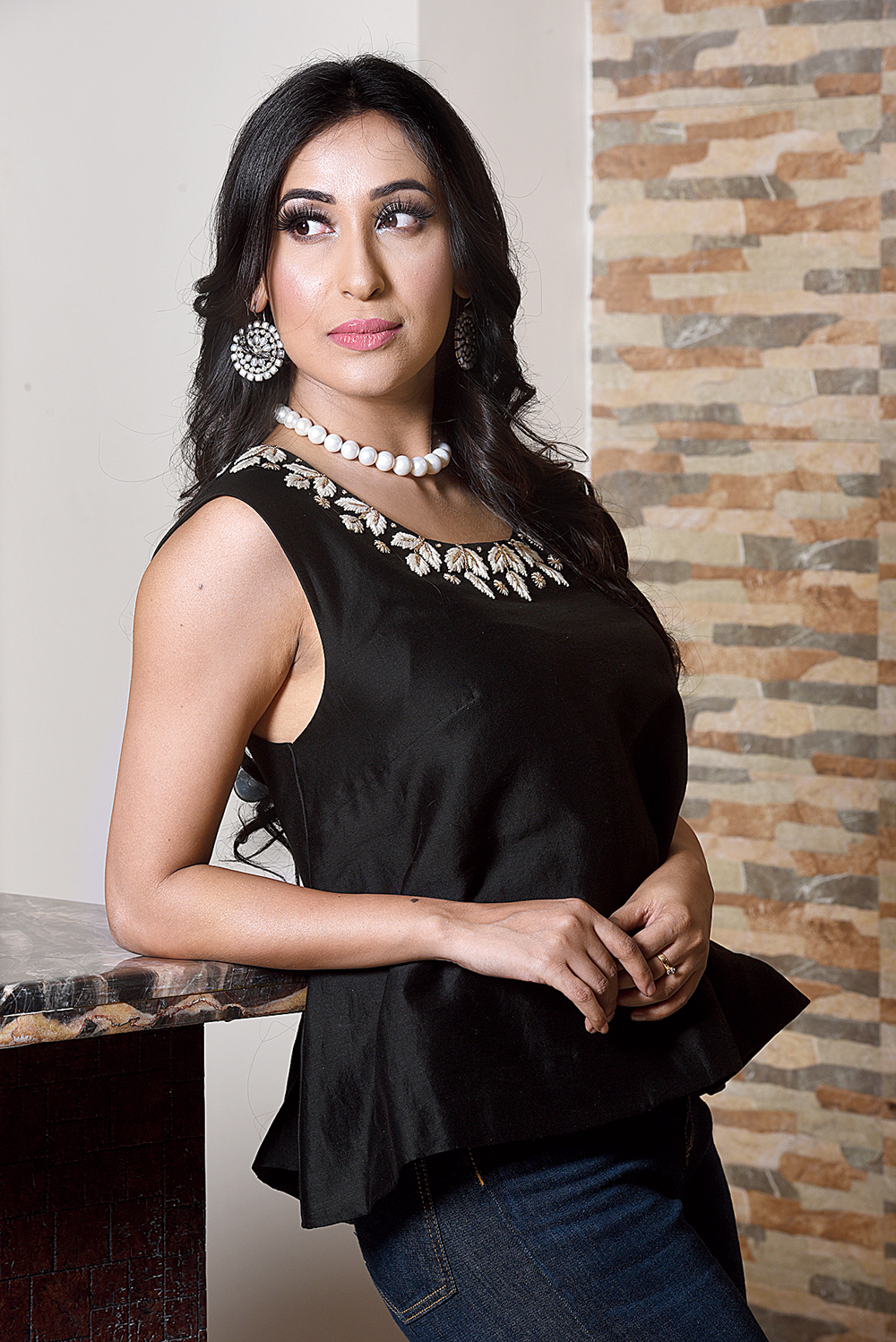 Laxmandas Agarwal, owner of Mandothiya, on all that you need to know about pearls...
How did you come to deal with pearls?
This is our fifth-generation business in pearl jewellery and jewellery stones.
How many kinds of pearls are used in jewellery and astrology today?
There are three kinds of pearls — Basra, which is very expensive, South Sea pearls and freshwater pearls. Freshwater pearl is grown in ponds, South Sea is grown in seas and Basra is naturally produced and is from Iraq.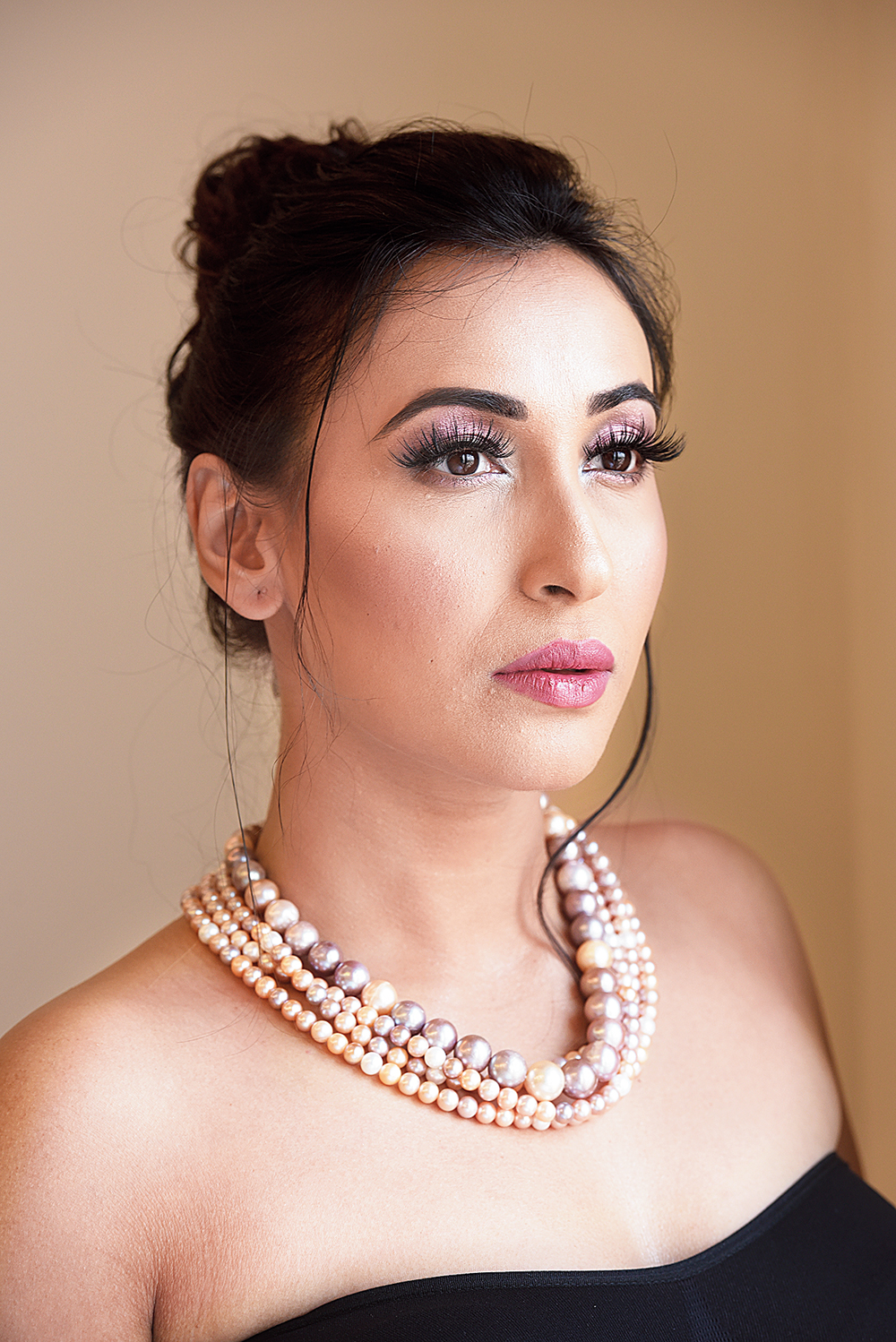 Who made pearls famous in Indian fashion?
If we talk about cities, then Hyderabad has made pearls famous in fashion all over the world. Family-wise, it is the Nizam of Hyderabad who made the pearl industry develop in Hyderabad. Cost of pearl production in Hyderabad is also very low. That is why pearls in Hyderabad are cheaper than anywhere else in India. With the rise of prices of gold and diamond, pearl has become fashion jewellery nowadays.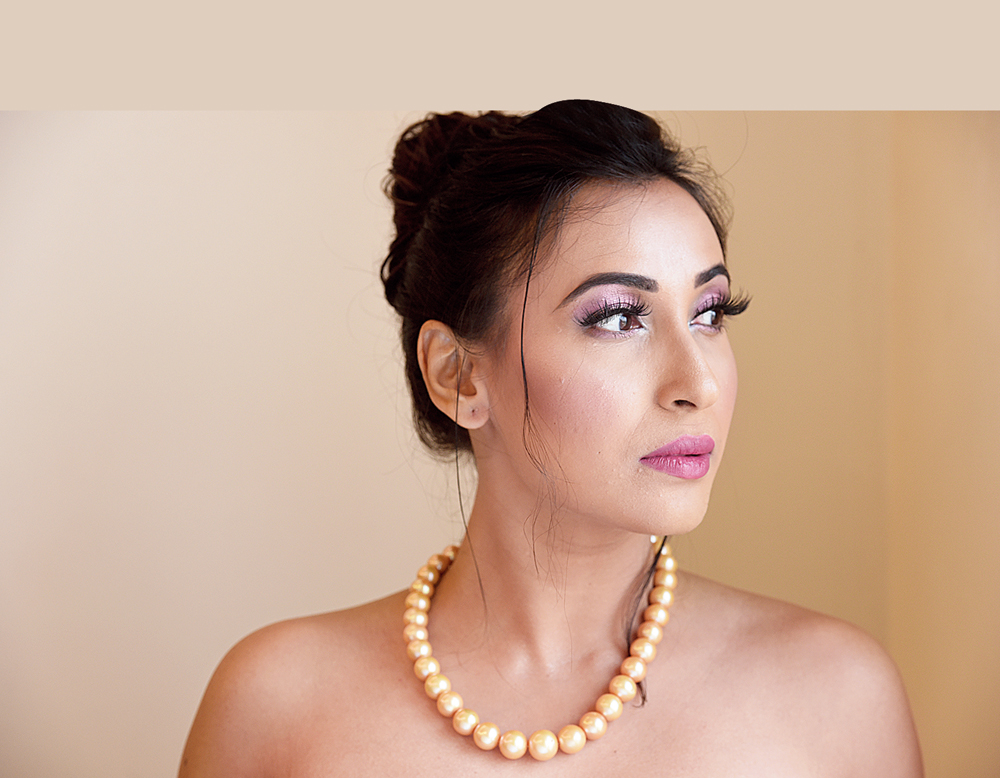 If you see pearl, it is a moon sign product and doesn't have any anti-effect and is pleasant to the eyes. It has become a symbol of love and calmness to the body and mind. All the royal families in India, be it in Rajasthan or Maharashtra or Hyderabad, all of them wear pearls. So, it has become a royal symbol. The Queen of Britain also wears pearls because it looks elegant. All royal families used to give pearls as gifts to family members, instead of diamonds or other precious stones.
Is there any standardisation of pearls?
No, but good pearl is judged on the basis of the shape, size and lustre. The more roundish shape with high shine makes a pearl of good quality. If the skin is peeling out then it is low quality. Spotless, round and shine is the standardisation. However, natural pearls are not of a single shape, but Hyderabad is known for using craftsmanship in making it look alike. The best thing is to judge quality by gem testing. It has to be on trust basis. But if you want to do home testing you can put it in boiling water for 24 hours, if it is not damaged then it is natural pearl; if artificial then it will be damaged.
Does pearl have any resale value?
Freshwater pearls don't. South Sea and Basra pearls have resale value. Freshwater is for fashion wear.
How did pearls come to be fashionable in Calcutta?
In India, two communities like pearls most — Punjabis and Bengalis. Bengal, because it was the capital of Britain at one point of time, all the British women used to wear pearls. So Bengal became a hub of pearls and in Calcutta it came into fashion. Bengalis are particular about quality and originality. In Bengal, the royal families used to wear pearls.
Do you plan to bring your brand to Calcutta?
We are looking for a partner to open a store in Calcutta. Presently, we are selling our jewellery from Golkonda Handicrafts, a Telangana tourism shop in Calcutta (in Dakshinapan, Dhakuria).
A quick chat with Sayani Datta...
Are you a jewellery person?
Yes very much. On and off I have to wear jewellery because of the events I attend.
What are your favourite jewellery items?
I think my favourite will always be pendants paired with heavy earrings. Though I am not too fond of earrings but when I wear earrings it has to be teamed with a very small pendant. So, that's my all-time favourite.
What kind of jewellery do you like?
I like jewellery with stones.
One jewellery item you can't do without...
A ring. I just love wearing a ring.
A favourite piece of jewellery you have inherited...
Armlets given by my grandmother. I think that beats all my other jewellery.
Any jewellery memory that you would like to share with us?
I remember when I was 16, it was the first time I ever had a birthday party. I belong to a family where we keep on passing jewellery to the daughter and the daughter-in-law. So on my 16th birthday, I received a very small gold crown from my great grandmother, which I think I will be wearing if I ever get married.
One jewellery item that you haven't tried but would like to...
My mother bought something recently... a big dholki-pattern pendant. I would like to try that.
Do you like to experiment when it comes to jewellery?
Yes, on and off. There are so many varieties of jewelleries these days that you end up buying. If I see something new I end up trying so I end up wearing many kinds of jewellery.
What comes to your mind when we say pearls?
It makes one look really beautiful, especially with chiffon saris. Whenever I wear chiffon saris, I love to accessorise it with white pearls.
A celeb whose jewellery choices you like...
Gauri Khan. She wears stunning jewellery and carries it so well with ethnic as well as western looks!
How to care for your pearls
Pearls should be kept in a cool place, wrapped in cotton cloth.
Avoid spraying perfume on pearls; also avoid keeping them near perfumes. Perfume is a decolorising agent and will decolour the colour of pearls.
Ensure that pearls are not rubbed against any hard substance as they will get scratched.
These points are essential to make sure that pearls have long life. Freshwater pearls have a lifespan of 20 years, South Sea pearls have a lifespan of 50 years and Basra pearls have a lifespan of 100 years.