Gaurav Gupta launched his flagship store in Calcutta
With a visual narrative of what the label is all about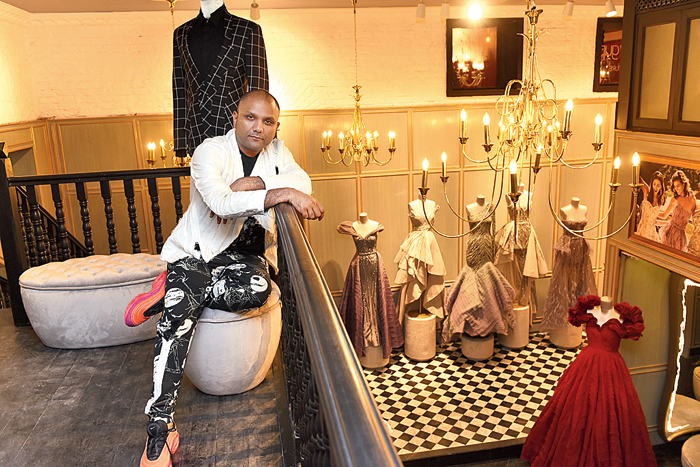 ---
---
The pants: "Quirky, funny. I was just in a funny mood and this is my airport look today. I like Tim Burton and it looks like his drawings."
The T-shirt: "From an art gallery."
The sneakers: "Nike fluorescent recycled plastic from Selfridges."
The earring: "This has been there with me forever. I have 30 of them at home because I keep losing them. It's made of steel. It's a signature."
The haircut: "I end up doing my haircut myself… in the mirror with a buzzer."
The jacket: "A Gaurav Gupta distressed linen jacket. This is what I make for myself and this is what I would wear casually on a summer day."
That's how fashion designer Gaurav Gupta decoded his look, when t2 met him a day before the launch of his flagship store in Calcutta at Galleria 1910, Wellside Camac, 7 Ho Chi Minh Sarani, last Monday. Whimsical. Carefree. Uninhibited. That's how he has always been — "it's always good if you are original and a bit mad" — and that finds reflection in his brand.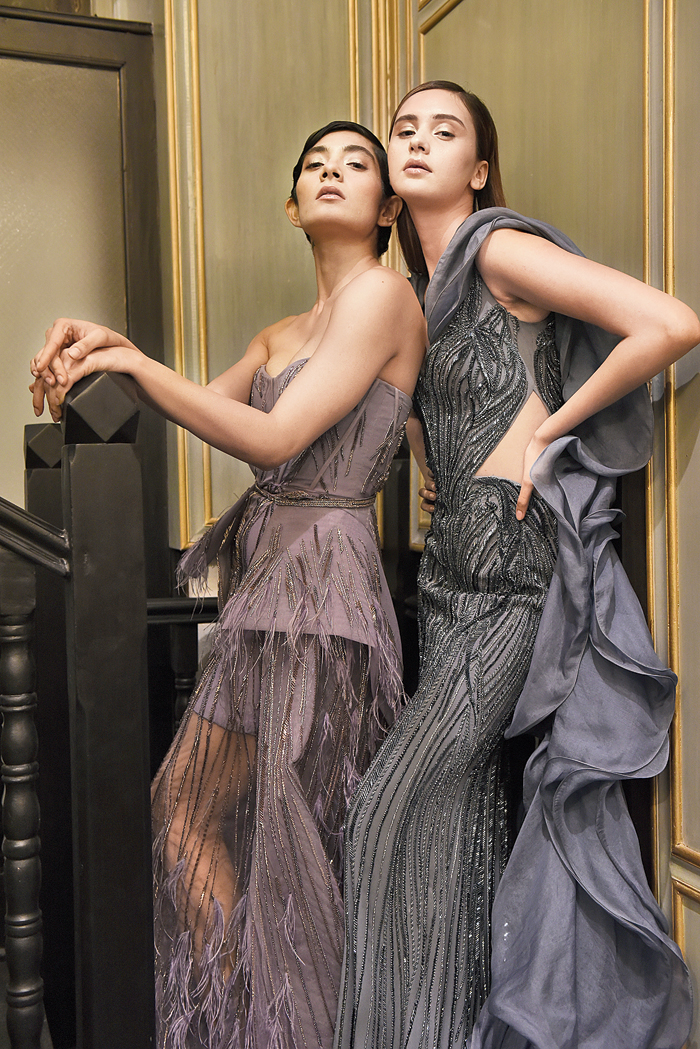 How to be effortlessly cool like you?
I just think what is comfortable for me, what I find quirky. I don't overthink it. I don't have Pinterest boards or personal style Instagram. I have always naturally been an experimental dresser. I don't believe in any kind of norms or trends. It's very personal… there is no reference. Like my work. Even I don't know what all goes in my head! (Laughs) It's a big universe there. Linda Fargo (of Bergdorf Goodman) was in my store the other day. She was describing the brand's aesthetic as 'future organic'. I have been going with 'future primitive' for a long time.
There is tremendous happiness in being original…
For sure! It's a lot of perseverance. There has to be a strong belief to stick to that originality because the world demands for you to be more and more commercial or business-oriented. We are the rare brand to make business out of something creatively original.
What was the scene like 15 years back when you started?
It is easier now for a brand like me. Also, I have moulded my own market like that. It has changed a lot… I would say still India doesn't have a ready-to-wear high-fashion market. It's a very very very tiny market. In the couture market, it is much easier. It's opened up a lot. Say 10 years back, nobody would wear a gown to an Indian event. Today they are wearing a gown or a sari-gown or a lehnga-gown or all the hybrids that we make for every event. I think it's a cultural evolution that I have been lucky to be a part of and one of the lucky few to be pioneering that.
Fifteen years back it was very different. There was no one doing jersey or zippers or experimental fashion, construction and deconstruction, tailoring… it was all about embroidery, Indian drape… kurtas, saris, lehnga, cholis, borders, bootis, textiles... only that was selling. Today, it's changed completely. Especially in a modern brand like ours, we have lehngas, but they are modern lehngas. The sari-gown was a big discovery.
Have you ever felt out of place?
I have never felt out of place… I am out of the box as a person. Yes, it took time for me to find my balance in a commercial standing. I think I have been extremely creative. I have been playing tennis with my market. When I have tried to be commercial, those things don't sell. They have to have that signature, the madness, the fun. They want to feel statement-ey. There is a costume-esque quality to it. It is very hard to achieve and it has magically happened. This is our fourth store and we are selling everywhere.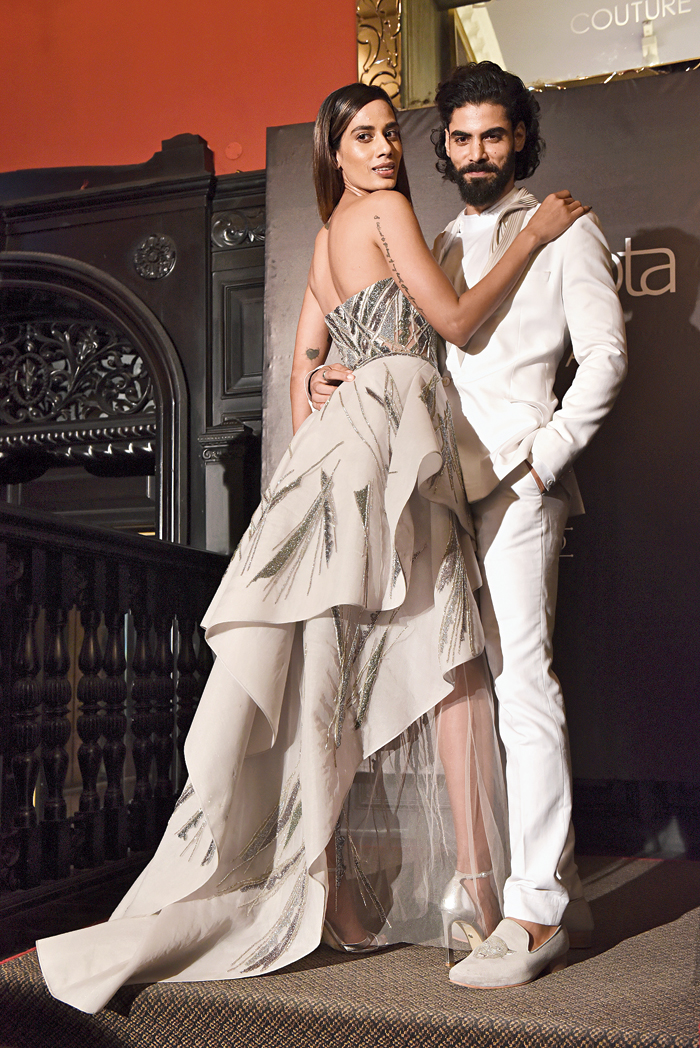 What did you have to harness in?
Sometimes it's understanding the Indian body. I hate cap sleeves, but I understand that women in India want sleeves. So, I started giving full sleeves. Conceptually changing fashion has been very important.
What have you opened in Calcutta with?
It's a mix of our new line and a lot of our timeless styles. If you are getting something from us, I want you to be able to wear it 50 years from now. It is a piece of art-fashion which you are owning and it is still wearable art fashion. If you are wearing a concept sari or a sari-gown of ours, it's got beautiful hidden details and indigenous techniques of sculpting, embroidery, zardozi, pearl work or bugle bead embroidery… and it's all very obsessive. At the same time, it is so monotonal and original that it is timeless.
Where does the brand fit in with the Calcutta vibe?
See, Calcutta is not a very obvious market. We all know that, but it is a very interesting market. It's at a cusp of evolution, like the rest of India. We are hoping and I am predicting for Calcutta to come out of its shell a lot more. At the same time, we do a lot of customisation as a brand. So, that's where the balance between me and the customer is. I see Calcutta as a very tasteful market actually. It is so rich with culture, heritage and emotions. For them, design is something to celebrate and cherish.
Do you ever see the brand making clothes like what you are wearing?
For sure, but I have to sell something like this at Rs 20,000. For that, I need that scalability. That's the problem with Indian market as such. I don't have 100 stores to sell this in India. There are not a 1,000 takers for it to sell at Rs 20,000. So, there is a maths around every effort. When people ask why hasn't an Indian brand made it globally… global brands have been around for 200 years, Indian fashion is just 30 years old.
How are men dressing?
Well, we are getting the men out of the closet. Men have been ignored for a long time. Our menswear has its own universe, very Gatsby, very out there, the party boy… he wants to dress up because women around him are dressing up. He doesn't mind wearing embroidery. He is sexy… wants his jacket to fit a certain way. He cares about every detail just like a women cares about her details. He is playful… the Gaurav Gupta Man logo is a centaur.
Who are some of your favourite artists?
Rene Magritte, Lalique, Matthew Barney, Nick Knight, Vivienne Westwood. I think Bjork is coming back in an interesting way. There is this really cool couple called Fecal Matter. They are the next thing in this Matthew Barney-Bjork conceptual zone. I just met Shilpa Gupta. She is quite an interesting artist in Bombay. I like all kinds of artists who are true to themselves… when you are so obsessed with your school of thought that you go crazy in that. I am looking for that madness. It's always good if you are original and a bit mad.