Gaurang Shah's craft crusade and his ode in khadi to Raja Ravi Varma
His works are an intersectional tour de force of art, craft and design, which bears testimony to his unbounded love for Indian heritage, of which he has become a savant and a crusader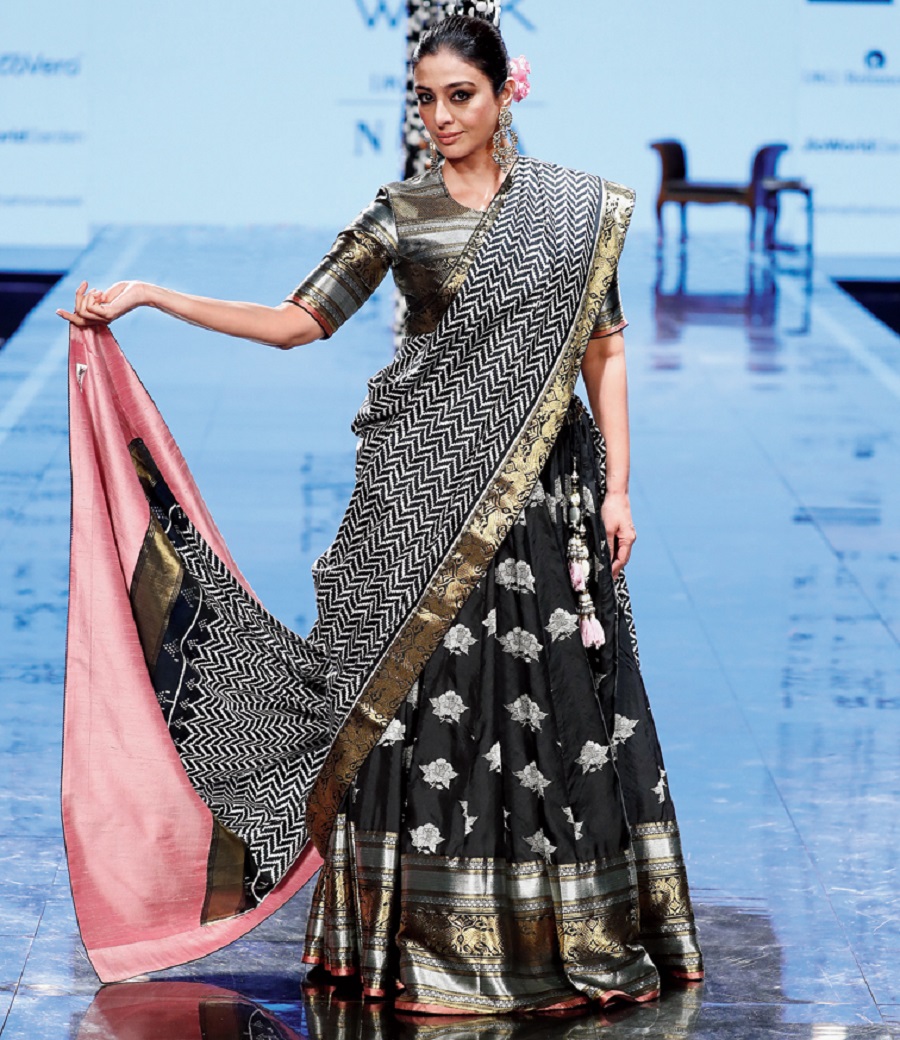 Tabu in a Gaurang creation
Sourced by the Telegraph
---
Published 10.09.20, 09:21 PM
|
---
Just like his immersive fashion shows testify, Gaurang Shah's love for Indian handlooms, art and textiles runs deep to the bone, which he has showcased through collection after collection. Shah's works are an intersectional tour de force of art, craft and design, which bears testimony to his unbounded love for Indian heritage, of which he has become a savant and a crusader. This is perhaps reason why Gaurang has also realised the need for a digital landscape for his artistry in the form of www.gaurang.co. But more exciting is his ambitious magnum opus of sorts in the form of 'Khadi, A Canvas', in which he took on the gargantuan task of weaving 30 unseen paintings of Raja Ravi Varma on to the pallus of khadi saris using Srikakulam jamdani, for which he created 600 shades of natural colour and 200 yarns over a period of two years. The project in the form of a travelling exhibition, in collaboration with the Baldota Foundation, had already made a few stops, including at major art museums in Delhi and Mumbai, before the pandemic. Excerpts from a t2 chat with Gaurang:

With over 800 weavers as a part of your looms, what were the pressures like of keeping business afloat when the pandemic hit us?
We were never worried about production as our looms continued working during the pandemic, with strict protocols. We are in the business of handlooms, and it is woven in looms by a family of two people. Our designs also take months, and some a few years, to weave, so it was always work in progress. The only challenge that hurt is sales as our collections are exclusive and of a premium range and predominantly sold in stores. Our strategy to offset this challenge was to create a digital e-store that showcases our entire catalogues of fresh collections. The e-store has a casual-wear section and also an exclusive "by invite" section for bridal and special occasion wear.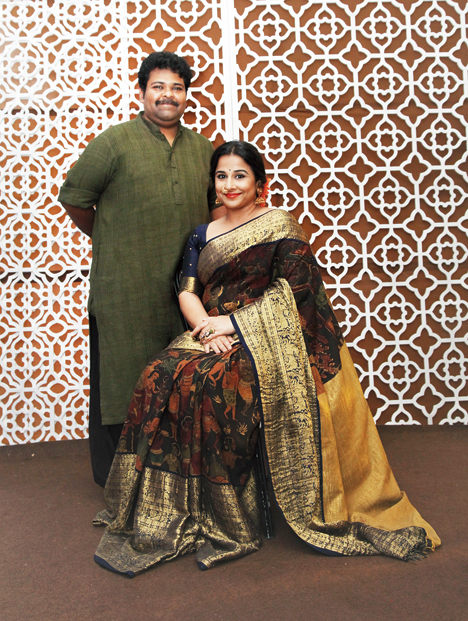 Handlooms often lack lustre or sheen and ask to be felt physically. What are the challenges of taking Indian handlooms online for e-commerce?
Well for us it was a new path to discover. But we must say that it opened a new avenue of revenue generation, and also reached out to digital shoppers hitherto un-reachable. It also gave us a 360-degree view of shopping behaviour during a pandemic like Covid-19. This also helped us align our production lines in a manner that is economically sustainable and consumption friendly.
While it is a huge challenge for brands like us who sell premium products, it also gave us the opportunity to explore new categories through the digital platform. The e-store now makes our go-to market strategy fully integrated — offline-online.

As a textile revivalist and handloom enthusiast, how do you see the world today viewing an exquisite piece of patola or jamdani?
An exquisite fashion consumer's view hasn't changed, and it will never change. They know what they are seeking and will only buy if brands/clothing meet their aspirations. The biggest challenge for the designer and the buyer during the pandemic is to build a new perception vis-a-vis offline-online feel. Handlooms are heirloom pieces and will forever remain an irreplaceable part of an Indian woman's wardrobe. Indian textiles are a symbol of our heritage and my passion continues to preserve this tradition and heritage, especially saris.

You also innovate with these age-old Indian weaves. What are the challenges of
a) explaining these innovations to a weaver who has been doing it for generations and
b) explaining the time taken and cost of these painstaking creations to wearers of today?
The bonding between me and my weavers is what I call "creativity". It is a journey of teaching-learning from each other and enhancing each other's potential beyond the unseen. The classic example is the Raja Ravi Varma project, where we took the challenge to create the iconic paintings of the artist on khadi pallu. It was a dream that my weaver and I combined to make it a reality.
Every design is a new experience for me and my weaver. They have never said no to a design even if it had to move inch by inch and eventually realised, either in several months or some that take almost five years. For example, we have a sari that came in from the loom after five years, this month. There is also a sense of joy between us when we find there is an eager consumer awaiting.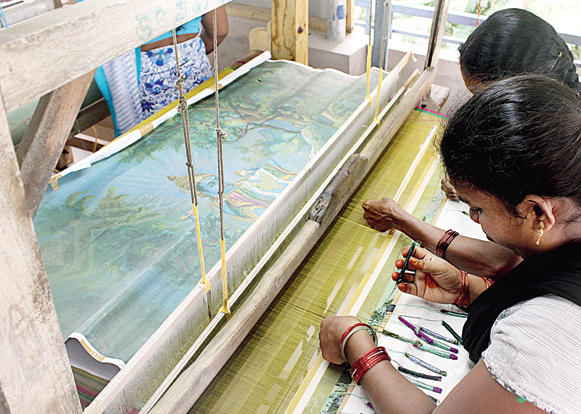 What is your take on sustainable, textile fashion in India and the road ahead for it, especially post-Covid-19? Where do we stand in the global fashion industry?
Handlooms are only sustainable when we buy handlooms. The art, artistry and the jamdani weaving heritage has evolved over the years. It has gained tremendous prominence, not only on fashion platforms but it has also been endorsed and embraced by some of our greatest leaders and influencers. Each one of us is a global citizen, so there is a sense of feeling that when you visit a different country, you would love to wear customary clothing, which has given a greater boost to Indian wear as much as to western wear. Our handwoven clothing is also environmentally-friendly as they use natural elements.
We are in a world of new normal. There is a sense of less urgency in fashion consumption as people don't meet and attend parties and there are restrictions on gatherings. Sales have almost dipped to the zero level. But thanks to the digital market, there has been some hope for high premium products as customers do like to update themselves with new trends. The volumes have certainly reduced. It is a painful time and we hope it will pass.
Tell us about your ambitious project of transferring unseen Raja Ravi Varma paintings on to a khadi sari pallu. How was it conceived and implemented?
The story goes back to 2016 when I recreated six paintings of Laxman Aelay (artist) on saris using jamdani. One of the customers was Lavina Baldota, from (Abheraj) Baldota Foundation. She liked my creation and proposed we collaborate in the future on a much grander and unique project where two forms of art bring beautiful inspiring synergy. In 2017, Lavina introduced me to the Raja Ravi Varma Heritage Foundation to recreate Varma's works on khadi saris as a combined reverence to the artist and Mahatma Gandhi, who transformed the use of khadi.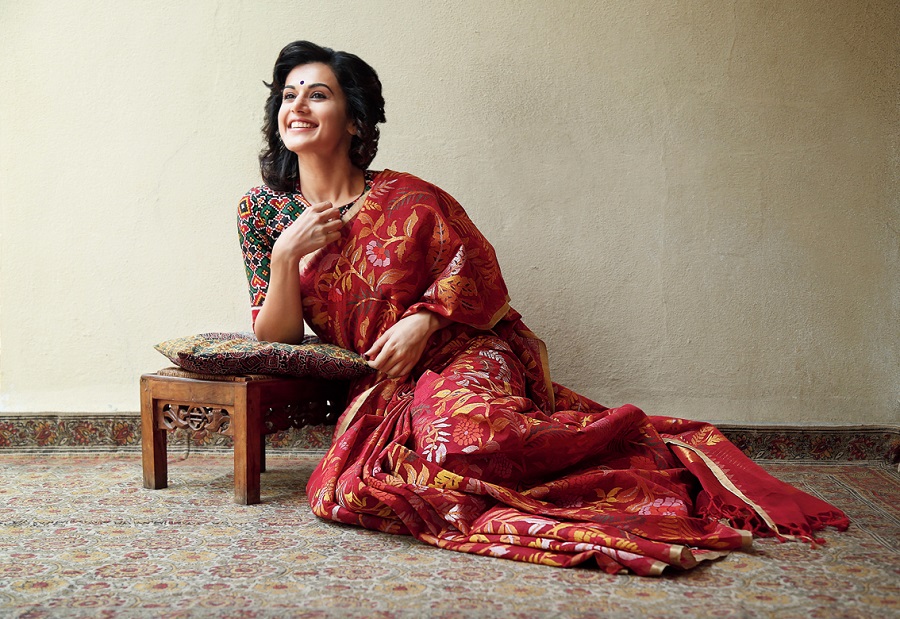 The project 'Khadi, A Canvas' took over two years and involved a precise replication of Varma's unseen paintings woven onto the pallu of the sari, using the Srikakulam jamdani technique. What was even more exciting was to discover that Gandhi's birth anniversary coincides with Varma's death anniversary — a connection that led us to announce "Santati". It was an idea that was hugely inspiring and was worth the test as we were weaving 30 unseen paintings of Varma on to khadi sari pallus.

Transferring paintings of an iconic Indian artist on to saris must have had its own challenges...
Our approach was to choose those paintings that people have not seen or lesser-known ones. So we shortlisted 54 oleographs. Of which, we wove 33 saris with paintings of Raja Ravi Varma on the pallu, all interwoven in khadi, in natural dyes. The paintings were chosen in three categories: women in Varma's paintings, gods and goddesses, and stories.
To begin with, it took over six months of research. We had to begin by creating 600 shades of colours because Varma used only natural colours for his paintings in combinations of four primary colours. So we had to do everything with natural dyes to replicate the paintings in khadi and recreate the same colours on the portraits and dyed over 200kg of yarn. Our choice of using the Srikakulam jamdani technique made it possible to create the entire pattern without repetitions. While few of the saris took three months, the intricate paintings took more than 10 months to create.
The challenges were unique. The first thing we observed was that Varma's paintings are made of curved brush strokes and it was a Herculean task to train our weavers to reconstruct his masterpieces. So for a small painting, we had blown it up to almost 40 inches to capture the details, shades of colour, texture and patterns.
The next big thing we had to tackle was to find the right pool of weavers to work on the saris. Weavers who were masters of on-paper jamdani, where they print six meters of paper (length of a sari) and put it under the warp, look at it and weave it. We were fortunate to identify and engage 20 families.
Besides using 150 counts of fine khadi, finding the right dyes and matching them according to the saris was another task. In some saris, we realised the artwork came out on the opposite side. In some saris, the colour combinations did not come out well. So, we had to rework our strategy, design, and loom setting to get the closest replica of the artwork.
Creating 600 shades of colour in natural dyes was in itself a long-drawn, painstaking process. The yarn colours ranging from pastel pinks to luminescent were equally challenging to bring-about. Another thing we had to confront was to replicate the facial expression of every single character in the paintings and the fall of their clothing as seen in the paintings through jamdani weaves.

What's next for brand Gaurang Shah?
To continue to be inventive and to enthuse clients to drool over the handloom that we create. We are also creating a new line of collectives for our e-store clients from casual, daily-wear, office-wear, festive and bridal handwoven pieces.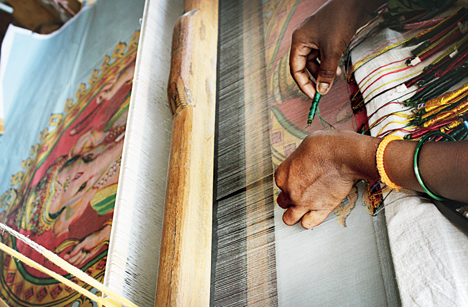 Few faves
Favourite dyes to work with: Natural dyes. I love dabbling with new shades that will enrich my designs. Over the years, we have developed several new colour palettes, and will continue to create new exciting colours.
Favourite weave: Jamdani.
Favourite textile: I admire everything Indian, heritage and monumental.
Favourite yarn: Cotton, khadi and silk.
Favourite designer/s: Sabyasachi and Rohit Bal