Gaurang Shah presents Interlace at Crafts Council of Telangana
A new chapter in his quest to preserve the Jamdani legacy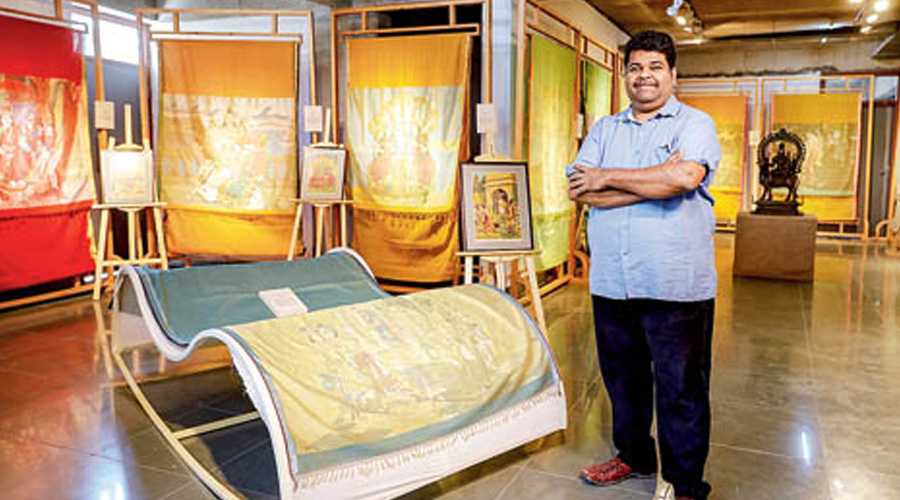 Gaurang Shah's Interlace at CCT Spaces showcases jamdani and tapestry weaving techniques
---
Calcutta
|
Published 10.12.20, 11:55 PM
|
---
Continuing his work in the realm of keeping the legacy of jamdani alive, Gaurang Shah's latest venture Interlace at the Crafts Council of Telangana (CCT) features a museum-like display of 65 exquisite Indian handwoven saris, including the ones recreating paintings of Raja Ravi Varma in the pallu, and a live demonstration of the art of jamdani weaving.
As a part of the inaugural show at CCT Spaces, an initiative by CCT, Interlace opened doors on December 8 with this extravagant exhibition showcasing the poetry of jamdani and tapestry weaving techniques.
CCT Spaces that has been conceived as a one-of-its-kind platform to showcase their work dedicated to 'Handmade in India' also features a craft wall in the atrium that depicts traditional craft that is accessible and can be architectural showpieces. CCT Spaces is set to further the cause of craft communities making a viable living through meaningful partnerships. Their goal is to strengthen livelihoods, preserve traditional artisanal skills, ensure sustenance and develop systems that will create all-around progress within the Indian art ecosystem.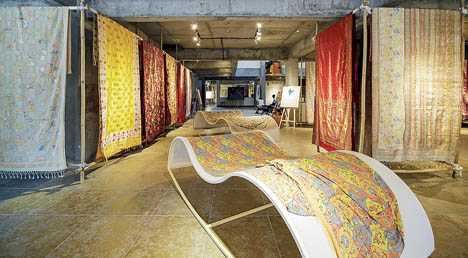 Interlace featured works from projects by Gaurang such as Khadi — A Canvas (khadi saris with woven pallu's of Ravi Varma's paintings in tapestry and jamdani techniques) and Sangraha — An Anthology of Jamdani featuring timeless classics from Dhaka, Kasi, Kota, Srikakulam, Uppada and Venkatgiri, created directly on the loom. The display line-up included Meeth, the exquisite fusion masterpieces, and Gharohar with tapestry and saris from Paithan and Kashmir, which highlight the incredibly time-consuming ancient technique of tapestry.
"As a designer, I have often wondered what makes jamdani such a captivating canvas to many and me, especially. After 20 years of working with weavers across India, I have found a layered answer. There is, of course, the legacy. Every piece you have seen today is my homage to the past masters who created jamdani by infusing tradition with a spirit of experimentation," said Gaurang about the showcase.
Pictures courtesy: Gaurang Shah