It's not too much of a stretch if I were to say that almost every '80s/'90s kid has probably learnt to tie up their shoelaces on their first pair of sneakers, yours truly included. Mine was a tattered pair, many sizes too large for me because they used to be my dad's cricket sneakers that I hopelessly tried fitting into.
For sneaker lover and now, sneaker entrepreneur Anand Ahuja, it was an early-found love for basketball that did the trick. "When I was growing up in Delhi, I was into a lot of sports and especially basketball, which is very sneaker-driven. My mom tells me that even before that, I used to always be really picky about sneakers. Living in India, I used to spend my summers in the US because my cousins lived there and I would always decide beforehand which sneaker to buy there and then return to India to wear it all the time," laughs Anand, when we catch up with him over the phone.
Though for Shaleena Nathani, an ace stylist with a very distinct sarto-rial sense herself, snea-kers have a funny association — "It's so strange but when you're younger and in India, you picture sneakers with morning walks and not the correct outfit and at that age, you're like 'I'll never wear this!'. And now, here we are, pairing sneakers with everything!"
Fashion designer Gaurav Khanijo blames his love for sneakers on '80s fashion. "I am an '80s kid and whenever we watched these tennis or basketball stars, we would see them in these sneakers that we couldn't get here. My father got me these Nikes and I didn't know what Nike was. I loved that pair! What drove me to sneakers was the '80s fashion and it's such a cycle that it's all coming back now," he sums up.
So what exactly is behind the meteoric rise of sneakers, which has been transformed from a sporting paraphernalia to today's fashion essential?
The rise of the prodigal sneaker
1. Men and fashion: It has been long established that men are growing to be more willing and accepting of fashion choices. "What is happening with sneakers is that it's growing globally and in India also. Men are willing to spend more on wearables than they used in the past. Guys, basically, have clothes and shoes and not every guy is experimental when it comes to clothes. So shoes become an easy way to express oneself, for guys, especially," explains Anand.
2. Athleisure: Mark Zuckerberg had famously said that clothing, along with breakfast, was a "silly decision" he did not "want to waste time making", and owns multiple versions of the same grey T-shirt that he so famously sports all the time — of course, except when he is being roasted by the US Senate for stealing our data. Perhaps, the most important factor that has contributed proportionally to the rise of sneakers is a universal shift in the attitude of people that makes it okay for a new-age entrepreneur to walk into a meeting in a T-shirt and a pair of shorts. "Everyone's travelling and working so much that they have realised that comfort is important. On my busiest of days, you will find me in a pair of the most torn jeans I have and sneakers," says Shaleena.
"Everything in the world has become more casual and athleisure is so big, with Lululemons and gym clothes being worn everywhere! People are going to work in shorts and chappals — the whole world has become more accepting of casualness so sneakers is a part of that," adds Anand.
3. Sport-hybrid fashion: With Nike becoming a serial collaborator with American design poster boy Virgil Abloh and Adidas with Brit sustainable luxury fashion designer Stella McCartney, brands like Gucci and Chanel could not help but jump onto the sneaker bandwagon as well. The result is a symbiotic partnership of fashion and technology.
"Nike has started doing some great stuff that's not just performance-oriented and are moving more into the fashion space. So it makes it easier to wear it without looking like a cliche of what we'd wear to go to the gym," says Shaleena. And indeed Nike has been a flag-bearer with their collaborations since the days of yore and their iconic Air Jordans.
"The first benchmark was when sneakers gained iconic status with Nike collaborating with Michael Jordan to launch the Air Jordan 1. In due course, brands like Converse and Adidas collaborated with fashion designers and celebrities to launch sneakers in different colours, geometric shapes and designs. In more recent times, the most talked-about sneaker collaboration was when luxury giant Louis Vuitton signed with Kanye West and launched multiple designs, which immediately became a huge rage across the globe," summarises Calcutta-based footwear designer Rohan Arora. And the rest is fashion history!
4. The ubiquitous white sneakers: What's that one thing common between Michelle Obama, Rihanna, Maria Sharapova, Sonam Kapoor and yours truly? We have all bitten the fashion bug of the white sneakers. But ever wondered what led to its growth?
As soon as the fascination with heels ended, women became more open to the idea of comfort — sorry, Carrie Bradshaw, but spending $40,000 on heels is just not what sensible people do! While the credit for creating the first famous pair of white trainers could most probably be given to Adidas, in the form of a pair of leather shoes (for French tennis player Robert Haillet), the next big white sneaker moment could be attributed to Stan Smith that, of Smith's own famous admission, turned the white sneakers into something that were "worn for just about everything except tennis".
"White is a classic and you can wear it with anything. I think white sneakers are pretty amazing!" says Shaleena, giving her seal of approval. "But for me, I don't like anything that's sparkly white — I'd like to get it a little dirty — that kind of a vibe is nice," she adds with a laugh.
From references to Stan Smiths in a large number of rap songs to, as Anand points out, the iconic Run DMC collaboration of the 1980s, the white sneakers have had quite the fashion moment that seems far from over right now.
5. International brands warming up to the Indian market: Interestingly, we found that all of the sneaker lovers we spoke to had either of two things in common — an early exposure to international subcultures (in the form of basketball or tennis) or family living abroad who helped them procure those coveted pieces of sneakers that were not readily available in the subcontinent.
"Social media has made the world so small and also so many brands have come into India, like we have Anand who started VegNonVeg, where he is bringing one-off pieces and individual stuff and comfort is at the back of everyone's minds when they dress," explains Shaleena.
Which leads us to our next talking point.
Business of sneakers
According to a report by Research and Markets, "the global sneakers market stood at $58 billion in 2018 and is projected to grow at a CAGR of over 7 per cent during 2019-2024", which essentially translates into a rise to $102,500 million in 2024 from $70,100 million in 2019.
"The market in India is estimated to be about $1 billion and growing at a healthy compounded annual growth rate of about 20 per cent. The sneaker industry has clearly evolved from athletic footwear to a fashion statement with performance technology and consumer demands being the game changers," says Rajat Khurana, managing director, ASICS India. So safe to say that sneakers are a style essential now backed by numbers.
Anupam Sehgal, marketing head, Cravatex Brands for FILA, says, "For FILA, Disruptors are the highest-selling footwear in India and across the world. The plain white Disruptors were introduced in July 2018 and were sold out within a week in India. They are still in demand and we continue to bring them repeatedly for more than a year now."
So how are the two of the biggest sneaker brands keeping up with demand? According to Khurana, the sneaker market in India has witnessed a steady growth and keeping up with the upward trend, "the company operations in India have increased an influx of more athleisure and sports-style category along with trending product designs for the more fashion forward consumer". "Our PR and marketing activations are also undergoing a distinct shift, tailored towards more brand collaborations to reach out to a wider and new audience of the growing sneaker-heads and communities of India," added Khurana.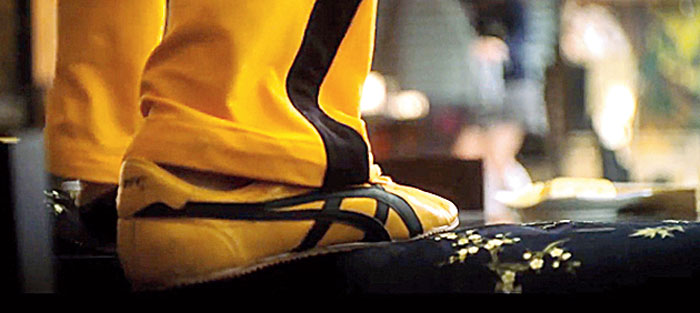 Still from the film
Iconic sneaker moments
Kill Bill: Volume 1 (2003): In Quentin Tarantino's action thriller, Uma 'The Bride' Thurman dons a pair of ASICS Onitsuka Tiger sneakers, with "F*** U" written on the soles.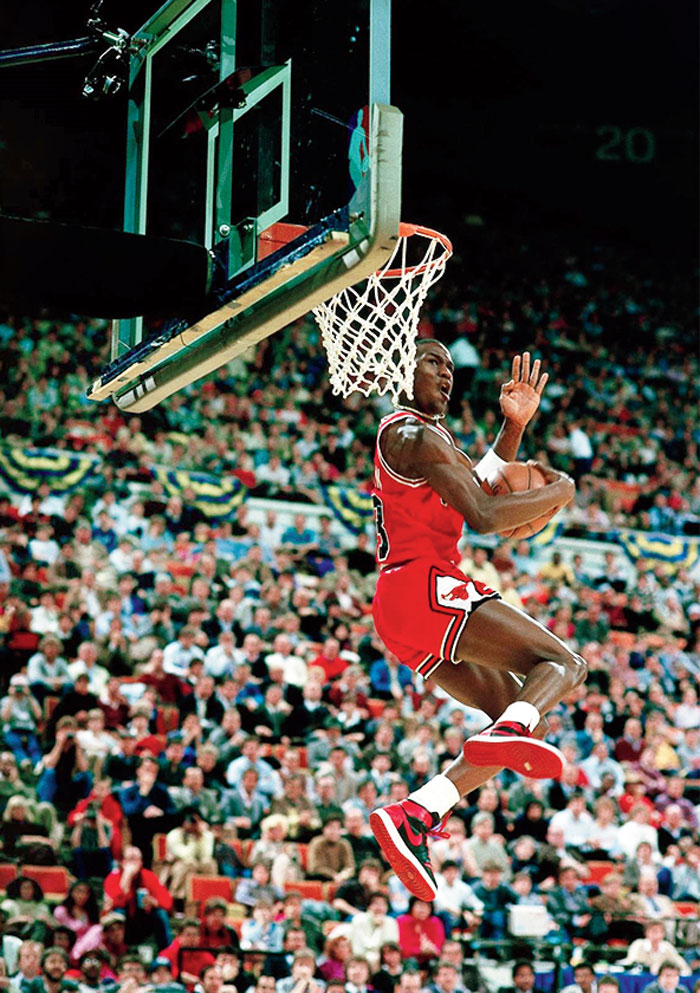 NBA
Michael 'Air' Jordan (1984): Before the Air Jordan was launched and they became sneaker history, the story goes that Michael Jordan wore the Air Ships — much akin to the red and black of the former — in 1984, for which the NBA fined him a whopping $5,000 per game and Nike happily picked up the tab. They went on to market the Air Jordan that they released soon after as the "banned" shoes, based on the Air Ships story, which went on to become a whopping success.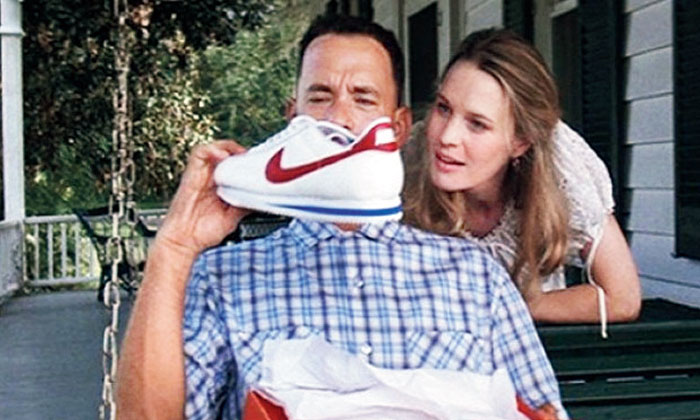 Still from the film
Forrest Gump (1994): Like many, my love for the iconic Cortez started after watching this film. I mean, who does not remember Jenny gifting Forrest a pair of these shoes and then Tom Hanks literally making the film run to glory?!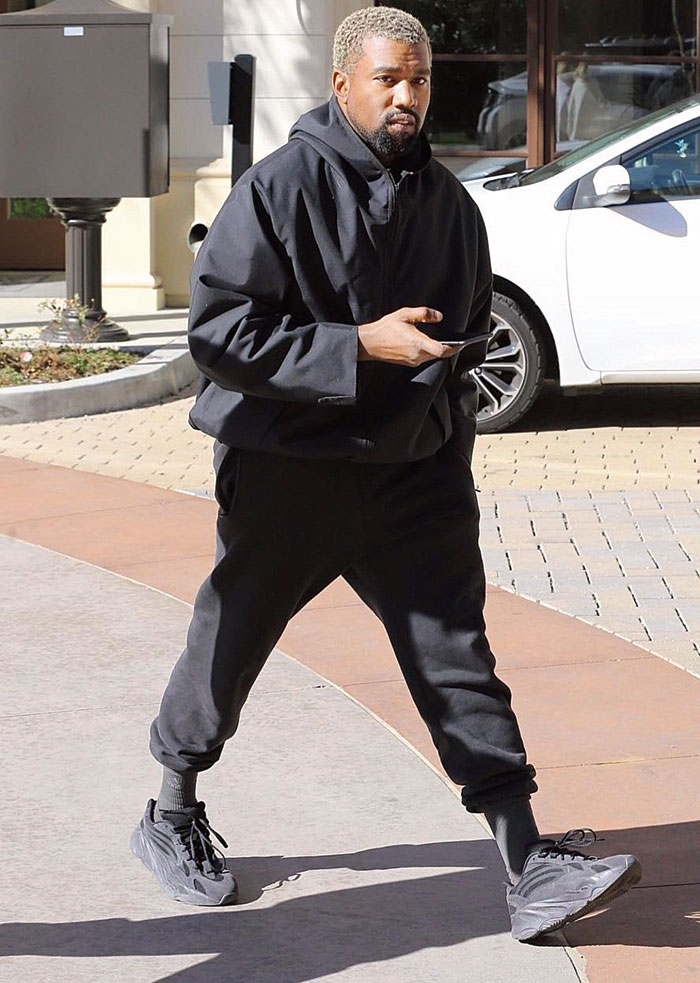 Kanye West kanyew.est, Instagram
Yeezy: Kanye West's Yeezy, which he first launched with Nike and then took to Adidas, is set to grow beyond $1.5billion this year, becoming a prominent fixture with reachable distance on the rearview mirror of the famed Jordan line that does $3billion in yearly sales. Yes, I am still scratching my head about the "Yeezus" but there's no ignoring the foresight of Ye, no longer!
As for FILA, they are riding high on their 'Made in Italy' limited-edition Disruptor 2 design, which debuted during the Milan Fashion Week. "The Made in Italy Disruptor globally was limited to 3,000 pairs and we brought it to India," says Sehgal. FILA's Indian collaborations include the limited-edition Masala Box Mindblower sneaker with Anand's VegNonVeg, a collaboration with Indo-Canadian streetwear brand NorBlack NorWhite and a motorsport collection of footwear in collaboration with Rannvijay Singha of MTV Roadies fame.
Coming to the consumer's perspective, Anand believes that it is key to have more international brands looking into the Indian context of things, starting with the pricing. "For India, sneakers are huge for still a small population of people — one that is very loyal, genuine and growing. But it's still small because sneakers are very expensive. Some of our bestselling shoes are Vans that cost about
Rs 5,000. So there's a need for pricing for the Indian market also. Right now, all of the pricing comes from the international market," says Anand.
Road ahead
But are sneakers just a trend or are a timeless fashion must-have? Innovation and sustainability are two things key to the sustained rise of sneakers. Take, for instance, Anand's now-famous Nike trainers that he wore to his wedding reception. "The shoes I wore at my reception (in picture left) are one of my favourites because it was the first time Nike came out with a knit-based shoe, so it's not leather but yarn and it came out during the 2012 Olympics. I am more driven by innovation and form and shape of sneakers. To me the no-leather and less-wastage factors were very important," explains Anand.
Eco-friendly, non-leather, 3D-printed, 4D technology, WiFi-enabled and an ever-improvising sole-cushioning technology are just a few of the things that are making sneakers cutting edge in 2019, coupled with cool collabs and customisations.
Elite sportspersons and visionaries across all fields are constantly pushing boundaries to make sneakers better. While Abloh makes art with them, McCartney makes a political statement with them. Closer home, concept sneaker stores such as VegNonVeg are invested in building a sneaker subculture and a narrative surrounding the youth and are constantly striving to make them accessible.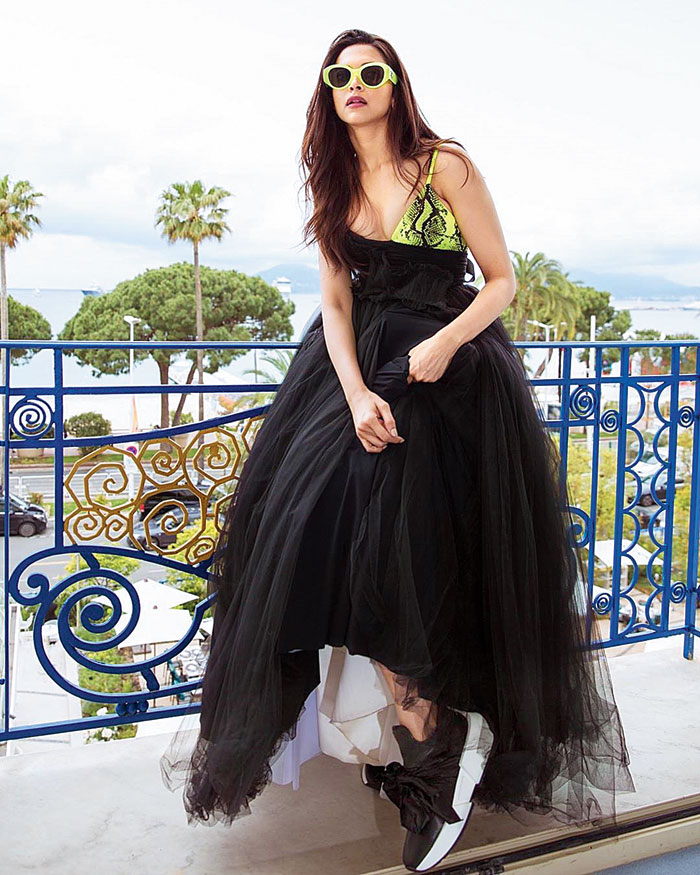 For one of her looks at Cannes Film Festival this year, Deepika Padukone made a sartorial statement in all things Off-White, finished with a pair of sneakers deepikapadukone, Instagram
Sneaker styling tricks by Shaleena Nathani
Airport look: Coordinated track pants and oversized jackets are really in and that's one of my favourites. So that with a cool pair of sneakers and just off-set the colours, because that's in now.
Sneakers on the red carpet: Fun pair of high-top sneakers with a gown or a fantastic suit, or improvise and do something fun with your sneakers — get them embellished or get something done so that's a limited edition that you have created and wear it with a fun gown.
Crazy work-day: My standard work outfit is a nicely fitted white tank top with the most ripped pair of blue jeans and a really cool pair of sneakers. And you don't even have to think — it will look good and be comfortable.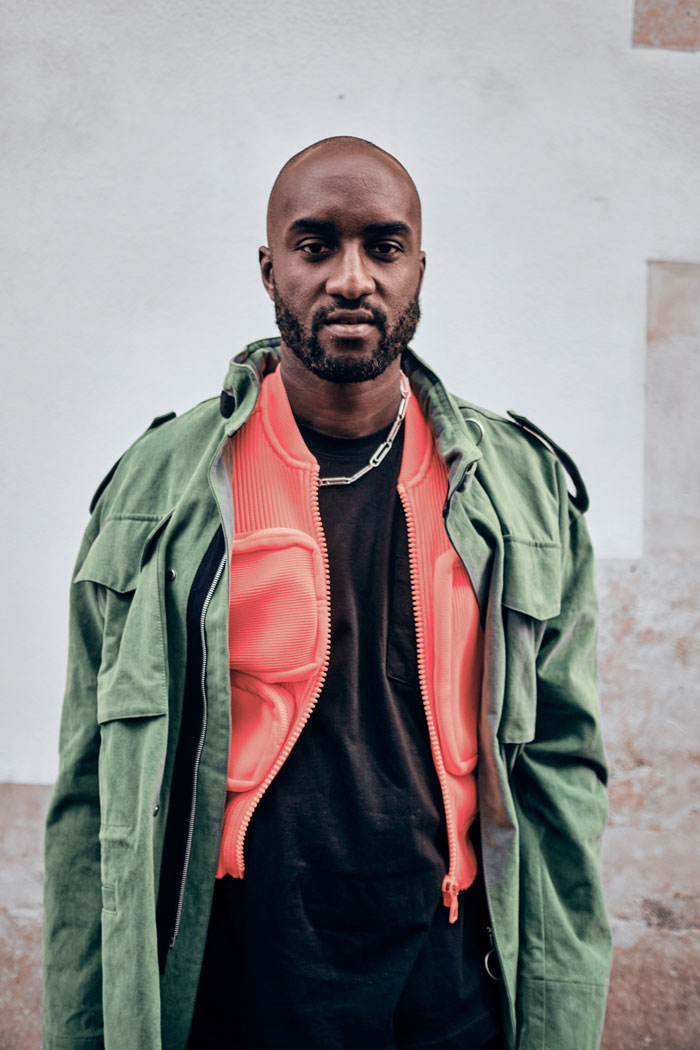 Virgil Abloh Wikipedia
Virgil Abloh: What began as Virgil Abloh drawing on a pair of Air Force 1 at the Nike HQ in 2016 led to Matt Kilgore, the son of Bruce Kilgore, the designer of the Air Force 1 of 1982, hand-making the 12 Air Force 1, which became the first of Abloh's line of interpretations and deconstruction of 10 Nike emblematic pairs under his creative vision as part of The Ten. Abloh's own brand Off-White has, since then, made trailblazing shoe lines with Nike and even collaborated with Nike sportspersons such as Serena Williams and most recently, he has confirmed three new versions of the Off-White X Nike Dunk Lows. Hailed for his avant-garde, uber-chic design sensibilities, Abloh, along with his line of Off-White shoes, has perhaps become one of the biggest sneaker-creators, in terms of popularity.
Roger Federer and Rafael Nadal: These two ace tennis players have been collaborating with Nike for more than a decade and apart from their clothes (yes, Federer left Nike to sign up with Uniqlo), the brand has been customising sneakers for the duo for years — both Career Grand Slam winners wear the number of each Grand Slam that they have won at each of the respective four venues on their custom shoes. Apart from these two, Maria Sharapova famously collaborated with Nike on her own line of Cortez shoes.
Serena Williams: Sticking to the trend of wearing sneakers everywhere from the Met Gala red carpet to one's own wedding, Serena rocked a bedazzled Swarovski-embellished pair of Cortez sneakers on her wedding day and an Nike X Off-White neon green pair at this year's Met Gala, which she was co-chair of.
Nike X Stranger Things: It was the summer of 1985 when a fleet of trucks laden with varsity apparel and sneakers set out from the Nike HQ in Beaverton, Oregon to make multiple deliveries across the US. However, none of these trucks ever made it to their intended destinations. The only thing they all had in common? They were all last caught on surveillance footage passing through the city of Hawkins in Indiana. Nike, concerned and confused, never mentioned these missing shipments to anyone for fear that something supernatural was at play. And in 2019, they have been found…
Or this is the story that Nike had created behind their collaboration with Netflix, ahead of the web giant dropping Season 3 of cult-favourite Stranger Things. With a story like this and a collaboration comprising modern interpretations of many of their 1985 collections, they soon became a hit and flew off the shelves. "So the sneakers are wrapped in the newspaper that they have in Hawkins and it's a very cool pair of shoes and it's so funny that now I have a pair with my birth year on it as it says 1985 on the back," says an excited Shaleena after she was gifted this pair. We can only wish for such gifts or anything close to an '85 Cortez would do!