French model Lana, shoots her first fashion feature in the city of Joy
'I love the prep and the flowers in my hair. Draping these beautiful saris with gorgeous flowers in my hair and exquisite jewellery makes me feel like an exotic goddess', says Lana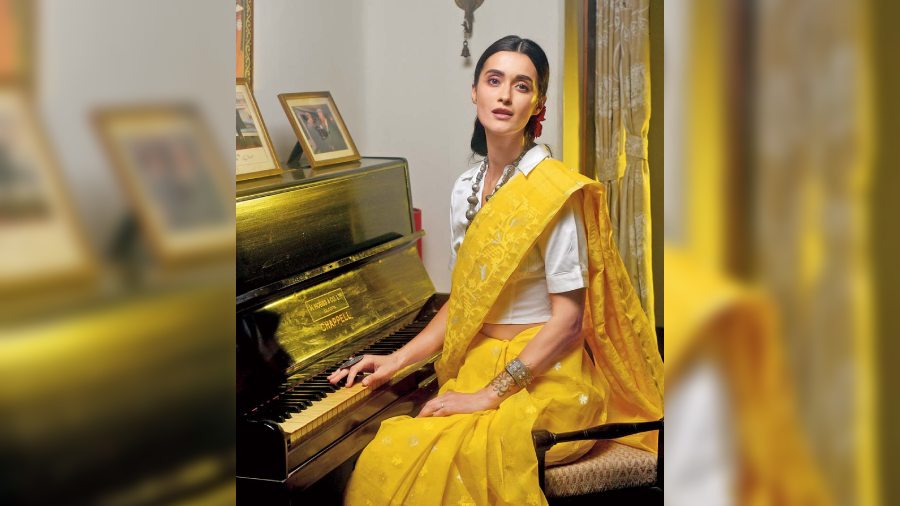 A yellow jamdani is teamed with a shirt-style blouse for a "classic" look. Abhijith adds a rose to the casual tie-up that adds so much romance to the frame.
---
Published 19.09.22, 02:30 AM
|
---
A lovely muse + a gorgeous location + a super styling and hair and make-up team + fun behind the scenes conversation = a great shoot. Which is what this shoot with the Parisian model Lana at the age-old Beltala Road's Lalbari is. We get you the making of the shoot where Calcutta meets Paris.
The muse: At 5'10, Lana is striking. As calmingly charming as her looks is her sweet disposition. Born and brought up in Paris, the mecca of fashion, she has shot for brands like Estee Lauder, J. Crew, Ralph Lauren, Gap and more. The designers on her CV are enviable names like Azzedine Alaia, Dior, Issey Miyake, Marc Jacobs and Louis Vuitton. Soft-spoken and mild-mannered, Lana had our heart from the word go. Introduced to The Telegraph by choreographer and brand consultant Tina Mukherjee, Lana mingles with the team easily and carries off the saris effortlessly. "I love the prep and the flowers in my hair. Draping these beautiful saris with gorgeous flowers in my hair and exquisite jewellery makes me feel like an exotic goddess," smiles Lana. The stunner has been in a sari before and feels it exudes elegance and femininity.
Her Calcutta connection is her husband, model and actor Shayan Munshi. "I met him in Mumbai and we got married in New York. It's been five years," says Lana. Though it's going to be about three months for her in Calcutta, she has been in our city before. "Earlier we would be here for a week or 10 days... it's not a super new city, but I have a lot to discover.... It's a good experience to live here.... What I love most about Calcutta/Bengal is how they worship the Divine Mother. I am also attracted to the rich cultural and artistic heritage of Calcutta, which is so unique," she smiles.
The location: The heritage Lalbari gives you goosebumps once you realise the history you become a part of once you step into this Beltala Road property. Sprawling and more than 100 years old, it is the residence of former West Bengal chief minister Siddhartha Shankar Ray. Volumes of books, artefacts, a beautiful flight of carpeted stairs and photographs worth in gold take you back in time. Ilina Chanda, Ray's niece and a special educator, narrates snippets of history as Lana puts flowers in her hair. "I have lived here since my college days. My parents were in the tea gardens. From what I have heard from my father, Mahatma Gandhi came to this house and delivered a speech from the balcony. My room used to be a dining room which has seen many well-known names dine, such as Purabi Mukherjee (singer) and Nandini Satpathy (chief minister of Odisha). This was a joint family. Gopalkrishna Gandhi, Madhav Rao Scindia, Ravi Shankar have all been here. Basanti Devi, who was my jethu's didima (married to freedom fighter Deshbandhu Chittaranjan Das), when she was unwell, she was here and Indira Gandhi came to see her. Anandamayi Ma came to see my thakuma. I remember her being taken down in a chair," recalls Chanda.
Lalbari now runs as an Airbnb. "We have named it Lalbari after we started Airbnb in 2015. The house has always been red," she says. Aparna Sen's Ghawre Bairey Aaj was shot here. The styling: The inimitable Pinky Kenworthy who marvels us with her unique sari drapes, chooses Dhakai jamdanis, a kanjeevaram and a gorod, all from heritage brand Kanishka's, for Lana, and teams them with statement jewellery from Senco Gold & Diamonds. "I think European women look beautiful in saris, in a very traditional look. I think she has done justice to all the looks. I am a big fan of traditional Bengali looks anyway," says Pinky.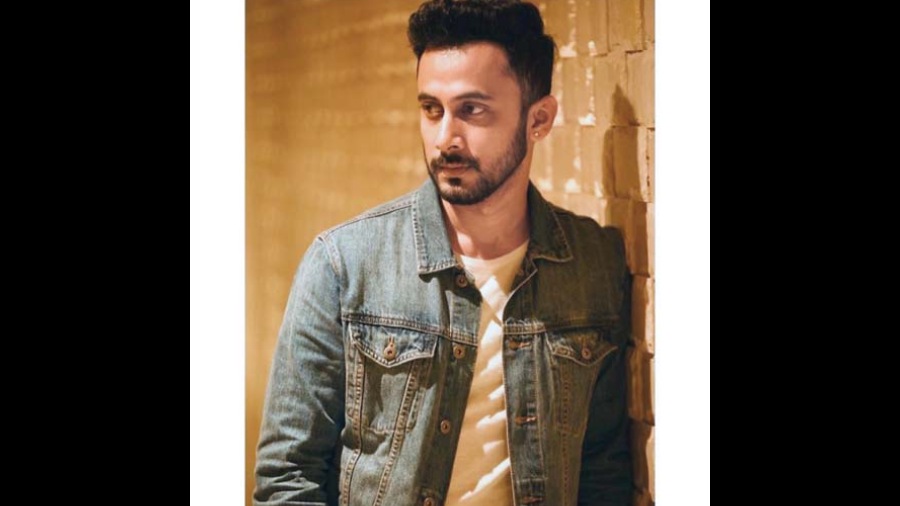 Hair and make-up: Abhijith Chanda, who swears by 'less is more', gives Lana a subtle and fresh look. A bindi here, a gajra there, the floral touch in a rose and a lotus, adds to Lana's pristine beauty. "She is wonderful to work with, so friendly. She really carries saris so well! I always feel happy when I see that pleasant surprise in someone's eyes when they wear something they are not really used to," says Abhijith. Pictures: Pabitra Das
Styling: Pinky Kenworthy; Hair and make-up: Abhijith Chanda; Coordination: Tina Mukherjee; Saris: Kanishka's
Jewellery: Senco Gold & Diamonds; Location: Lalbari (2, Beltala Road)