Four young F&B entrepreneurs bring out their style a-game for this special t2 shoot
The F&B gentlemen dressed up in Kommal & Ratul Sood and posed like confident pros!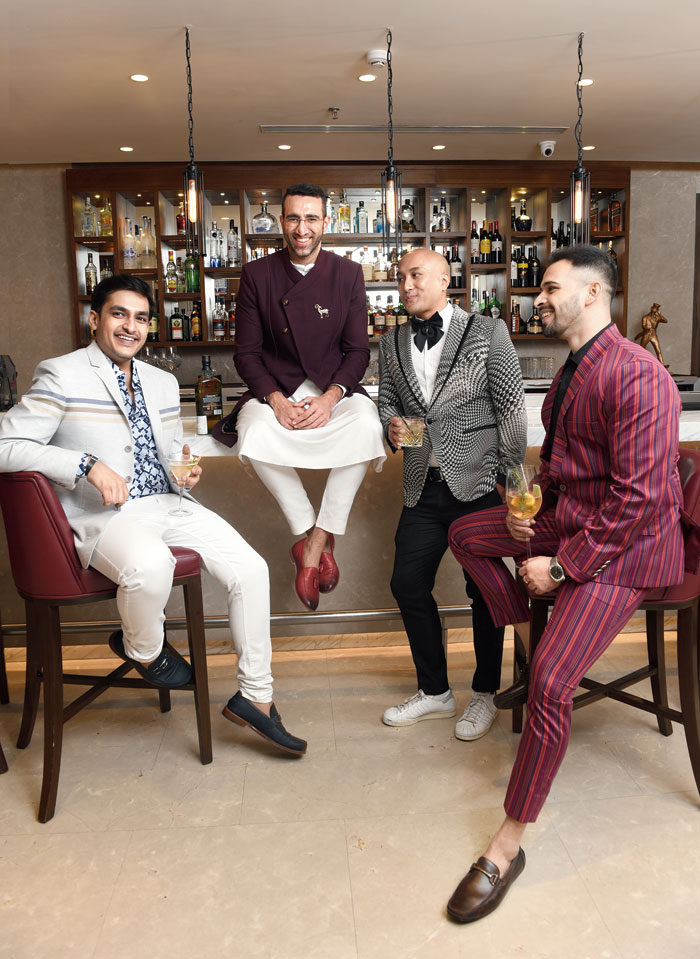 ---
---
Sudhir Ahuja, the owner of Bakstage, the Sector V rock pub, "poured a drink after 45 days". Pravakar Yonzone, the co-owner of Momo I Am chain of restaurants, didn't know how time flew by. Vijyant Shah, co-owner of the gastropub The Brewhive, loved the novel experience. And, Aayush Killa, the franchise partner for Pa Pa Ya Calcutta, the Asian bistro and tapas bar, postponed a trip. All this for and at a special shoot for t2, the first ever 'fashion shoot' for all four men. The F&B gentlemen dressed up in Kommal & Ratul Sood and posed like confident pros! Post-shoot, they chatted about their experience with The Telegraph...
First impressions…
Pravakar Yonzone: I am a
T-shirt, jeans and shorts guy. It was a new experience for all of us. Once we started the casual shoot, that made it easy for the second one. I haven't worn these styles before. No jackets and formals, but this was a good experience. This has opened up a new avenue for me and I am going to go visit him (Ratul Sood) soon. I liked the black-and-white jacket more.
Vijyant Shah: Pretty exciting! It was fun! Definitely I won't be buying stripes on silk at the first go, but after trying it out, it was pretty good. I do wear waistcoats, but the striped suit was new and refreshing for me.
Aayush Killa: I was very sceptical. I was like, I cannot do this. I am a little shy and camera conscious. I went to Ratul's store and it was pretty easy… I was trying things…. The waistcoat I do wear at functions, but the sporty coat is something I have never tried. I wouldn't ever come out in white trousers and shirt and a sports coat. I would be in a formal suit. Once I wore, I really liked it and may be I'll pull off later also.
Sudhir Ahuja: I come from a garment family. I was a little shaky because you have to face the camera. Back at home, everyone's a bathroom singer or dresser and you look good in whatever you wear because that is your space. It is very difficult to try someone else's outfit and do justice to it. After my visit to Ratul's, I was up all night, trying to see if we can add on. I was relaxed… he (Ratul) knows his job best and whatever he gives me, I'll just have to smile.
Fashion or style?
Sudhir: If you are fashion-conscious, you automatically become stylish. Not blindly fashion-conscious but something that goes with your personality.
Aayush: I do experiment, but there is a certain style that I follow and I like to stick to that. Over time it has also changed, because I have lost about 45 kilos in two-and-half years. So, yes, sizes. Before I didn't have choices of colour or prints because there weren't any size available. Now there is. So, you start looking at fashion and try new things. So, evolving and gradually getting there may be.
Vijyant: Fashion and style goes hand in hand, but whatever makes me look good and comfortable.... I usually wear my slippers when I am going out.
Pravakar: Comfort for me too!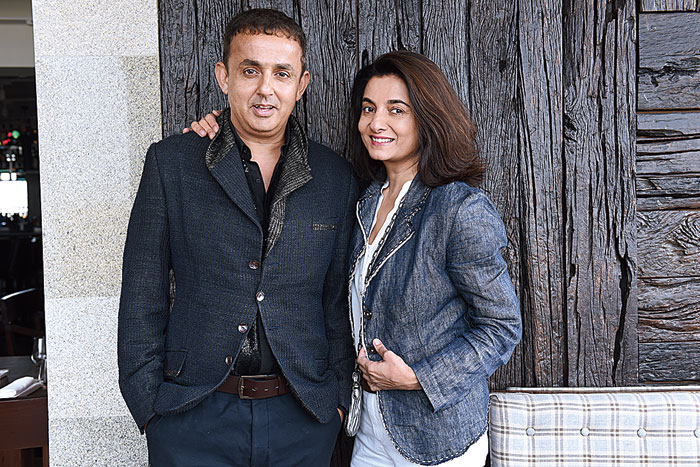 A sneak peek into your wardrobe…
Pravakar: A lot of jeans, T-shirts, shorts in mostly grey, white and black. Blue is the closest to colours that I have. Now, probably I will start experimenting. Formals are a small part of my wardrobe.
Vijyant: Black and pink. Pink is something guys usually avoid, but I like wearing. I have all shades… in shirts and T-shirts. No formals for me!
Aayush: Formals mostly, because Monday to Saturday I am working in my office. Mostly whites and blacks. If I am going out in the evening, it's mostly blacks. I also have a lot of colours, but they mostly come out on Sundays.
Sudhir: I have all colours you can think, from earthy, blacks and greys to teal blues and rani pink. I have a collection of black and whites. I have three cupboards! I like to customise. So, all my shirts, I select the colour and then get it made. The embroidery too… the same moustache that I have on my lapel pin, I got it done on my pants. I once got an award for being the most outlandish dresser… I was dressed as a hippie… in a wig and malas. So, when you are in a comfort zone and are not being judged, you can experiment. Recently I picked up three suits. One a classic grey suit, another one was a teal blue suit and the third one was a white.
'A' for accessory…
Sudhir: I am an accessories person and I like collecting them. I have all kinds of accessories that goes on a suit… about 10-12 pocket squares and 15-20 lapel pins, brooches which I pick up wherever I go or I shop online.
Aayush: I really like collecting and I am a big shopaholic. I have a plethora but nothing that I use. Pocket squares, brooches, bracelets, watches, shades…. I really love my watches. London is a great shopping destination. I am an impulsive shopper!
Vijyant: Hardly anything! May be just this… the rudraksha. I am not into shopping.
Pravakar: I am into shoes and watches. I've got 12 pairs of shoes and a few watches. I buy a lot of things online.
Party ready…
Sudhir: Anything nice, colourful, well-fitted. If I am at Pa Pa Ya, I'll go a little more formal and if I am at Momo I Am, I'll wear something very casual.
Aayush: I go out in my black shirt and jeans and sneakers. I have different types… something that I love collecting.
Vijyant: Black T-shirt, denims and sneakers.
Pravakar: Jeans, sneakers and T-shirt.
A dapper dude…
Sudhir: Milind Soman, earlier.
Aayush: I really like Ranveer Singh's sense of style. I really look up to him because he pulls it off fabulously.
Vijyant: Ranveer Singh.
Pravakar: Conor McGregor. He has come up with his own line called August McGregor. He does well-fitted pants.
...and a stylish woman
Sudhir: Catherine Zeta-Jones.
Aayush: Anushka Sharma, casual and to the point.
Vijyant: Sushmita Sen.
Pravakar: Priyanka Chopra. She pulls off everything.