Fists of fury
Read more below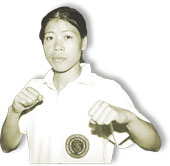 ---
Published 26.09.04, 12:00 AM
|
---
TIME OUT: Mary Kom is still looking for a job. Photo: Ramakant Kushwaha
Boxing is not a sport for the faint-hearted. Once you put on those colourful shorts, don your boxing gloves and get inside the ring, you have nothing but two hands to protect yourself with. If the opponent is better, you can be pummelled by punches, turned into a limp rag doll and left nursing a broken nose and a battered ego. Worse, when you go down staggering, the world claps and cheers. Everyone can see you are a loser.
But the strange thing about Mangte Chungneijang Mary Kom is that she doesn?t get dejected when she is down for the count. The emotion, she says, that wells up inside her is controlled anger. And, more often than not, she gets up on her feet and goes back to business. Which is dancing on her feet, landing point-scoring jabs and throwing punches. And, more often than not, she ends up being the winner.
But Mary Kom, who? Well, she is a 21-year-old world boxing champion from Manipur who became India?s first woman pugilist to get the Arjuna Award last Tuesday. Says the boxer, who is 5 feet two inches tall and weighs a mere 46 kilograms, ?Women boxers do not get the same facilities as men. But this award should change a lot of things. This award means that the Indian government has recognised women?s boxing. It will help the sport to grow.?
In a country where few know that women?s boxing even exists, the magnitude of Mary Kom?s achievement can hardly be underestimated. In most international meets, she takes the top spot. The unassuming girl was India?s only gold medal-winner in the Women?s World Boxing Championship held in Turkey in 2002. At a time when most male boxers have trouble getting beyond the first round in the Olympics, Mary Kom could have been one of India?s strongest medal hopes in Athens. Too bad, women?s boxing is not an Olympic sport.
It is the morning after the Arjuna Award ceremony. And the boxer from Manipur?s Kangathei village is visibly happy, still savouring those moments of being honoured and feeling wanted. ?I never thought I will win an international medal. I never thought I will get awards,? she beams.
It is an honest confession from a farmer?s daughter who learnt boxing on the sly, being too scared to tell her parents that she had quit athletics and taken up the tough, ?un-womanly? sport. She doesn?t say it but it is obvious that for her, as for many other girls from relatively modest backgrounds, games were an escape from poverty and a way out from suffocating social restrictions.
As a schoolgirl, Mary Kom played all kinds of games; football and athletics being two of her favourite sports. But boxing interested her. She had heard about Mohammed Ali and seen his daughter, Laila Ali, the glamour girl of women?s boxing, on television. And she had read about Dingko Singh, also from Manipur, regarded as one of the finest pugilists India has seen in the past decade.
No one cajoled or coerced Mary Kom to take up the sport. One day she just went and met the boxing coach at the local Sports Authority of India centre, and expressed her desire to be a member of the boxing team. ?Aren?t you afraid?? he asked her. ?No, I am not,? she replied. She joined the next day.
Boxing excited the 16-year-old. Winning bouts was fun, though, during her early days, sparring sent a small shiver of fear down her spine. Keeping the news ? that she had turned a boxer ? a secret was more difficult. Soon she started participating in district and state-level competitions. Then her name came out in the newspapers and the secret spilled out. Her father had a simple question to ask, ?You are a girl. Why did you take up boxing?? And Mary Kom had a simple reply. ?Because I like it,? she said and added, ?and I will continue to do it.? And that was that.
Having settled the issue with her family, Mary Kom was now focussed on becoming a good boxer. For a girl who had never been out of the Northeastern state, going out for national meets was a problem. She missed her rice and beef curry and had language problems. But once inside the ring she forgot all that.
Medals followed in national and international meets. In the first World Women?s Boxing Championship in USA in 2001, she got a silver. The next year, she struck gold in Antalya, Turkey. And last year, much to the delight of cheering crowds in Hissar, Haryana, she took the top spot in the Asian Championship.
National women?s boxing coach Anoop Kumar, who received the Dronacharya Award this year, gushes about Mary Kom?s strength of mind. ?She is extremely talented. Her punches are powerful and her body feints are perfect. But, more importantly, she is very strong mentally,? he says. Ever since he took over as coach of the national team, Kumar has worked hard with his wards. ?These girls are extremely disciplined,? he says, ?They work as hard as the men.?
The hard work has brought them a clutch of medals over the years. But little name and no employment. Being a world champion gold medal-winner, Mary Kom received Rs 30 lakh as reward from the Union sports ministry but is still looking around for a job. The world champion boxer has had talks with Haryana Urban Development Authority (Huda) as well as the Tata group but nothing concrete has happened so far. It?s the job she?s been waiting for. But her real desire is to win an Olympic medal. ?I have got everything I had aimed for from this sport. Now I have one more dream to fulfil. I want to take part in the Olympics,? she says.
Women?s boxing was an exhibition event in the 1904 St Louis Olympics but has since fallen off the map. Now, there is again talk of the sport being included in the 2012 Olympics. However, some officials feel that China might press for the inclusion of women?s boxing in the 2008 Beijing Olympics because it has a great chance of winning medals in the sport.
Either way, Mary Kom wants to have a go on the world?s greatest sporting stage. ?Some people said they will win a medal at the Olympics. But they couldn?t. So all I can say is: I will try,? she says in halting English. Please, says a billion-plus nation.