Filmmaker sees hope in Bihar
Read more below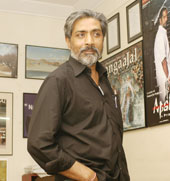 ---
---
REEL TIME: The filmmaker at his office in Andheri, Mumbai
Photo: Hemant Mishra
As a boy growing up in Champaran in northern Bihar, Prakash Jha remembers the clout that his stately zamindari ancestral home commanded in the village. He remembers villagers taking off their footwear while they walked across or around the house as a sign of respect. And he also remembers villagers being flogged for defaulting on loans borrowed from zamindars.
Today, the filmmaker lives miles away from where he grew up. Mumbai, the land of Bollywood, has been his karmabhoomi for more than two decades now. Yet, he claims vehemently, Bihar is not just a distant memory. A self-confessed portrayer of things back home, Jha never really left home. "I think Biharis feel strongly for their home. It's a genuine feeling of concern for what's happening to the homeland they were forced to flee. It's this concern that connects and binds Biharis," he says.
So, not surprisingly, Bihar figures prominently on Jha's cinematic easel. "It's a volatile society and a society I have seen from close quarters. From a filmmaker's point of view, it's an interesting subject to portray," he explains. So though he has made films of mainstream value including his first film Hip Hip Hurray (1983), Bandish (1996) and Dil Kya Karein (1999), Bihar is the subject he keeps going back to.
And quite a changing subject it has been. "My films on Bihar have tried to portray the situation as it was at the time they were made. They represent different points of time in history," he says.
His just released film Apaharan portrays the cottage industry that kidnapping has become in the state of late. The film follows Gangaajal, which looked at intra-caste power struggles and came in the wake of Mrityudand, which dealt with casteism and religious fanaticism in the Bihari society. Though the films are taken as a trilogy, Jha's second film, Damul (1984), was also on Bihar, portraying the tribulations of bonded labour in a feudal system.
Clearly, Jha eats, drinks and breathes Bihar. The election results in the state are out and a new chief minister has taken over. And Jha ? who fought and lost an election ? says he sees new hope in the state.
The filmmaker's passion for Bihar drove him to electoral politics a year ago. It was his concern for his state that, he says, prompted him to contest for the Lok Sabha from Bettiah in Champaran in 2004. And what drove him to politics, he elaborates, was Bihar's missing workforce. He estimates that 42 per cent of Bihar's skilled labour has left the state. "People have migrated out of Bihar because there's zero opportunity. Today, Biharis build roads in Ladakh and the northeast, but there's a dearth of junior engineers back home in Bihar to implement road construction schemes," he rues.
Jha believes, it's all a political design to "un-develop" Bihar. And he quotes numbers to substantiate his point.
"Even today, there are one lakh vacancies for the post of teachers in primary schools across the state. Appointments have not been made even in block development offices, district offices and Gram Panchayats.
Today, none of the government schemes gets implemented in Bihar. Here is one state where there is huge unemployment but the government is not employing and the positions are vacant."
Jha does not mince words when it comes to pinpointing what he believes is the cause for the rot. Behind Bihar's problems, he holds, is 'He' ? former chief minister Lalu Prasad. "It was he who stagnated the economy. He feared that most of the positions would be filled by upper caste people so he stopped appointments in government departments and schools. He stopped spending on public amenities as if there was no need for them and he also managed to convince his vote bank," he states.
The sorry state of affairs, he maintains, started as Lalu Prasad stopped public expenditure. "Everything was systematically finished ? all the indices of development ? education, industry, institutions, agriculture and trade. The first thing they did was finish the students' unions, so the youth was not mobilised. Then the caste wars divided the teachers. Universities have stagnated because there are not enough teachers. Do you know in the last 50 years not a single medical college, not a single IT institution, nor an engineering college has come up in the state? In 50 years!" he exclaims.
Jha wants to undo all that. And one way of doing that is by joining the system. So the filmmaker has plans of contesting the elections once again, despite having lost his deposit in his earlier attempt.
Jha, who once said he had friends in both the Bharatiya Janata Party and the Congress, may either fight as an independent, or join a political party.
And like a true wannabe politician, Jha, too, has an agenda. He wants to focus on organic farming in the state and claims to have helped revive the distribution chain for sugar mills in Champaran, which had shut down because of sourcing costs they could not bear. Another area of his interest is water management, which he says is crucial to the north-western district that has half a dozen rivers and their tributaries flowing through it. Jha says he has also adopted a district hospital and spends around Rs 1 lakh every month to keep it going.
Jha has been in touch with the new chief minister, Nitish Kumar, whose swearing-in ceremony he attended in Patna last week. He is going to need the support of the government, especially if he wants to realise his vision of overhauling the entertainment industry in Bihar. Jha says he has submitted a project report to the state government, appealing to it to abolish entertainment tax and encourage multiplexes. This, he says, has already happened in Jharkhand where the government has already allotted land for multiplex projects in places such as Bokaro, Ranchi and Dhanbad. "If it can happen in Jharkhand, why not in Bihar?" he asks.
There is work to be done in Bihar, and Mumbaikar Jha is all set for it. For, the filmmaker stresses, he wants to relaunch Brand Bihar. "When you say Bihar, people think of Lalu Prasad. I want to change that. And if everything goes right, Brand Bihar will be all about the Intelligent Bihari Mind," he says.