Fashion tips to stay stylish throughout the year
The columnist suggests 12 pieces starting with the corresponding letters of the 12 months for all the fashionistas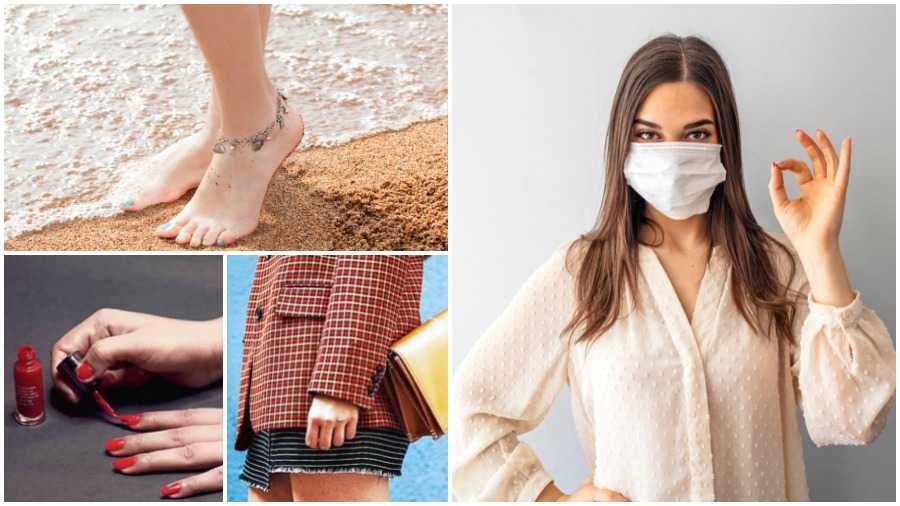 From wearing anklets to masks to minis, the columnist tells you how to stay stylish through the year.
The Telegraph
---
Published 10.02.22, 12:34 AM
|
---
Twelve pieces to think about this year, starting with the corresponding letters of the 12 months. Happy new year to all of you!
February & Fleece: The soft warm fabric, used as a lining under sweatshirts or pants and skirts, is fleece. Fleece blankets are popular too. Usually a blend of cotton and polyester, sometimes pure wool, fleece is fabulous.
March & Mask: Let us make the mask a must-have in our pockets/bags when not in use. Make sure the nose and mouth are tucked safely in. No loose ends here. April & Anklets: A low-profile accessory, anklets are subtle and pretty. Wear a thin one or one with small ghungroos. May & Mini: Winter to summer, mini skirts are for all seasons. May calls for cotton minis and scrubbed polished toned legs. Get on it now!!!
June & Joggers: Joggers bring joy to everyone. The basic and easy-to-wear design has made joggers a high-value item. Exercise in them, sleep in them, go for a date in them! Neither too tight nor too loose, and as for ease, you have to try one to know it. Stylewise pretty hip.
July & Jodhpurs: Regal Jodhpurs, pants that were usually worn for equestrian sports. These days, the Jodhpurs are considered top-rank fashion garments. Baggy around the hips and thighs, and fitted from the calf or knee, right down to the ankle, these are usually paired with Bundee jackets or Prince coats. Classy and dapper. August & Anorak: Jackets that are mostly made of weather-resistant fabrics and have a hood are called anoraks. Sometimes these are fur-lined, because they were popular in the polar regions. These days one can see variations and for travellers especially,  good buy this.
September & Singlet: Singlets fall under the must-have category. As many colours as you like. These can team up easily with everything, either as a under layer, over layer or as is.
October & Overalls: A single piece of garment which covers most of the body. Initially used by mechanics, electricians or artists to protect the inner clothing, overalls or dungarees are now spectacular when it comes to cool style. November & Nail polish: Well-kept nails are a bonus. Add to that some beautiful colours and voila, you have indeed pushed the envelope. Nail art has overtaken the regular nail polish, but at times simple is super.
December & Denims: If there was one fashion item to outlast everything, a great pair of denims would be it. They are suitable for everyone and every age. Bootleg, Straight fit, Low Rise, High waisted, Mom Denims, Boyfriend Jeans…
January & Jandals: A fancy name for the humble flipflops. A businessman named Morris Mock is said to be behind them, after becoming inspired by Japanese slippers. Japan + Sandals = Jandals. Whatever the story, Jandals are supremely stylish and comfortable.
Stay versatile, stay stylish.
The columnist, a personal stylist, speaks her mind on everything about fashion. Contact: @sanikakakirde