All about Shivan & Narresh's new Ski & Après Ski line
The collection targeting the winter holiday segment is a fusion of their signature prints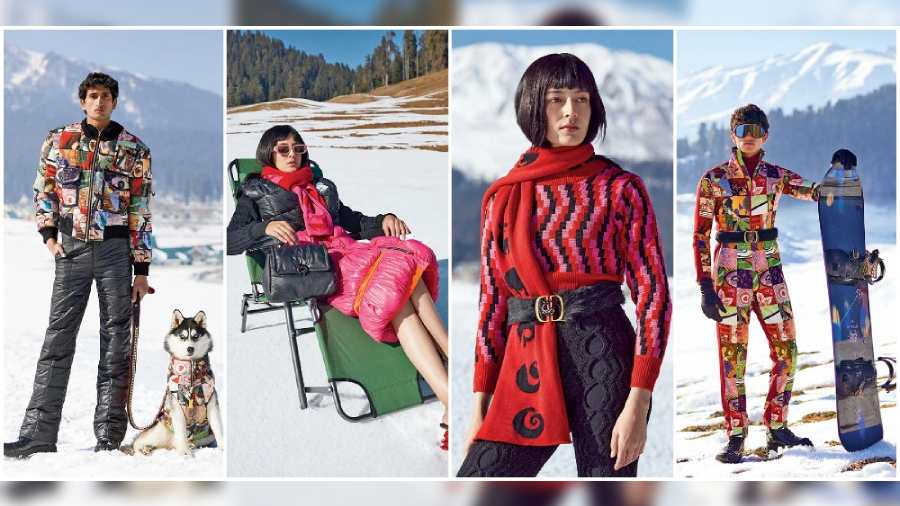 ---
Published 25.01.22, 02:45 AM
|
---
Almost a decade after making themselves household names in the segment of swim and resortwear, Shivan & Narresh are here to tackle another holiday segment with their latest offering — ready-to-wear Ski & Apres Ski line called Farrago. Inspired by creative director Narresh Kukreja's holiday to Jaisalmer, the collection sees the brand come up with a fusion of their signature prints to create Farrago on realm-specific fabrics such as heavy-gauge polyester jersey shell with comfort stretch fabric lining, water-resistant sheeter (quick dry) with polyfill quilting, polyester and Lurex jersey with Downe feather quilting, wool and Lurex yarn and woollen felt.
This collection comes on the heels of the designer duo Narresh and Shivan Bhatiya opening their flagship store in Kala Ghoda, Mumbai. Interestingly, this also sees the brand continue its journey towards consolidating their footing in the Indian fashion industry in a trend-defying manner. While most stakeholders are moving towards a virtual presence with ready-to-wear as their latest venture, Shivan & Narresh marked their entry into couture last year and are now also taking a brave approach towards their brick-and-mortar presence.
"For us, we are moving up the pyramid while everyone is coming down in the fashion-cycle of the pyramid. Getting into couture comes from a place of being safe and secure in our ready-to-wear segment, which is why we can take the risk. Our online presence has also been there for the last seven years and the pandemic pushed that business incredibly fast, which helped us continue with our plans," said Narresh. More in a chat with him:
What led you to conceive the collection?
The journey to skiing started with the establishment of the brand itself about 10 years ago. If you look at our brand logo, there are five iconographs of five animals — each stands for a distinct holiday lifestyle and the last one amongst those is the reindeer, which stands for skiing. So right from the onset, we had made a brand promise that we would get into skiing. The last decade was dedicated to swim and resort, which made us a household name in that category and now, we want to do the same with skiing in India. The idea is to open up the market for skiing and winter holidays — exactly what we did with swimwear, about a decade ago.
The business reason for that is also strategic as we have always been known as a swim and resortwear brand essentially and people shop with us whenever they are going for a holiday. So we wanted to also get into the winter holidays as a segment, which will make our brand completely multi-seasonal. So no matter where you are holidaying, you can shop from Shivan and Narresh.
Skiing as a segment is not very popular in India yet and the pandemic is stalling our international travel plans. So from the point of view of business, how are you approaching this?
We had very similar questions when we started swimwear as well, 10 years ago — "are you sure?", "beyond Goa, where would women wear swimwear?" and "even in Goa, women are so apprehensive to step out". But in the last decade, India has really blown up as a resort and swimwear category as millennials have come of age and the demography of the country is drastically different. Luxury for millennials and Gen Z costumes is not about products. If they are given Rs 2-3 lakh, they would rather spend it holidaying than buying an "it" bag or shoes. They love experiences over products. So any brand that allows them to add experiences to their lives will always be preferred by millennials and Gen Z.
We live in the age of social media, wherein images and feeling good about your life and the addition of experiences end up adding value to our lives. It is in this subconscious sentiment that the success of Shivan and Narresh lies. We tasted the success in the last decade and we are now looking forward to achieving the same in the ski segment.
As you rightly said, skiing is a very niche sport but you will be surprised to know how much business has happened in Gulmarg in the last two years. Everyone who couldn't go to Switzerland and the French Alps went down to Gulmarg. Beyond that, we also have a huge segment of the Apres Ski to capture. But Apres Ski, in simpler terms, also means winter holidays — so you may not ski but are always open to buying cashmere knits, scarves, woollen dresses and stockings. So the entire winter woollen segment sits under the skiing segment and that is where the core of our business lies. Even in swim/resortwear, swim is the niche segment, whereas resort is the ready-to-wear fashion segment, which is the core area of business for us. The brand has to always stand out very strongly in the minds of the customers and picking up a niche holiday segment like skiing or swimming helps in doing that. If you think of swimsuits, you only think of Shivan and Narresh. Whether or not you actually swim on your holiday, you will still go to buy a kaftan, a playsuit, a romper or a top from us. This is how strategically fashion works and how the brand has been built.
Coming to the design aspect, skiing clothes are generally monotonous and in neutral tones. How did you design this collection that takes a maximalist approach?
The idea for it actually came to me during one of my other holidays when I had gone to Jaisalmer for my birthday with friends. While we were walking at the Jaisalmer fort, I happened to take a picture in front of a ralli quilt, which is very quintessential to the region and that became a starting point for me for the skiing line because it was very strong, graphically. The checks and the random prints put together represented a very maximalist approach. I wanted to take the same concept forward. With skiing, the idea was what you said — to break the monotony of black and neutral clothes that exist.
On a landscape of white snow, you should be standing out and so we took a maximalist approach. I picked up a lot of our signature prints and converted them into a new print called Farrago, which became the maximalist direction to take forward for the collection. The idea being that you should stand out in a very inverted way — it's the opposite of camouflaging.
Hand-woven woollen knits to silk knits, water-resistant sheeter quilted with down feather and sheeter quilted with polyfill are all available, depending on the category of clothing you are going for. They have all been very specialised in the segment. Heavy-gauge polyester jersey shell with comfort stretch fabric lining, water-resistant sheeter (quick dry) with polyfill quilting, polyester and Lurex jersey with down feather quilting, wool and Lurex yarn, woollen felt, jacquard knits, faux fur, hand-knitted silk and cotton Lurex have been used in this collection. Congratulations on your new store. Though the address says it's in Kala Ghoda (Mumbai), the images transport you to an idyllic holiday setting. Tell us about designing the store.
You really nailed it and made me happy because that was literally the brief for designing the store — to transport our customer and for it to be experiential retail because the clothes that we sell are meant to make people travel. The store itself has to make you want to travel and that really was at the core of designing the store. Because we are so art-inspired ourselves, we wanted the location to be Kala Ghoda as it is the art centre of Mumbai. It is also the only stretch where you will love to walk around as the buildings are a great reminder of what art and architecture did in the 1940s art-deco period of Mumbai.
We were lucky to get this building that used to be a dilapidated lawyer chamber and is as old as the 1940s and used to be the headquarters of Govindram Seksaria, a pre-Independence Indian industrialist and was called the "cotton king" of India. The rest of it was just restoration. We brought very little changes to the building as we wanted to retain most of the things the way they were. We only wanted to glorify the existing architecture. Since it was a 1940s building, there was a sense of art-deco that was applied to the interiors. So when you enter the building, you get the vibe. There is a massive Cattleya orchid sculpture, the inlay work on the floor is inspired by (Wassily) Kandinsky's painting and rugs from the brand. We had actually finished the store right when the second wave begun so we finally opened it later, last year.
Pictures: Courtesy of designers