Homegrown, sustainable fashion
We get you a sneak peek of a new home-grown site for street- wear shopping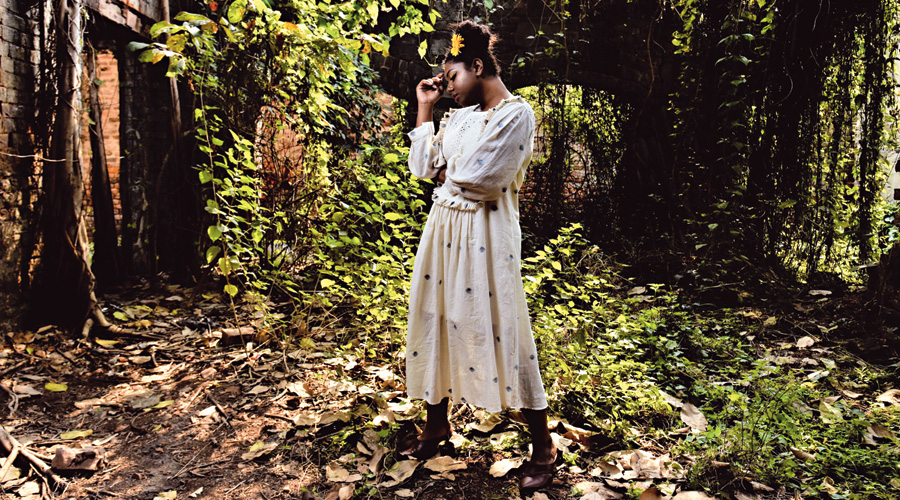 ---
|
Calcutta
|
Published 30.06.20, 10:34 PM
---
They both have their love for street style in common and are the two parts of Vian, a "pret label for primarily younger online clients". A certain romance defines the collection that is meant for an "aesthetically educated niche mass". Sayantan Sarkar and Olivia Sinha Roy. The duo chatted with us ahead of the launch of the e-commerce portal.
The name Sayantan and Olivia: It is a combination of our names (laughs)!
Why a new brand

Sayantan: I have been contemplating about this brand for a long time. When I came out with dolls in Jamdani (Lakme Fashion Week, 2014), I was criticised extensively that I was distorting the craft. A couple of years later, they wanted me to come back with such weaves again because to present Indian craft on a global palette, we have to contemporise it.

We have actually evolved in Sayantan Sarkar (Sayantan's other label) and we were in a transition phase. As designers when you are trying to promote sustainable fashion or home-grown fashion, it is a very niche market and it is very limited quantity and we are not being able to serve our suppliers. The idea is to promote works in the remote areas.

Vian is like an H&M and Zara in sustainable fashion... (which means) more bulk orders to weavers. It is a designer label but it is definitely toned down. We aren't taking silhouettes from the ramp or fashion weeks. This is necessarily everyday wear. Everything we are planning to use now is home-grown... Bengal crafts and weaves. The cluster we had trained (Mastikari, Dakshin Barasat) and developed a collection and showcased at Lakme Fashion Week, 2018... the women of those clusters will take things from me and go get it stitched from home.

I feel due to this Covid pandemic, nothing will be the same... we as designers who are into luxury might have stipulated growth. I could see my karigars not really working... then I was thinking of downsizing... now without downsizing, if I can retain someone, reach every household and do a wider market base... it serves all purposes.
Quality check

Sayantan: There has been a lot of discussion with the Weavers Service Centre in Calcutta. We're trying to only develop yarn-dyed fabric. We are promising machine-washable handloom garments, which wasn't really very easy. We are looking at softer colours which don't bleed. Earthy and dreamy.

I have been trying to give quality, but the problem is the pricing. We have to do away with all the middlemen... I don't know how far we will go, but I am trying my best. We have basic crop tops and tops from Rs 1,500-2,000 till Rs 13,000 for a full Indian suit set. Those are festive.
The sensibilities

Sayantan: Olivia used to live in Delhi and she has a more younger clientele in mind. She was into grooming, blogging and make-up in Delhi. The Sayantan Sarkar label was slightly classic and safe. This would be more experimental definitely. We have started with womenswear... tops, shrugs and dresses. We are planning to do more of summer suits for the next collection... cotton, khadi suits. We'll also have menswear.
Olivia: It's more like street style with me... more carefree clothing. As for Indian, I am very fond of suits.... Also, a lot of cotton, midi dresses. Simple and stylish clothing.
Sayantan: She brings styling to the table. As a designer, I am slightly stuck on the technicalities of the garment. She can make it more stylish.
Working together

Sayantan: Both of us are fond of street style. Her dressing sense and my designing is very similar. There was a huge difference in understanding of the target age. I am meticulous... I am thinking... she is like chat-mangni-pat-biha!

Olivia: He is meticulous but lazy and has a weird affinity towards boy colours. I really like bright colours. I like the fact that he appreciates what I say. He is warm that way.