Embrace your femininity for a more inclusive living. Two men and a woman show us how
'As soon as I arrived in India I felt so bad about the LGBTQ community situation and I wanted to do something for our community', says Jonathan Marchese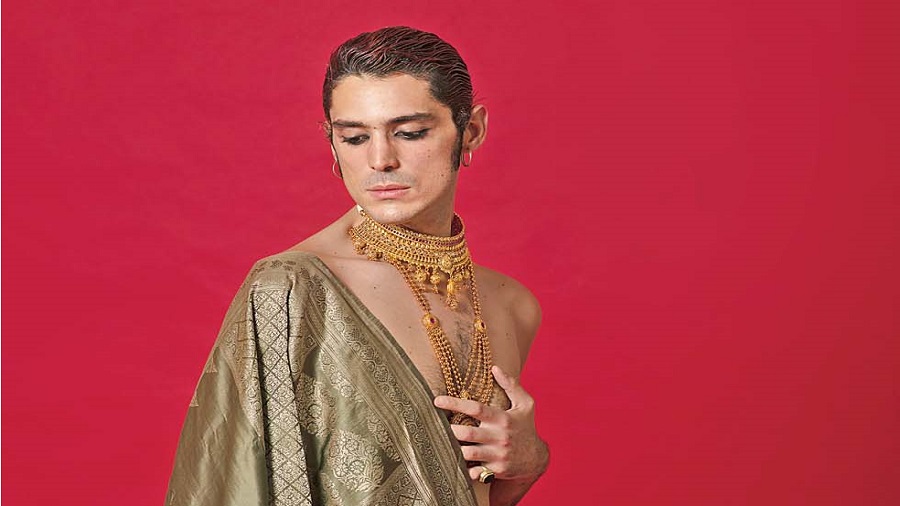 ---
---
Stylist Ankita Banerjee met Jonathan Marchese, an Italian freelance illustrator on his recent trip to India, at Trincas, and the two bonded over hair! "He was there with his friends and he came and complimented my hair and I was like, I love your hair too. He was wearing kohl and his hair was dyed red. He had that feminine vibe and that power within him," said Ankita. And, a collaboration idea was born. When The Telegraph caught up with Jonathan later, he was ecstatic about the shoot. "I really want to thank The Telegraph for giving me the opportunity to express my thoughts and feelings. As soon as I arrived in India I felt so bad about the LGBTQ community situation and I wanted to do something for our community. I'm close to the people who are fighting in India, like all over the world, for their rights to be human," he said. A chat with The Telegraph.

What was the high point of the shoot for you?
We played a lot with the looks and we mixed the stylist's outfits with mine. For me the highest point was the green sari look. As soon as I got to India I started looking for my sari and finally I found it in Varanasi. What an effort! I'm a so happy because it's exactly like I wanted. Precious and special without being too cheeky, it's a matter of silent luxury.

What did you like about the looks?
Of course the no-gender attitude and the bold accessories!

What is great about touching base with your feminine side?
I've been feeling this way all my life. When I was younger it was difficult because I used to hide this side. My room was my secret and safe space where I could express my wholeness. It was a very painful period until I realised that I was killing the whole me, so I started expressing myself without any inhibition. I became full power! It is all about connecting with both your feminine and masculine sides. It makes you feel great and powerful. It expands your mind and makes you empathetic. Stereotypes are the death of humanity. Minds with no limits or boundaries can explore the truth of this world. The greatest thing about touching base with my feminine side is that I feel more human.

What are your favourites from your feminine closet?
My closet is a carnival! It is made of many selected vintage and made-to-measure pieces and other very dramatic, theatrical ones. I love colours and precious natural fabrics. There's no difference between feminine and masculine clothes. I love silk and lace shirts. I also love skirts, corsets and silk scarves. Of course I have many wigs that I usually wear when I go out. Jewels are fundamental. I prefer headpieces and necklaces. They make every look special and fit my personality. I usually mix tailored masculine looks with feminine touches: brooches, silk scarves and sometimes heels!

Have you ever been ridiculed?
I am ridiculed every day. Firstly, I never take myself too seriously but every time someone tries to ridicule, I explain to them that what they see is natural and simple. I show myself as I am. We just see the 'normality' from a different point of view. I really think that till we see the world from just one point of view we will never develop. The normative way of living won't suit us forever. We are in a very powerful moment. There's a strong feeling of freedom all around the world. We must ride this wave. All these concerns about how we should wear or behave according to our sexuality is stupid. It puts you in the cage of comfort zone and homologation.

What would be your message for all the men reading this?
I want to ask them some questions: What really is masculinity? What are the characteristics? How should a man look like and behave? A 'true man' is still a 'true man' with a skirt! We always hear about toxic masculinity but men are victims as well. We live in a patriarchal world, men make rules but they don't understand that the more they impose the rules the more they get affected by them. My message for all men and for all people in general is: Love yourself. Love other people. Be curious about diversity. Never stop playing. Look at the world like a child. Don't be scared. Don't hide your true being in a closet. Don't suppress yourself before society really does it.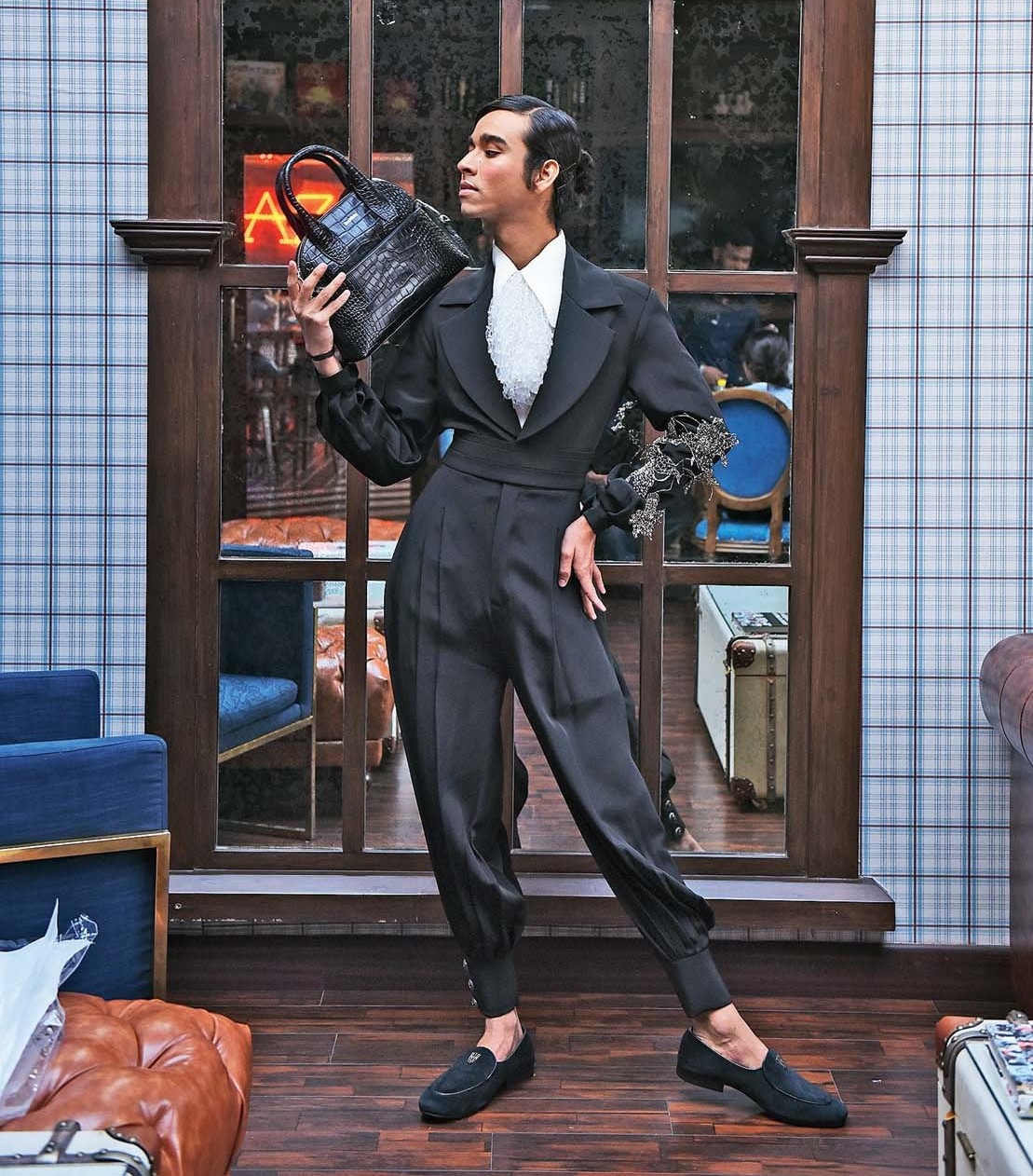 The bright and young Udit Pandey is an aspiring model with promise. Shooting for The Telegraph was the high point for him and we absolutely loved his cool confidence and the ability to mould himself for each look.

What was the high point of the shoot for you?
Well, I was walking out of my college campus when I got a call from Ankita and she told me I am cast for a shoot with t2. I feel blessed to do this shoot because back when I started modelling, being skinny and androgynous wasn't celebrated a lot. I stuck to myself and never changed and today I am glad being myself helped me land this shoot.

What did you like about the looks?
Each and every look was very different. The outfits were exquisite.

What is great about touching base with your feminine side?
Well, as a model your walk is something that defines you the best and am proud to embrace both the man and the woman in me, which is of course my mom and dad, when I walk.

What are your faves from your feminine closet?
I don't believe clothes and shoes have a gender. But if I have to answer that I'd say the black boots I own with a six-inch heel.

Have you ever been ridiculed?
A lot of times actually but am glad the business I chose made my skin more tough than before. One fine evening I was walking down the road and all of a sudden I saw a guy who was with two of his girlfriends and he was trying to imitate my walk and mock me, which was really weird because they made me feel like as if I was doing something hilarious.

What was your reaction?
Well, I approached the guy and told him, if you really want to imitate my walk, you better do it right and I taught him my walk then and there and turned out he made a fool of himself when he wanted to make fun of me.

What would be your message for all the men reading this?
Our lives are too short to not be ourselves in this lifetime. You cannot make people happy if you yourself are not. So ask ask yourself, are you happy? Are you the real you or just an illusion you made for the society?