Ekaya Banaras unveils 'Second Chance' to mark the milestone of a decade
'The whole premise was why don't we rewear more of what we have in the wardrobe, recreate lost traditions!', says Palak Shah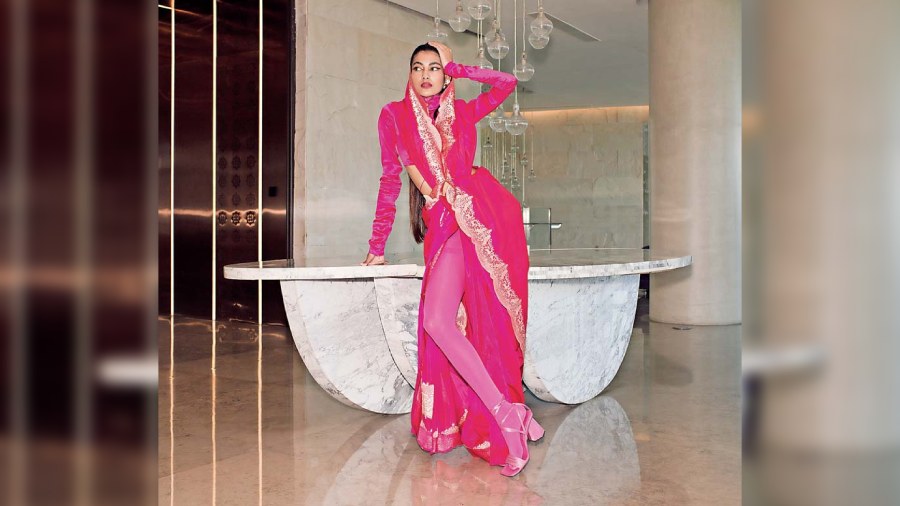 ---
Published 06.08.22, 02:51 AM
|
---
As Ekaya Banaras turns a decade old this September, the brand known for reinterpreting Indian textiles and giving it a global language through their "engineered pieces", has launched a new project called Second Chance, "an initiative committed to reselling and revival of pre-owned Ekaya textiles". Palak Shah, CEO and founder, Ekaya Banaras, tells us more about the initiative and why everyone deserves a second chance in life. Congratulations on completing a decade of your brand! How do you approach your past?
I look at it as just a beautiful journey that I have completed. Every single day is a learning lesson for me because it genuinely has been so beautiful. It doesn't seem like a long time at all to me.
Do you think it went by too fast?
Exactly! I just feel like time has flown.
Was the project Second Chance born out of The Revival Project?
Yes, it was definitely born out of the The Revival Project. We just thought that we will create an extension of The Revival Project. It would perhaps complete the whole look.
What does Second Chance entail?
It is an initiative which encompasses the five Rs — Resell, Repurpose, Revive, Restore, Rewear. The whole idea is to give your existing textiles a second chance. You give everything in life a second chance. I think fast fashion has changed the way we look at textiles, fashion and consumption of clothing. The whole premise was why don't we rewear more of what we have in the wardrobe, recreate lost traditions.... To be honest, Indian textiles are the only garments after your Chanel jacket which have passed on from one generation to another. Why can't we exchange hands and pass it on from one family to the other? What if I don't want my grandmother's sari, but someone would love to because it is a part of her collection.
It's been rolled out and now we are waiting for applications to come. What kind of things have come back and are you nostalgic about the pieces you did 10 years back?
It's beautiful. It just shows how timeless design is. Designs have evolved over time but some of the old designs are so beautiful and we see how far we've come.
When you set out with Ekaya Banaras, what was the vision? And how has the journey been so far? What have been the major learnings like?
It's been a beautiful journey. Lots of learnings and mistakes that have been made. We've done a lot of tweaking along the way. I feel every day is a learning experience. I don't look at it as an end goal. There is no end goal. It's a constant evolution to where we are headed. Our whole end goal is so vast that we want to put Indian textiles on the global map. The whole idea is to constantly keep on trying.
What are the changes you see in yourself?
I have become a lot more mature, patient and a lot more accepting of where life is headed... I have a lot more faith in what I do. The most important thing that has happened is when you are growing up, all you want to do is make money... get a fat pay cheque. Now, it's become a lot more about making a difference. Changing lives and taking Indian textiles on the global map, which may not only be my vision, but a collective vision for a lot of people.
This was also your dad's dream. Have you sat down with and recollected it all?
Absolutely, but the 10th year doesn't mean we stop. Everyone is really excited. I don't think anyone expected to reach where we have reached. That's the whole beauty behind what we do... the kind of loyalty we have gained... I don't think we ever imagined.
Due to social media, now when we see something, we feel we've seen it before. How is Ekaya approaching design to make a piece a must-buy?
Must you really buy? Excessive consumption is also not needed. We are not the kind of brand who are just going to push, push, push and buy to hoard your wardrobe. We don't want that.
Are you more careful of what you are putting out there now?
We are definitely staying true to what we do... where we are creating engineered pieces. We are sticking to our DNA and vision... textile engineered pieces. That's who we are. Yes, most definitely we are going back to the roots and drawing board and creating something that would make a difference, an impact. When I have gone too experimental, was when I was trying to be too different.
Come September, how are you celebrating?
I am working harder. I think I need to treat my whole team and family, but a treat comes when you create a good product and make sure the next 20 years are even more beautiful.
Do you give people second chances?
Absolutely!
So, you are forgiving?
Very forgiving. You have to because everyone messes up and life is all about second chances.