With a Covid-hit India reaching a boiling point, it is time to channel Zen, stay indoors, stay safe and pray for a ray of hope. As you bring the global into your home sweet home, prioritise comfort. Be it with a song that relaxes you over your evening cup of tea or your work-from-home wardrobe. We caught up with Narendra Kumar, creative director, Amazon Fashion, on super summer styles. Make note because 'we shall overcome' this pain and sunshine times will mean one big reunion with your near and dear ones. Fingers crossed!
What are great summer investments for men and women?
Invest in athleisure basics and comfortwear for both men, women and kids. Choose designs with bold prints and stripes to make a large imprint during high summers. The faded denim, both flared and relaxed in fit, white oversized tees, colourful nautical stripes, street-style Bermudas, athleisure trousers, cropped hoodies, military-inspired shirts and trousers in a mix of soft tones, pastels and bold colour palettes are a must-have for summers. Escape to the jungle or to the beach in your mind with foliage prints both for men and women. No summer is complete without cottons and linens. Given the current work-from-home scenario where comfort is of essence, fabrics like linen, cotton and knitwear mixed with denim works well for the season and they come in many combinations, light and easy for summer.
What are you favourite summer accessories?
Accessories play a major part in elevating the casual and comfortwear, especially during the spring-summer season. Statement bags, jewellery, sunglasses, watches and footwear in special hues and prints dedicated to the season are in vogue too. As the video call culture continues to exist, minimal accessories paired with trendy and vibrant waist-up fashion styles, will make you feel elegant and lift up your mood. Some of my favourite must-have summer accessories are cat-eye sunglasses, chain mail necklaces that adorn an off-shoulder dress or top and the season's favourite messenger bags for women. For men, broad-rimmed sunglasses that make a statement, baseball cap paired with oversized
T-shirts, the hipster bag with easy joggers and sneakers as well without forgetting the statement mask as we will be wearing it for some time.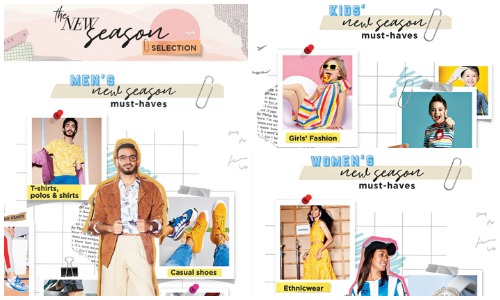 A sneak peek of Amazon Fashion's Spring Summer 2021 styles Sourced by the correspondent
Amazon Fashion's Spring Summer 2021 has a lot to choose from. What are your favourites? Amazon Fashion has products from an array of brands to choose from. Many of our brands across women's westernwear and ethnicwear as well as menswear are calling out various spring-summer trends. We have specially curated the New Season|Spring Summer '21 Store, offering customers some of the trendiest styles of the season from leading brands such as Adidas, Biba, Marks & Spencer, ONLY, Puma, UCB and Vero Moda among others. The store showcases 8.5K+ styles across 70+ fashion brands at attractive prices, starting at Rs 249. Men can opt for trends like nautical and tropical prints, light denims, bold logos, colour-blocks and tailored loungewear. For women specially, the trends we are seeing are florals, the boyfriend shirt, oversized tees, sheer maxis and tunics and midis, and athleisure dresses. We are also seeing interesting trends like kurtas with matching masks. We remain committed as always to ensuring the safety of our customers and we believe e-commerce is the best way to deliver a wider selection of products while upholding the tenets of safety and social distancing. In the pandemic world, fashion is slowly becoming synonymous with dressing up for video conference meetings. What's the ideal video conference meeting look according to you? The evolving circumstances and the beginning of the 'video conference call' culture led to work from home becoming the new normal. This has caused the need for smart waist-up fashion as being seen presentable on screen became an essential element of conference call etiquette. Apparel in bright and vibrant tones of sapphire, emerald, ruby, amethyst and more, be it plain or with prints and stripes, will not only work well on camera but will also help elevate your mood for the meeting.