Haute handloom
Designer Vaishali S on her selection for the Paris Haute Couture Fashion Week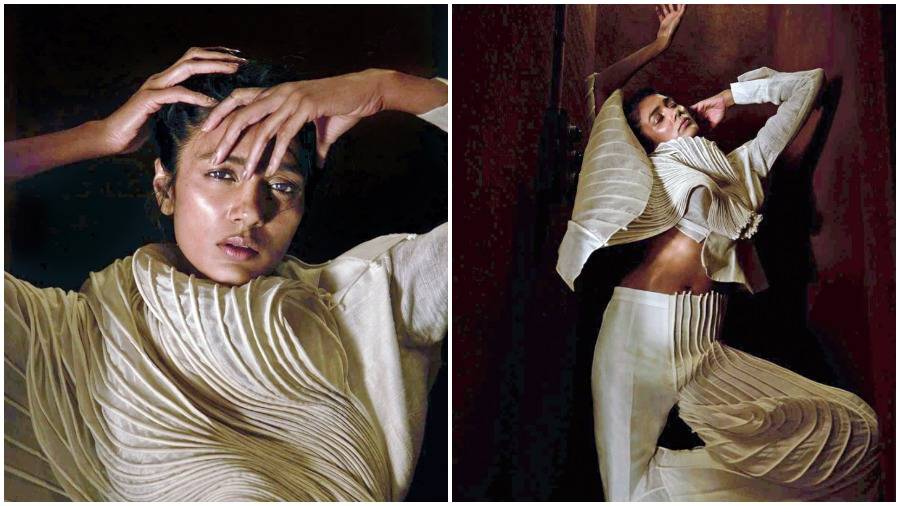 The designer's signature works feature her cord technique and uses Chanderi on silhouettes that are modern
Sourced by the correspondent
---
Published 04.07.21, 03:32 AM
|
---
I don't even have to think about balancing business and sustainability. For me, circularity, social impact, correct remuneration and support of the weavers are a no-compromise steppingstone. There is no way around it. No discussion, period" — coming from designer Vaishali Shadangule's lips, these words are of no surprise to anyone. Since starting her journey in 2001, Vaishali has been a fierce proponent of India's treasure of handloom weaves and under her eponymous label Vaishali S, they are soon set to take centre stage at the Paris Haute Couture Fashion Week (July 4 to 8). The first woman to showcase a collection in Paris and only the second Indian after Rahul Mishra to do so, Vaishali was tight-lipped about what to expect there. However, if we go by her signature styles, we should keep our eyes peeled for Indian textiles and handloom to be the hero of her collection. Known for her work that marries the diaphanous Chanderi with couture and cord, Vaishali has diligently carved out a niche for herself. Here's the designer speaking about getting selected for Paris and her l'amour for Indian weaves:
Congratulations on the selection for the Paris Haute Couture Fashion Week! What made you apply? How rigorous was the selection procedure?
I am especially happy to have been selected because of the extremely professional process that led to it. We are talking about haute couture in Paris, so the overall picture has to be fulfilling.
It was a mix of factors that they were interested in — the attention to top-end craftsmanship (in handwoven textiles, great hand-work and savvy draping), innovation in the silhouettes translated into daring creativity, sustainability, social impact, and that "slow fashion" that has come back in fashion.
What was your reaction when you first found out? What do you think sets you apart from the others and had a role to play in your prestigious selection?
I started jumping! And then I got scared for the responsibility that fell on my shoulders. I think it is the overall picture that worked. Within craftsmanship is where I have grown up, with the innovation of lines, while creativity applied to heritage textiles is my real forte that sets me apart. Circularity and social impact have been my way of life when I was living in Vidisha (Madhya Pradesh), but has remained so even when I reached Mumbai.
You are known for your work with Chanderi and Paris is not your first tryst with the international market. How do you think the global market in 2021 views Indian fashion?
Well, I am particularly known for Chanderi in India because I was one of the first promoters of it and it is now well known.
There are other amazing weaves that have had even more success abroad, like Khun from Karnataka in New York where it made the headlines, and in Milan.
The international market still sees India as very strong in ethnic bridal and as a market with good and cheap workers. India has the possibility to be in the mainstream couture and fashion industries, and we have to show that we have a strong wave of young talented designers that experiment with global silhouettes. This is one of the huge responsibilities I feel on my shoulder.
What are you showcasing in Paris? Have you changed any of your usual techniques or focuses, considering that the world will be watching?
This will be a surprise! I have to tell you, though, that my design has always been quite global in  language, though directed to a very specific audience — an audience that appreciates hand-weaves and the feeling of being close to nature when wrapping their body with it, in terms of the inspiration but also in terms of the energy that my garments carry. I will always be faithful to that.
Couture allows you to be a little bit more "extreme", which is a lot of fun but also a tight measure of the maturity of a designer in still keeping their own path clear and in a balanced way. It will be a very exciting learning process and experience for me among all the talented designers and couturiers in Paris.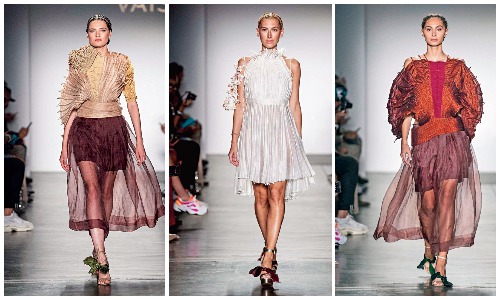 Do you think the reality check that the fashion industry has had to take due to the pandemic is a global phenomenon? If yes, how do you see the appetite for fashion and the business of fashion changing?
We are going through a paradigm shift. The younger population had been undergoing it for a while, the corporate world has suddenly understood the economic impact of this change. The pandemic has helped the masses realise that fully on their own skin. I really hope all this talking about sustainability is no more relegated to green-washing and really become mainstream. It is great that people are letting this term sustainability fade for more complete ESG (environmental, social and governance) approaches or more granular, circular practices. The world is undergoing a big paradigm shift, and as usual, they reach some fringes first and the masses move later — the pandemic and all the thinking that people have been able to do at home, have accelerated its full rolling out.
Fashion had very well-established ecosystems and the elites, thus, have been resisting certain changes, but the bulk of the audience now has shifted and is more knowledgeable than before, so I don't think any shallow green-washing can be possible anymore.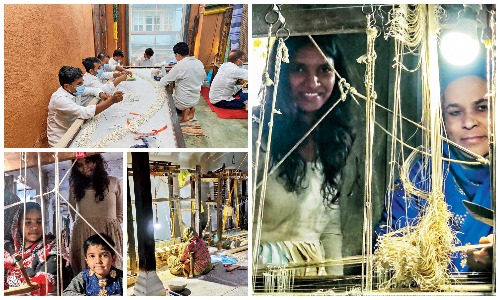 How would you define your relationship with Indian craft and textiles? How do you balance business and sustainability?
Love. I am in love with Indian crafts and textiles. Even beyond that, I am in love with the ancestral processes that lead to it. The part of my work that excites me the most, after design, is going to the villages to touch the yarns myself and to sit inside the handlooms and start the loom myself. I admire the soul with which our village craftsmen manage to communicate with skill in their art. This is unique to India and a great treasure that we have and that we would be mad to lose. Just like in ancient Greece, artisans were at the same level of recognition of artists, this should happen again.
See, I don't even have to think about balancing business and sustainability. For me circularity, social impact, and correct remuneration and support of the weavers are a no-compromise steppingstone. There is no way around it. No discussion, period. And I still consider myself an artist too and that is why I call my garments and consider them as "wearable art". This is why I am so happy to have been given this opportunity to show at the Paris Haute Couture Week, which is where fashion, design, ESG, and crafts achieve a level of art.