Batik & kantha
Designer Santanu Guhathakurta has combined these traditional textiles in his latest collection to produce contemporary chic saris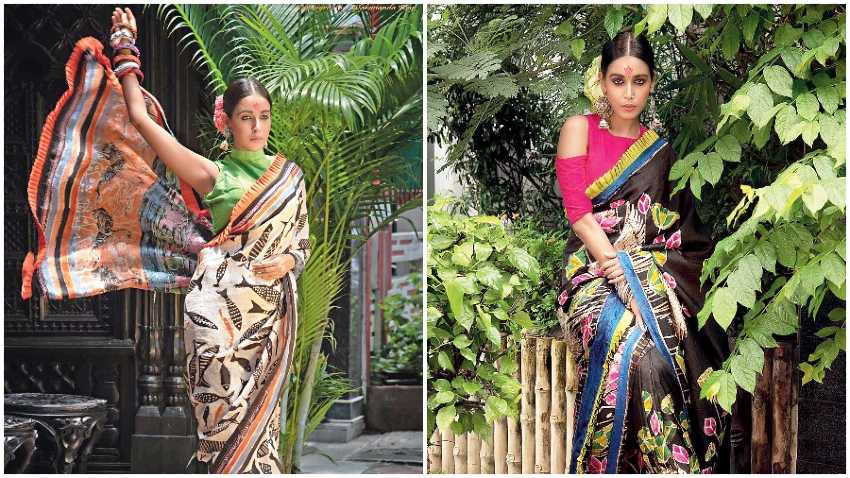 ---
Published 29.07.21, 12:44 AM
|
---
Calcutta designer Santanu Guhathakurta has combined batik and nakshi kantha in his latest collection to produce a range of gorgeous saris that bring together traditions and contemporary chic. The designer specialises in giving traditional textiles and arts another look.
The word "batik", of Indonesian origin, means to dot or to write. The wax-resist dyeing technique is said to have originated on the Indonesian island of Java as a way of printing on cloth by covering a part of it with a coat of wax and then dyeing the cloth. Some feel batik originated in ancient India and then spread to Indonesia, Malaysia, Sri Lanka, Thailand and the West.
In any case, batik became popular in modern India after Rabindranath Tagore introduced the technique to the curriculum of Kala Bhavana in Visva-Bharati, Santiniketan, following his visit to Java and Bali in 1927. It led to batik becoming one of the most significant cottage industry arts, practised on both fabric and leather.
The waxed areas keep their original colour and when the wax is removed the contrast between the dyed and undyed areas make the pattern. Batik allows designs to form on their own instead of them being drawn or embroidered, which creates its own freedom and makes every batik design unique.
Nakshi Kantha is the exquisite traditional Bengali art that converted old used saris into kanthas (embroidered quilts) with nakshas (designs). Women told stories of myths or their village life through images that became characteristic of this form and were worked out intricately with the help of the simple running stitch, the basic stitch, and some other more filling stitches. This art was also taken up at Kala Bhavana from the 1930s.
Guhathakurta's nature motifs also capture the lushness of the monsoons.
• Model: Dipika Singh
• Photograph: Alakananda Roy