Designer Sanjay Garg on narratives from the heart
Raw Mango's summer 2020 narrative Between, unfolds through a couple of short films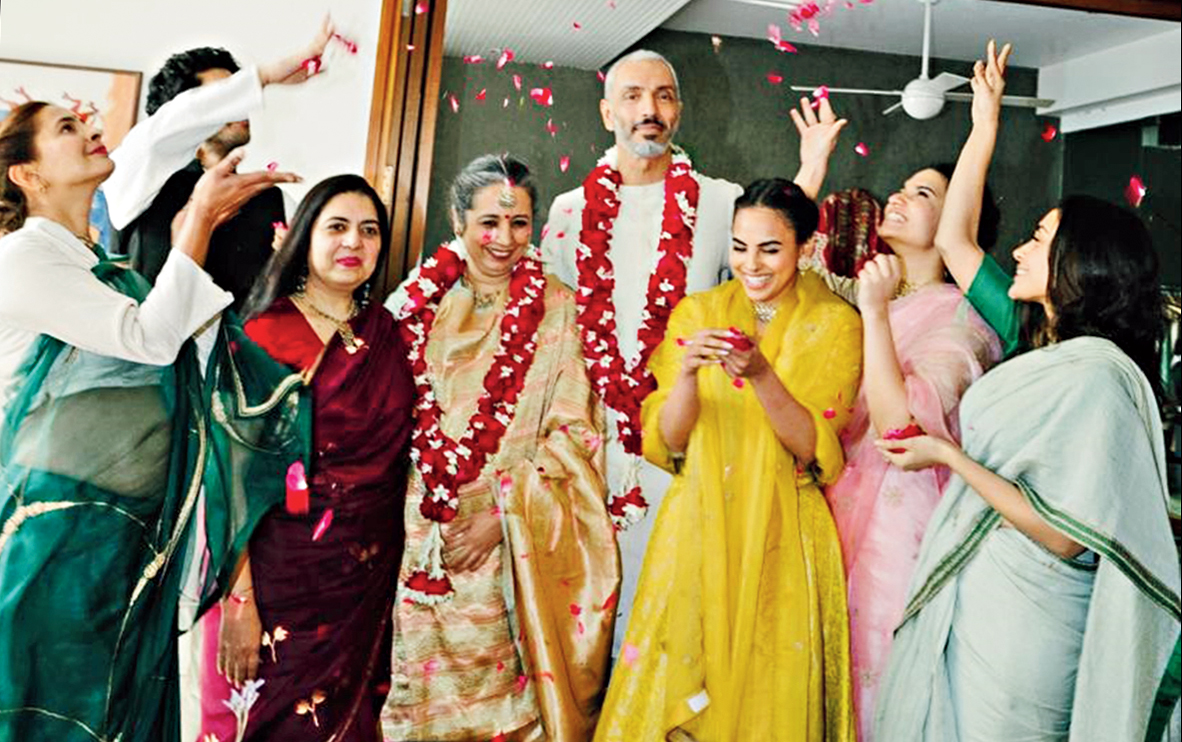 ---
---
Simple, stark and real, yet rich and vibrant. That's Raw Mango's summer 2020 narrative Between, unfolding through a couple of short films. Designer Sanjay Garg took us behind the scenes.
First things first, these are challenging times, Sanjay. How are you coping?
Challenging and frightful. No one is in a great mood. I am thinking is it coronavirus which is alone dangerous or the fear of getting the virus... the mental impact. I am just thinking how are people going to cope with this and for how long. I am very much in quarantine but I don't think I can take it for long you know. It is individual of course, but I have to be honest here, it is very tough... mentally and emotionally.
What have you discovered about yourself during this period?
That I can never be in quarantine, ever! We need to be extremely careful, the whole humankind. The maker has given us the signs and we have to take it very seriously. The joy of going to office, doing the work you love... I am dreaming of working and I am dreaming of going to office... taking a break and then going back to work. I am realising how important that is for me. That is my biggest investment and I am missing it so much. A lot of people take happy working spaces for granted. It is such an important part of our life. Also, small things like going and meeting people... now that you cannot meet anyone, you know how important that was. I am cooking, watching and reading.
Coming to your summer collection, the Between films look beautiful! Have you thought of making your own film?
Now that I like the medium... I wanted to know how to put it together, I have started thinking about it... honestly, I won't mind.
You must. You tell narratives...

We have been questioning what is Indian fashion, with visual imagery... in terms of graphic, layout, photography... what do the models look like. As a brand we have been doing that since 2008. Now we are doing that with moving images. Heer (festive 2018) changed the landscape for us. The palace... (Patiala's Baradari Palace, where it was shot)… That influenced many. We were thinking of how to tell a story of the relationship of marriage. 'Between' says that marriage is not just between two people. The protagonist never got married and she adopted a girl child. Though the kid is not jealous, now that her mother is getting married, there is a certain resistance. We tried to explore a lot of whys... why the rituals... why can't it be simple... but we have kept it subtle... there is a certain sensitivity to the relations... to the mother-daughter... to the to-be couple.… I imagined her (the bride) to be a professor and she is my real professor from NIFT, Delhi (Sudha Dhingra). Mimi (the daughter played by Joyeeta Dutta), is an important character. I found her in Delhi. She loves her mother and now she has to share everything with that man. That also rings in the 'between'. So many layers of emotions. I shot this in Mandeep Nagi's (co-founder, design director, Shades of India) house. She is my ex-boss. She also got married at 40 and her husband was in his 60s.
How have you weaved the collection around?
The collection is mostly classic Raw Mango. We thought the main character will not wear a lehnga. When I was talking to her, she also said she won't wear a lehnga. The whole collection has just two lehngas and that's about it. The collection is very easy. The shine is muted. The collection was woven around the character. Celebrations don't have to be always over the top. Jewellery too. And, she hardly wore a lipstick and didn't dye her hair... what do you call it? Blow-dry?
Yes!
I have been away from it. I don't know if I am allowed to say it and the women might hate me... no heels, no blow-dry... she hasn't dyed her hair... she is so happy within the soul.
How, according to you, should summer weddings be?
They should not be hectic. To me, it means the smell of the flower, the mogra. Breezy. I have seen people over-dress and they don't enjoy the moment. It's too hot to wear silk a lot of times. That's why we have lighter silks.
Coming back to films, you were saying the medium excites you now...
I don't have commercial expectations. (I want to make films) maybe about the vacuum in relationships. I have so many stories to tell... from my state Rajasthan.
Any movie-watching experience you remember... Violence would make me cry. I went to a theatre and my father screamed at me and gave me a tight slap because I was crying and screaming and I remember the film was Sharaabi. I didn't like the violence at that time. Abhimaan is one of my favourite films. I have been watching Black Mirror (a web series on Netflix). Interesting. They have woven in reality.
Your love affair with real women continues in Between. You have also fought for it…
In this one also I fought with the make-up person (to keep the looks real).
What are you striving to retain?
I think individuality. We have a unique DNA… our hair and skin… we lose out on that when we try to become one.
And, no one is perfect...
Let's not even say that... let's say no one is imperfect. If you say no one is perfect, that means you are thinking something is perfect. I think it's all in the mind and let's not look for validation.