Deconstructing Kohli
Read more below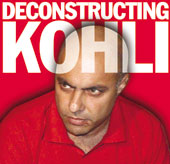 ---
Published 25.07.04, 12:00 AM
|
---
Maninderpal Singh Kohli
Neighbours remember him as a little boy, but say they haven't seen much of him since. Friends would like you to believe that they haven't met him in the past 10 years or so. And, his school teachers cannot place him at all. Patiala, it seems, has a collective amnesia of Maninderpal Singh Kohli.
But the loss of memory is understandable. Nobody wants to be perceived as being close to the 36-year-old sandwich delivery man who allegedly raped and murdered Hannah Foster, a 17-year-old girl from Southampton, UK, last year, and was on the run for 16 months before being apprehended in Kalim-pong on July 15.
But slowly, as friends and acquaintances open up, occasionally on conditions of anonymity, it is evident that Kohli's story is both complex and fascinating. It is, as if, his personality is part of an intricate jigsaw puzzle with several missing pieces and no one seems to have a complete answer. Nobody seems to know how the average student whose personality in those formative years was so undistinguished that no school teacher remembers him evolved into the smooth operator who created an alternate identity of Mike Davis, charmed an entire town and eluded the law.
Says consultant psychiatrist Dr Avdesh Sharma, "He is a classic case study for anybody interested in knowing the complexities of the human mind." In Kalimpong, Kohli pretended to be a half Indian medico and married for the second time without letting his wife, Bharati Das, get even a whiff of his past.
In fact, when the police started to dog Kohli and he hit the road, he gave the impression to his wife of one month that they were actually looking for a new home. This was the devious Kohli in action. But people who have met or interacted with him at different points in his life and knew him less have a different version of him. The general view in Patiala, where he grew up, is that he was "an okay chap".
One of his acquaintances, a senior at the Industrial Training Institute where Kohli took a course in draughtsmanship in the Eighties (getting 408 marks out of 580 — 10 per cent more than the pass percentage of 60), describes him as, "someone who was always seen around" and noticed because "he was strikingly fair and had a long beard which he often rubbed with his hands". He would also hang out with a local politician, Inderjit Singh Khroud.
Khroud admits that Kohli had helped him out during the 1992 municipal councillor elections, which he contested and won as an independent, but also insists that their association was limited. "He was quite God-fearing," says the politician, now with the Akali Dal.
The police has a less charitable view of Kohli. "Any money he got, he gambled," says senior superintendent of police, Patiala, A.S. Rai, who has worked on the case. The habit continued after he got married to Shalinder Kaur, a permanent UK citizen, in 1994 and decided to settle there. "Even in the UK, Kohli was fond of gambling and drinking," says Man Singh, assistant inspector general (crime), Punjab police, who co-ordinated with the UK police for over a year on the case.
Ties that unbind: (from top) ; Kohli's parents; his second wife Bharati Das; the Kohlis' residence in Patiala; rape and murder victim Hannah Foster
On the basis of extensive investigations carried out with his friends and relatives, the police says that as a teenager, Kohli had fallen in love and was extremely distraught when the girl was married off. A friend of his told the police that he took to drinking heavily after that.
The marriage proved to be a turning point in Kohli's life. Friends recall he always wanted to go abroad, not an uncommon desire in a state where immigration is both an obsession and an occupation. Kohli got lucky when Kaur's parents advertised for a groom in The Tribune. "Well-built and handsome", Kohli became the preferred choice of the UK-based working girl. For someone who had only worked as a junior draughtsman in Faridkot's public health department, marriage seemed to be a shrewd career move. "He married her because he wanted a ticket to the UK," says police officer Singh.
Piecing together a personality from stray bits of information can often lead to red herrings. But psychiatrist Sharma feels that Kohli could be representative of a certain type of personality which uses people. "For them, others are just a tool in their private scheme of things. And, women are the easiest targets," he says. For someone like Kohli, women were a means to fulfilling his physical as well as his material needs.
Rajeev Mishra, superintendent of police, Darjeeling, who has spoken at length to Kohli after he was arrested while trying to escape to Nepal, offers a first-hand version. Says the police officer, "He is calm, slick and confident. He is also very spontaneous. Someone who can impress people easily. You don't doubt what he says."
Many in Kalimpong know what Mishra means. In Patiala, nobody remembers him for philanthropy. But in Kalimpong, he was the good doctor carrying out an extensive Hepatitis B campaign. He was smart enough not to talk about his past and clever enough not to arouse suspicion.
To Bharati, the social worker daughter of a senior Red Cross official in Kalimpong, Kohli lied that his parents were in Bangalore. According to Bharati, he had refused to talk about his past to her. And, just to make sure that the past didn't catch up with him, he read newspapers diligently and voraciously everyday at a Kalim-pong news stall.
Those who knew him back in Patiala and are willing to talk hardly associate him with these traits. Former principal Reena Sophat, who taught him English in class X in Modern Senior Secondary School, is unable to place him. Since he was arrested, she has spoken with several senior teachers. "Nobody remembered anything about him. One of them vaguely said, he may have been a loner. That's all," says Sopat, now the school's executive director.
Kohli's father seeks to stress that his son did not have even "a petty crime record" during his long stay in England. That is not true, though. Kohli has a forged passport and had not paid a £124 traffic fine. Standing by his mother, a former school teacher who is lying in a coma since a December 2002 bus accident, his father Jagjit Singh tells you that after moving to England, his son did a number of jobs there — including working for some time in a bakery. As long as his wife had a job, the going was good. "Then she had to leave her job due to a slipped disc in her back. And they became a single-member-earning family," says his father who worked in the Punjab state industries department.
The Kohlis had two kids. And having bought a home on a loan, Kohli was under pressure to pay off the instalments. "He was worried that the house would be confiscated. So, he put it on sale," says his father, who has been attending on his wife in his Model Town home named Preet Villa ever since the accident.
It was in 2002 that Kohli allegedly began stalking Foster, a bright girl who had offers to study medicine in two prestigious universities. The last time Kohli made contact with the girl was just two weeks before the rape and murder. He is said to have stopped his red car next to her while she was walking, and called her by her name.
Criminal psychologist Dr Rajat Mitra dubs this as typical stalker-like behaviour. "It is a case of convicted infatuation. The stalker here believes that the girl is meant for him, and that he has a relationship with her. When he approaches her, there is no shyness or hesitation because he has the delusion of a relationship," he says.
Kohli fled to India two days after Foster's body was found on the outskirts of Southampton in March 2003 and managed to evade the law with devious ease. "Raids were conducted in Himachal Pradesh, Punjab, Haryana, Delhi and Uttar Pradesh," says police officer Singh.
It has been suggested that one of his brothers, Ishpreet, a Punjab police constable, could have helped Kohli stay clear of the lawmen. But, Rai has a simpler theory. "Probably, he was cleverer than us," he says.
In the police interrogation, Kohli admitted that during this period he had been to Chennai, Bangalore, Mumbai, Goa, Delhi, Calcutta, Patna and Varanasi. The police now want to know who helped him out during these months and how he managed his finances.
The end always justified the means for Kohli. He had no qualms in changing his identity, marrying a second time or having two passports. And in allegedly raping and murdering a teenager. Police officer Rai points out that even his own family may not have a clear picture of what he actually was. "He may have been a deeper person than even his parents know," says Rai.