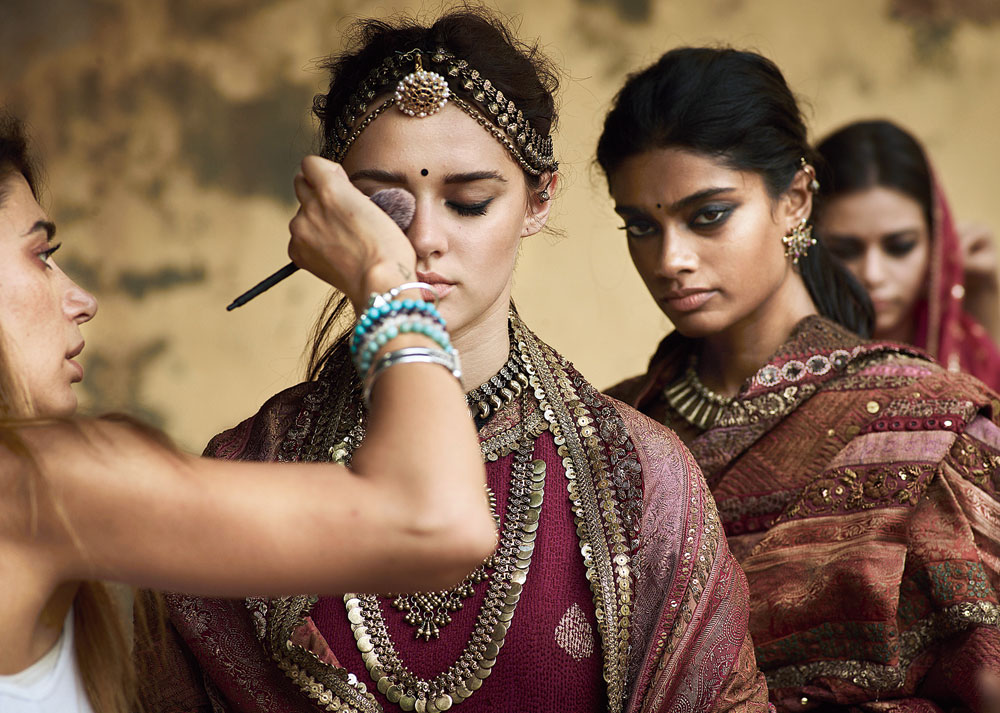 A model getting her make-up touched-up during the shoot Picture courtesy: Sabyasachi Mukherjee
From the placement of their hands, knees and legs to the angle of their chin and the expression in their eyes, Sabyasachi micro-manages each element of every shot. "Go and lie down on that couch like you are sleeping," he tells one of the girls, in preparation of the next shot.
While Vishwa is the lead photographer, there are at least three assistants clicking from various angles; a videographer is recording the proceedings too. There's another photographer who's only taking pictures of the walls and pillars to be used in the Instagram campaign later.
This is Day One of the shoot, which started from seven in the morning and carried on till dinner time, spread across different corners of the palace hotel.
The next morning, the team is back in Sultan Mahal and the song setting the mood is Chalte chalte from Pakeezah. The girls are a sight to behold in heavy lehngas in jewel tones; the boys in heavy zardozi sherwanis. More picture-perfect shots happen under Sabya's direction all day. Break time means nariyal paani for the team and a platter of fruits for Sabya. Lunch is always a sit-down affair; no quick working lunches on Sabya's shoot.
The next day, the venue for the shoot is Durbar Hall or the red room. The clothes being shot are craft-rich with a vintage feel, teamed with antique jewellery. Hindustani classical music sets the mood.
The courtyard, the swimming pool, a tiny lotus pool… as Sabya and his team carry on creating magical images all around Samode Palace, it's time for me to leave. As I say my goodbyes, I tell Sabya, "You can direct a movie now." He flashes me his trademark smile and says, "After two-three years." We will be waiting, Sabya!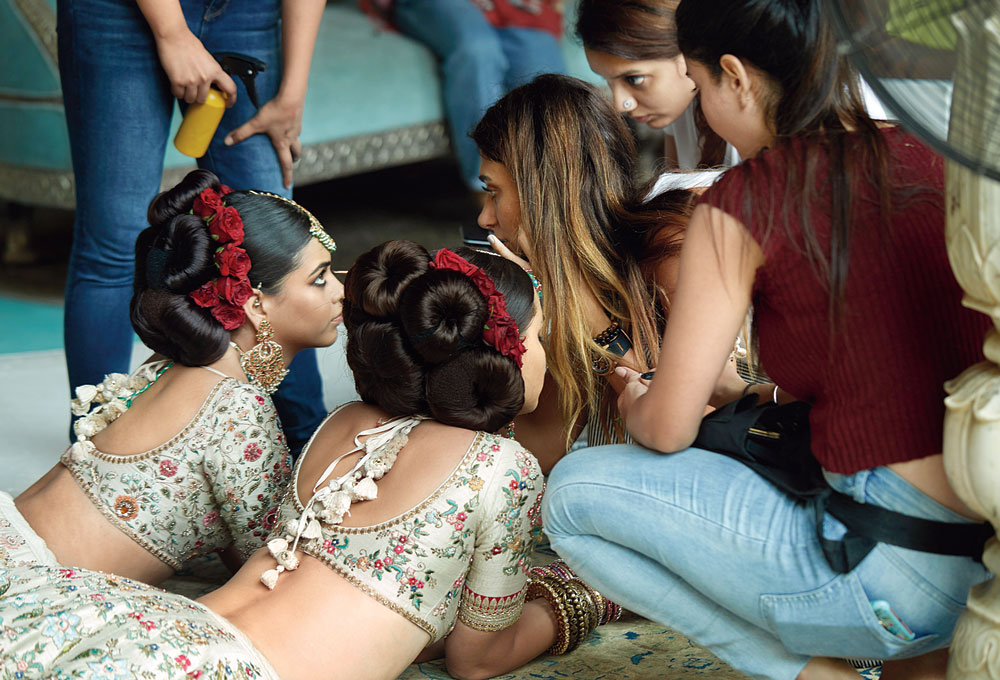 Kamasutra had these big hairdos, very theatrical Picture courtesy: Sabyasachi Mukherjee
Sabyasachi decodes his campaign shoots

The clothes come first when planning a shoot
But this time it was a marriage of the clothes and the venue. I have wanted to shoot in Samode for the longest time. I had never been to Samode before, but I had seen pictures. Samode, quite like my clothes, is a very maximalist hotel.
Many hotels don't know how to keep their heritage alive; if they have beautiful heritage they sanitise it, they make it too glossy and kill it. Samode manages to keep the old with the new. So there are parts they have not touched and parts that they have revamped for hotel purposes. I like the fact that when I look at their flooring, when I look at some of their marble, everything has aged. They haven't replaced their old things with new things and for me the respect for things of a bygone era is very important.
Especially the colours at Samode speak to me and it's almost like two like-minded people coming together and creating a collaboration. For me, Samode was as important as the clothes. Lots of my clothes have been inspired by Samode itself. I have done a collection which is based on all the pictures of Samode that I have seen and now that I have seen it in real life, I'll do an even better collection after this.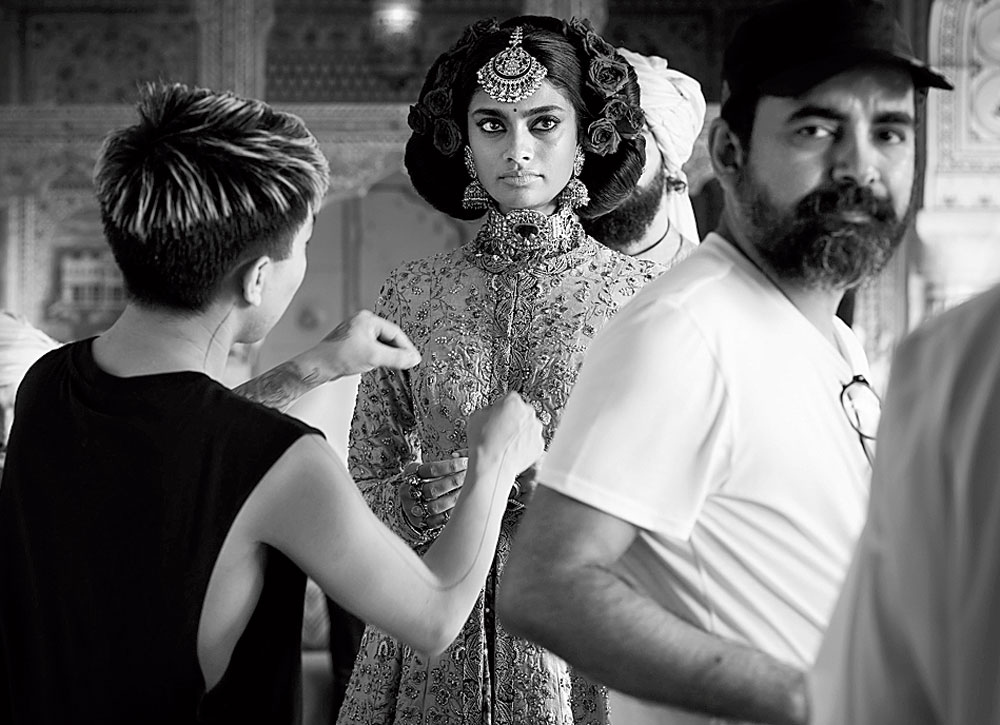 A model gets ready for the shoot Picture courtesy: Sabyasachi Mukherjee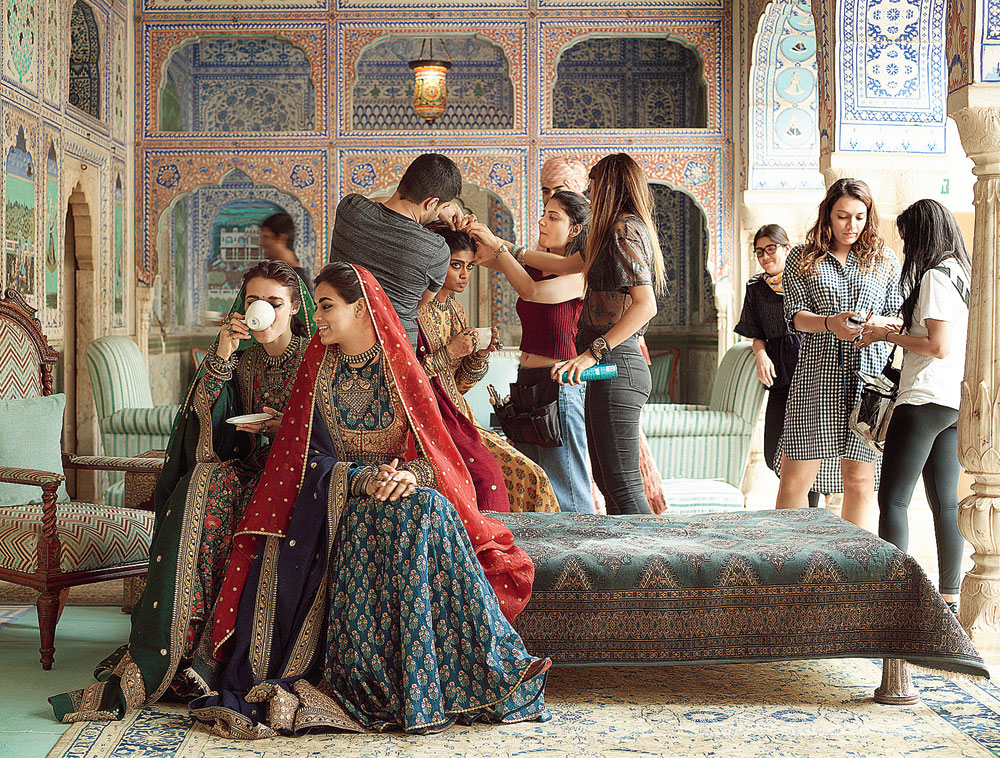 Models taking a tea break during the Sabyasachi Mukherjee shoot Picture courtesy: Sabyasachi Mukherjee
I love shooting in palaces
That's the only place where I can get beautiful heritage. I have shot in Falaknuma, Lake Palace Udaipur, Rambagh, a palace in Italy. I want to shoot in beautiful places where there's heritage and unfortunately if only our palaces have that, then that's where I have to shoot. I wish I got people's homes as beautiful as this where I could shoot. But in our country we have done away with all the old and replaced it with the modern and in the process we have done away with all the craft and heritage.
I don't pre-plan the shots
I am instinctive. I can't have a reference like a magazine or book… we don't even have a moodboard. I can't work like that. Till the night before, I hadn't decided on the look… I didn't even know what the hair would be like…. I just did the hair here and then I was like 'Oh my god… I think we need red roses'. And then there was a big debate on that for one hour… red roses are like a brand flower for us… so someone went one-and-a-half hours away to Jaipur at 3 o' clock in the morning and came back at seven and then the shoot started… so this is how instinctive I am.
Also, an environment and a place tells you how to style a look. When I am looking at Samode, I am thinking how would women in such a place in their heydays dress up. See, if I did this kind of make-up and hair in a modern hotel, the models would look mad, but in this setting they are looking like they were made to sit in that room. So it has to be a cohesive thing and that kind of coherence you can't pre-plan.
Marianna Mukuchyan, make-up and hair expert:

I am originally from Armenia but I grew up in Germany. I have been living in India for the past five years. I had done a Sabyasachi campaign long time ago when I came to India, but then we lost track, I also changed my agency. Then we met again when he collaborated with jewellery brand ForeverMark; there I did the hair and make-up for the shoot and the show. And since then we have been working together, I have done all his campaigns.
I was in Germany recently on a three-month break in Europe, but to me this collaboration with Sabyasachi is very important and whenever I get a call for his campaign, I prioritise that above everything else and I would fly in from anywhere in the world.
Sabyasachi is a legendary designer and a trendsetter in the Indian fashion market, in clothes mainly and now even jewellery. So I am super happy that I am a part of his team in creating these shoots… every shoot that we do kind of sets a trend. We see many, many brides aim for that look. So it is some sort of a trend-setting that we do each time and it's beautiful to be a part of that.
The shoot that we did for Endless Summer was so beautiful... the make-up was super super nude, which is not natural for the Indian bride at all, but now many brides are requesting for that look. This one (Kesribai Pannalal) is completely different. It's really beautiful to bring avant-garde looks into modern times, that's what we did with this shoot, brought the Kamasutra old style with the Frida Kahlo look with flowers in the hair and middle-parting, and combined the two.
Sabya is involved in every single shot. We shoot 14-16 hours a day, he would be there till the last shot is done, till we have the picture that we need and then he would rest. I really appreciate that.
Sabya is always involved in every little part of what he is doing. So in my department, too, he is there and he has a vision; how he sees the concept and the look and then we create that together. He still gives me a lot of freedom to create his vision. And while creating it, he gives me the freedom to suggest and change. For example, in this hairstyle he had the vision with the buns that you can see from the side. So he wanted three buns but when we created it we ended up giving six buns. He told me that for the eyes he didn't want the harsh eyeliner because in those days women didn't have the make-up tools that we have today. He wanted me to create a liner that women back in the days had. It had to be soft, smudged and very Indian with the flick on the side. We talk before and so I bring the necessary equipment that I need.
Fave campaign: Endless Summer, till I fell in love with this look. Now I am in love with this. I know it is a little different for the Indian bride, but I would love to see Indian brides with this kind of a look. Let's see how they take it.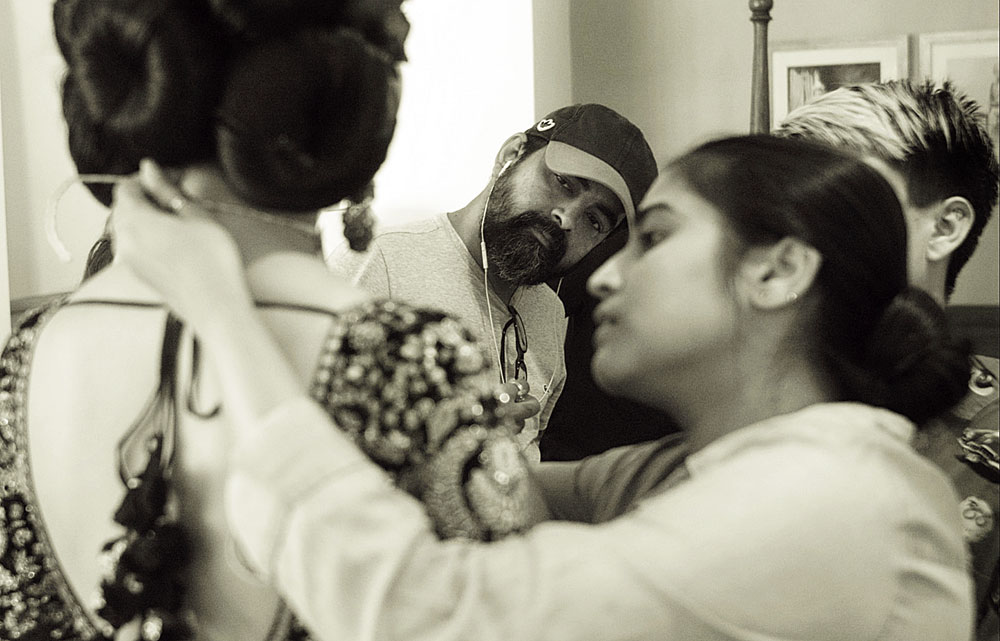 Sabyasachi Mukherjee directing the shoot Picture courtesy: Sabyasachi Mukherjee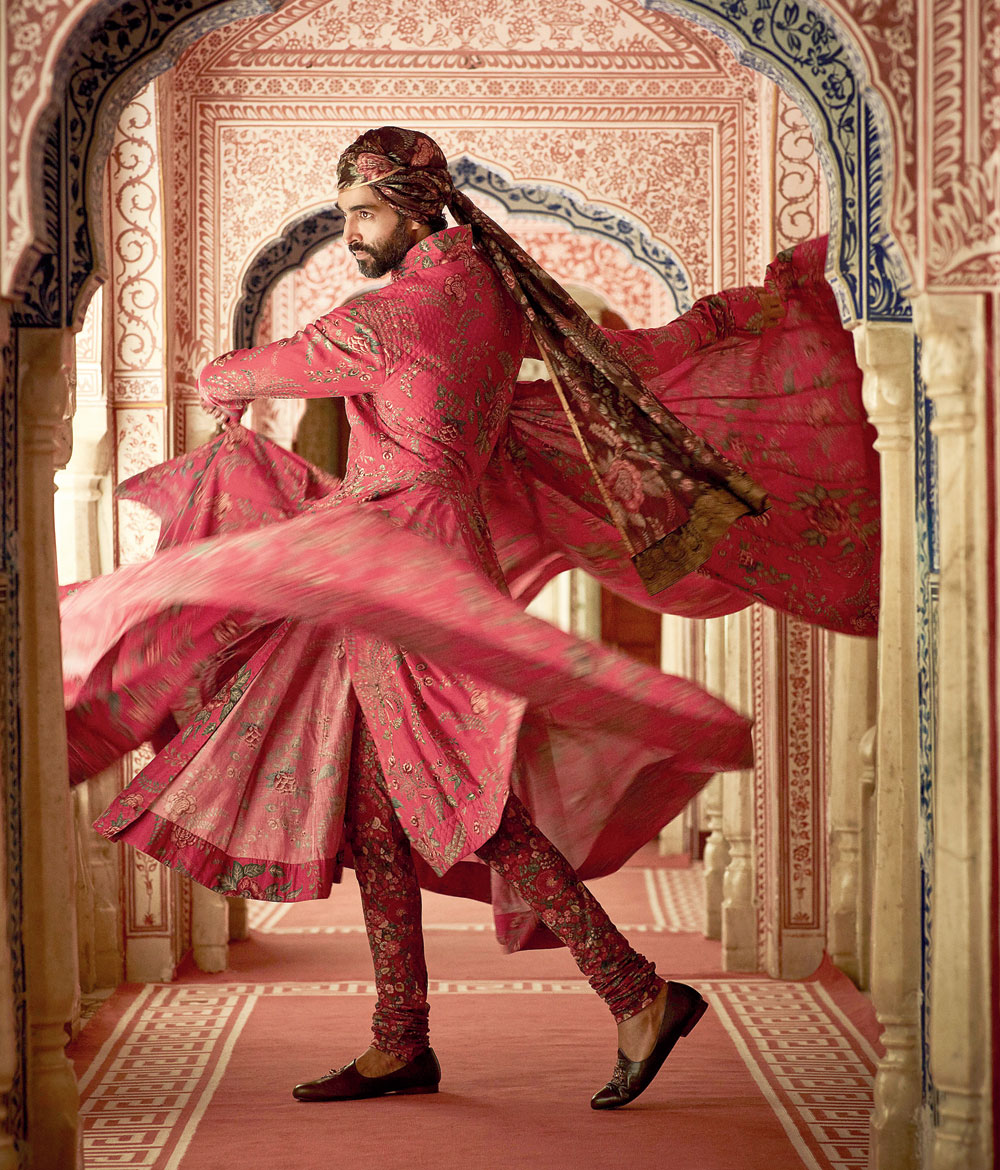 A model poses in a Sabyasachi Mukherjee creation Picture courtesy: Sabyasachi Mukherjee
Archana, model

Sabya is someone who I have always had a dream to work with and when he chose me to model for his campaign at the Falaknuma Palace in 2013 or '14 it was a dream come true. My first show with him was at India Couture Week in Delhi… it was a set that he had designed which looked just like we were walking on his terrace. I think it was in 2012. I remember I wore a beautiful lehnga and a nath and complete jewellery and I looked like a Sabyasachi bride. He is a designer I don't have words to describe. What he creates is magical, it leaves me speechless… from the colour combinations to the work, every small detail... I think he is already a legend. Every time he comes out with something unique. Every show that we do for him, it's different yet he manages to keep the identity of the Sabyasachi brand. Right from the cut to the fall, the comfort of the person who wears his garment… Sabyasachi is the most comfortable ever… the armhole, the bust area, in every little detail he keeps the comfort level in mind.
I have always been into fitness, so that's a daily routine, but when I shoot I avoid working out because I don't want to tire myself out, we need to do very long hours. I kind of eat how much ever I can; I am a complete foodie. Sabya's really taught me a lot… like my acting skills to showcase his vision; the way he says what you have to do, he enacts it, so it's a motivation. You see that the designer is so dedicated, you want to give your best too. A model poses in a Sabyasachi Mukherjee creation during the shoot Picture courtesy: Sabyasachi Mukherjee
The music playing on my shoot is…
A little cue to clam the models down. Most of the models are not actors, so you need to give them that. I think most of the models like to work with us because we have become like a family, we work with the same models over and over again. I always set up a music and mood for them because it gentles down their expressions, they start thinking, they start reacting. I tell my models during my shoot not to be models but to be characters… to stop the pouts, stop those shoulder movements… I think a little bit of ambient sound helps them get into the mood. Secondly, since we make Instagram videos, too, though in the videos I put different music, but during the shoot I put on similar kind of music so that their movements go in sync with that.
Kesribai Pannalal is…
A very craft-based collection. Like department stores have killed kirana shops, I think designers have also replaced darzis. Much before designers, there used to be these small craftsman stores where people would go and get their clothes made. I remember, in Burrabazar, Calcutta there used to be a zariwala called Jamiatram Zariwala, there used to be somebody called Pyare Miah… somebody used to be a weaver of saris, somebody used to make zardozi lehngas… this collection is a homage to all of them.
So I told my team this time, let's almost do a classic reproduction collection than a designer collection. So we researched a lot of old archives from all over India and we reproduced a lot of them to perfection. This is a very purist collection.
Every time people ask me what's new, I have one answer — old is new. Because I bring back old things from my archives — travel magazine, books that I have collected…. The problem I have with fashion now is that there is too much of design; sometimes design for the sake of design can be a deterrent to the purpose of clothing, which is comfort, beauty and functionality. When I see a lot of clothing today, I feel a big problem is that they are making us alien to our own bodies. There is so much of conceptual clothing going on that I don't even know if people look good in those clothes. It's like food presentation… like what is the point of having food with great presentation when the food does not taste good to you?
Coming back to the collection, I wanted to do a lot of colour. What I did was, I bought about 40-50 old shawls from an antique vendor and used those elements… I am obsessed with minakari right now, so this entire collection is based on Kashmir and Persia. When I look at this collection, I think this is for me… the kind of woman I like. It's a nod to these old companies which used to make textiles and zaris, embroideries, much before the designers came. So that's why I made a fictitious name that sounded like one of those old companies.
I'll tell you the backstory. I went to Ajmer… I went to a kiran shop… kiran is these tinsel kind of things that are attached to the edge of dupattas. Those used to be made of metal, now it's made of polyester. So I wanted to buy metal kirans and I went to an old shop and I found five packets of metal kiran and I was very excited and I wanted to buy more. So the man said 'Aur toh hai nahi… woh karkhana toh kab bandh ho gaya hai'. I saw the demand in it and I said 'Toh aap ek karkhana banaiye, main kharidunga aap se'. So the guy said, 'Yeh karkhana abhi ban hi nahi sakta, namumkin hai.' I asked why, so he said 'Bahut paisa lagega'. So I asked him how much he'll need to make the karkahana, he thought a lot and said, 'Agar pura karkhana banana hai, toh pura chaalis hazar rupaiya lagega sir'. So I sat there and felt so ashamed… each of my sari embroideries cost me Rs 80,000-Rs 90,000…. So I told him, 'Main aap ko paisa de raha hoon, aap karkhana banaiye'.
So somebody asked me what does your brand stand for, I have only one answer, my brand stands for craftsmanship. Whether it's a girl making these tassels, or someone printing fabric, or someone dyeing fabric, someone weaving or doing embroidery, or someone even doing packaging in a printed fabric, everything to me is about craftsmanship. My brand does a lot of things, but one thing that is common through the brand, including the jewellery, is that it is all about craftsmanship.
Unlike many Rajasthani palaces, Samode does not overwhelm with its opulence; its grandeur is kind of understated. As I stand in the courtyard around mid-morning, trying to figure out in which part of the hotel the shoot was happening, I can hear strains of Pyar kiya toh darna kya floating in the monsoon air. Following the direction of the music, I climb a flight of winding stairs, to be transported back in time.
Spread out in front of me is Sultan Mahal — a room hand-painted in shades of blue with every inch of the walls and flooring covered in intricate artwork. Lying on the floor in the middle are two ladies, decked up in bridal finery, with roses in their hair buns. They are surrounded by Sabyasachi's shoot crew — photographer Tarun Vishwa and his team, make-up artist Marianna Mukuchyan and her team, and several assistants looking after various aspects of the shoot.
And of course, the designer himself, who is showing the women how exactly to lie on the floor for that perfect shot.
The mood is sensual and flirty, the pace languid, the models — Priyadarshini, Eugenia, and Archana — looking like princesses ready to conquer the world. While Priyadarshini and Eugenia are stretched out on the floor, Archana is seated on a couch behind them, hooking her blouse casually, of course as part of the picture. They are joined by the boys — Anuj and Arya — in subdued bandhgalas with printed turbans, kind of offsetting the larger-than-life glamour of the girls.
The hair and make-up is…
About me going back to my past. The first film that inspired me to do Indian clothing was Mira Nair's Kamasutra. I went to see the movie with my friends for all the wrong reasons, but I came back with all the right reasons.
I was so spellbound with that film… my passion for Indian clothes started from there. At the same time I saw Ritu Kumar's Tree of Life show at The Ashok Hotel in Delhi… it was spectacular. My life was never the same again.
So Kamasutra had these big hairdos, very theatrical… so this look is a homage to Kamasutra and Frida Kahlo; it's a mix of the two.
I'm also a little tired of easy… beauty has also become easy. Everything is about quick quick. Just wear a cream and dab a red lipstick and go. After sometime when quick also becomes a formula, there's no charm left to quick. Earlier people started doing quick because it was an antithesis to made-up… but now nobody does made-up anymore, everything is quick.
I can't take skinny models anymore, so I am casting girls who are full-bodied. In this shoot, the look is about flirting with sensuality. People think of me as a very staid designer because I did high-neck and full-sleeved blouses; now I am going all out… because I can't do the middle.
So this shoot, I wanted to do a celebration of women, and men, too, for that matter. My brand is now a confident brand and confidence should be celebrated everywhere… whether it is a woman with no hair, whether it is somebody who is large, whether it is somebody who to others would be insignificant. For me, body confidence, culture confidence, craft confidence are very important. And we are going to underline that in everything that we do.
And the brand has always been very inclusive. My brand has done the highest number of gay and lesbian weddings in America. What has happened with age is that my tolerance level has gone down but my inclusiveness has gone up.
Tarun Vishwa, photographer:

Shooting Sabya's campaigns since: I have been shooting his campaigns for the last one-and-a-half years... this is my fourth or fifth shoot of his.
The brief: It's a very easy brief. There's a lot of freedom too… it's just about the space and location he has in mind, he will give a very vague description of what he wants. He just describes that this is the space we can play around with, then the rest is up to me, how I translate that. Sometimes it is also about experimenting and seeing what looks best. So we do the test shots and if he likes it, we start building up from that.
He doesn't work with a set moodboard or reference pictures and that's also how I like to work actually. Because when you show a reference board to anyone, you start taking the reference sometimes literally also. You end up replicating things. But with him there's no reference, you see the real person with the clothes and the make-up and then it's best to judge where this person can be shot and in what light, what ambience. And then you create the mood. Then it's more genuine and authentic.
Sometimes it's good to know what he has in his head, because he is a person of very strong aesthetics. He understands the fabrics and the fall, so it's good to know that the model has to stand in that particular manner.
Working with Sabya: He has respect for everyone… from what he wants the model to do, what he wants me to do… it's not interfering. But in the case of a lot of other people, they take their products too literally, in terms of colours, detail, in the whole process they forget that what we are trying to create are visuals. He believes in great visuals rather than saying, 'Oh my embroidery is not showing'. For a photographer, it's important to come close to the designer's vision… what he wants. Sabya is very communicative, so I know what is needed.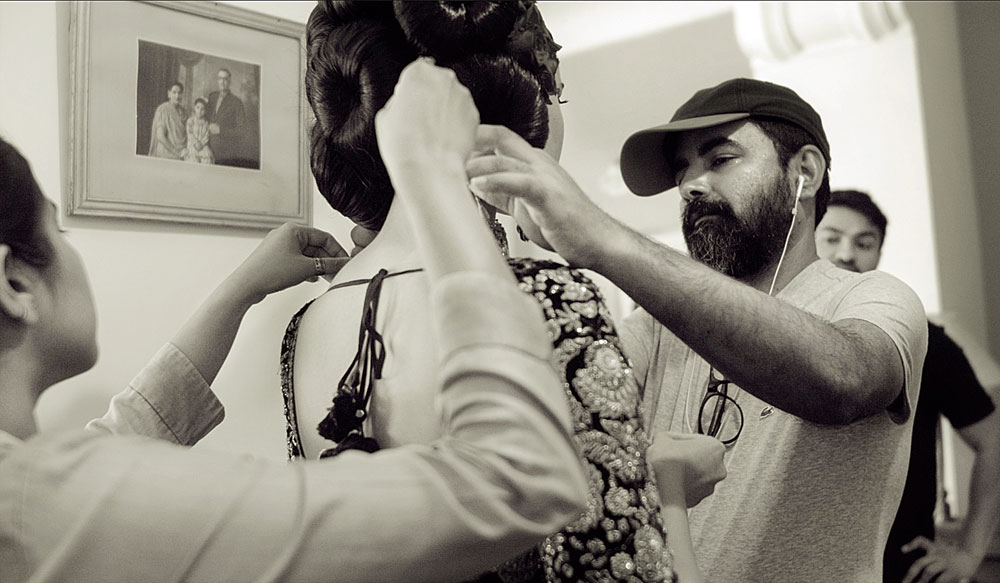 Sabyasachi directing a model during the shoot Picture courtesy: Sabyasachi Mukherjee
Priyadarshini, model:

This is my second campaign with Sabya. I think all models in India aspire for it… like it's a landmark in your career to do a Sabyasachi shoot. So I am absolutely honoured to be part of a Sabya shoot. What sets him apart is his dedication and the hard work that he puts in. Being where he is today… he's the biggest designer the country has, but even then we can all see his involvement in every single shot and every single video. It's amazing! You have to understand what he is looking for, what kind of a feel he wants for a particular mood, a shot. He has a great understanding of all that and he can make us understand as well. So it comes out great as a teamwork. Of course we know what we have to do, but when he directs us it gets easier. He's so detailed. Right now I was doing a shot and he told me just give a look thinking 'don't mess with me'. Diet-wise, when we are shooting you just have to keep the carbs and sugar away, but when you are working with Sabya, you are always well-fed and hydrated. He will take care of that.