Decoding: Floral persona
'Comfort and routine are the killing factors for creativity' —Tomas De Bruyne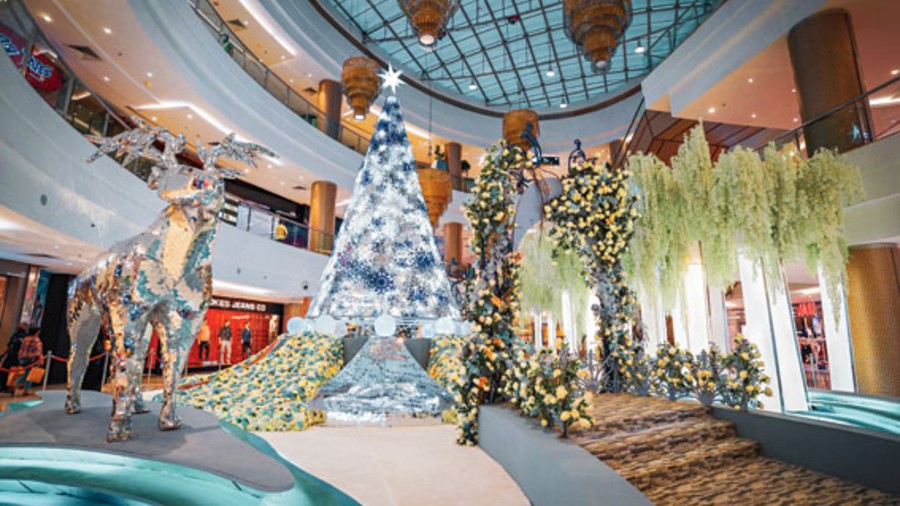 ---
---
One of the most celebrated "floral event designers", specialising "in architectural and conceptual floral space design", Tomas De Bruyne (inset) has put up an installation at Phoenix Marketcity, Kurla (picture above). He decoded Winter Mystique: Market City Kurla Mumbai winter installation 2020, and told us why flowers too have personalities.
First things first, tell us about the Phoenix Marketcity installation...
The essence of the installation was that the formation of each unique snowflake was meant to be a beautiful metaphor of the human spirit. Each individual snowflake follows slightly different paths from the sky to the ground and thus encounters slightly different atmospheric conditions along the way. This journey transforms them in a fantastic one-of-a-kind alignment of water molecules to reach a final stage resembling everything from prisms and needles to the familiar lacy pattern.
You have shown your work at Quest, Calcutta too. What are your memories of our city?
I often get that question about a city, a country or a community. And I always answer with the same reply: it's all about the people. Places are created by the people living in it, as they give you the experience of that location. They give the place a soul, a certain energy to interact with. My first big Indian wedding was for the Goenka family in Calcutta. I was hired for my services and did the floral part of the event. Besides the many personalising human connections, it was an unforgettable professional experience which had eventually a big impact on my life. As you can imagine, that is the reason you can find Calcutta in my heart.
What are your favourite Indian flowers?
The marigold flower. They are common but at the same time so unique in many ways. Even when working in Mexico I love to use them. Besides their strong visual colour impact, they are perfect to work with because of their longevity. Did you know that you even can get them in white? They are easy for care and handling. Tons of them are available in the market to be implemented in a floral installation. Their character is special as having a tough image but at the same time elegant and fragile looking because of their curved sensual petals. Did you know, there are the favourites for butterflies as they are proven nectar sources for them? I discovered my love for this flower as I had to use them for a wedding in Jaipur. The client requested me to focus on two elements: local and sustainability. For this, I had created a flower-carpet with them; each of them pierced on a wooden skewer; and they were in a good condition for three full days. Just amazing!
You have on your illustrious CV some famous Indian weddings, like Isha Ambani's. Can you look back at the experience?
I was honoured to be invited by the family for my services on a couple of occasions, including this particular wedding, a huge undertaking greatly managed by Vandana Mohan. My project consisted of lifting up the decorative quality and uniqueness of the event by adding spectacular floral elements. The extent of the event was dazzling. The massive 'Rolling Hills' floral installation is still a personal favourite among my works. I absolutely loved the experience! It was as incredible as India is.
Tell us about your experience with the Olympics...
I was invited to give a presentation and lecture about the art of flowers.... After this presentation somebody from an Olympic creative committee approached me if I was open to do some consulting work regarding the bouquets to give to the Olympic winners. I was requested as well to analyse and judge some bouquets fitting the celebration protocol of the winners. During this process I had to keep an eye on — besides the aesthetics — functionality, availability, processing, etc of flowers, and how efficient the bouquet could be made as you can imagine thousands of these has to be produced.
What would you consider your career milestones as event designer?
I had many of them, some of them are: Early 1990s, making the switch from an IT person to the flower world, as I wanted to support the business of my wife who had a flower shop. When I started working as a freelancer in the early '90s to learn and adapt the metier, I worked with colleagues, mentors, peers and one of them pointed out to me that I should look to the flower before inserting it as the added value lies in how you do it.
Publishing my first book (1999). As I did not find a same-minded publisher, I had to do it did myself.
Realising education was a quicker way to grow professionally. When the Indian market of events opened its doors to me (2015).... I was so lucky to meet the right people introducing me to this market and having the opportunity to collaborate and bloom.
Do you have a penchant for the circular form? Can you tell us about it?
Well, I could add this penchant as well as one of my career milestones. My fascination for circles began with an experiment asking myself how does beauty communicate, because it's all about communication in this world. To understand how beauty works, I challenged myself to come up with a project calling 'Eternal Circles in Contemplation'. I played with the idea of circles as they are the most intriguing shapes to me, reflecting a universal symbol with extensive meaning. They represent the notions of totality, wholeness, original perfection, the self, the infinite, eternity and timelessness. So, I created 30+ floral circles with diameters of 1,5 to 2 metre and got them photographed. After publishing a calendar, I made a collection of five cards each in four different boxes matching four different people's perception to life. The boxes were sold out instantly, but it was not my intention to make it a commercial success, it was all about the journey of getting an insight within a conscious mindset about what and how beauty can serve the community and how I could anticipate on this.
After so many years, do you react to a flower differently now?
If that would not be the case, I would not have grown in what I do. Creators evolve, challenge themselves for new ways of expressing their ideas. Their medium is the vehicle making all this possible. It is absolute crucial to approach my medium from time to time with a different eye and from different angles in order to grow and challenge myself keeping my passion flow. Comfort and routine are the killing factors for creativity. Knowing your medium is so important as each medium has such a potential to be handled in a different way. Flowers became my best friends, whispering their added value and claiming their spot in the process to shine at the final outcome. My secret is never to deliver an idea or design that doesn't excite me personally.
Tell us what flowers grow in your garden and house.
The ones I have are some David Austin Roses, giving me the joy of seeing the blooming and nurture process. But you can find plenty of different grasses in my garden. Going from different colours, shapes and lengths. Each variety fitting the atmosphere I want to create on certain spots in the garden. And yes, I admit, keeping in mind the practical reasons and not willing to make lot of hours for gardening.
The lockdown has made homes very important. Can you give us some quick tips on how to dress them up with flowers?
Sure. Well, let's first ask ourselves why put flowers in the house. You'll find out that it's all about the impact that flowers give you. The singleness of a 'special' flower can have a much deeper impact than for example a dozen roses. Flowers are the connectors to bring us back to nature, to give us that authentic joy and happiness. The joy of consciously putting a bouquet or even a single flower, touching your emotional values, is priceless as it will bloom and shine with love given and taken by the attention of the viewer. Pick yourself a corner, table, location in the room (which could have a special meaning to you) and 'plant' a bouquet or a flower which you have created a bond with and you'll feel never alone in the room.
Favourite flower: The flower named after me... Gloriosa Rothshildiana 'Tomas De Bruyne'.
A flower you love for the fragrance: Cosmos flower, as it has the fragrance of pure chocolate. We call it as well the Chocolate cosmos (official Latin name: Cosmos atrosanguineus).
A flower which makes a statement: We have many of them but have to say one of my favourites is the flower named after me (that's one of the major reasons I agreed), as for me this flower has a character making a statement. She is a diva amongst the flowers, showing elegance yet strong, sensual and unique in how she looks and even acts in the way she opens her petals when blooming. This flower adds vibrant tension and excitement to the design and create a wow-factor either with other flowers or on its own for even greater impact. Unique, unparalleled, inspirational are words that describe this glorious Gloriosa.