Cute couple Kiyan Nassiri and Mihira Singh shot exclusive athleisure looks
Kiyan plays for ATK Mohun Bagan and hit the headlines in January this year when he scored a hat-trick on his Derby debut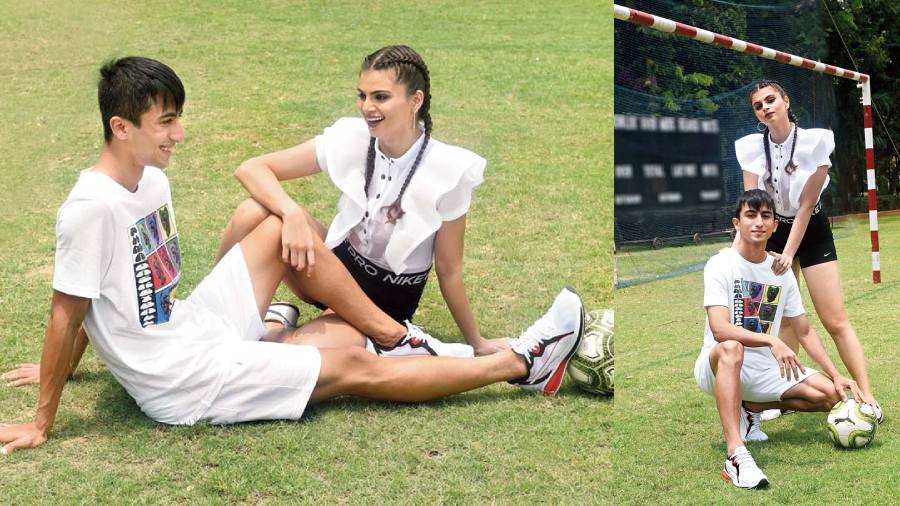 ---
Published 19.05.22, 02:11 AM
|
---
She's his 'Mi' and he's her 'Ki'. Mihira Singh and Kiyan Nassiri. The adorable young millennial couple battled the torturous May heat to shoot two cool athleisure looks for The Telegraph, at CC&FC. Kiyan plays for ATK Mohun Bagan and hit the headlines in January this year when he scored a hat-trick on his Derby debut, in Fatorda, Goa, winning his team the game vs SC East Bengal, 3-1. The 21-year-old is East Bengal's former Iranian striker Jamshid Nassiri's son. Bondel Road girl Mihira, 21, is a passionate baker and runs Mishti by Mihira, a "lockdown venture" and has recently signed with a modelling agency in Bombay.
Mihira and Kiyan, how much fun was shooting this with each other?
We were so excited to shoot this because it was our first time together on a shoot set and we love doing the "first things" together. It was also really special to us because we were allowed to conceptualise it in a way that really spoke to us individually, in sporty but fashionable clothes, with our dearest friend Dani (Danielle Jones) for make-up and at a place so close to the both of us, CC&FC.
Mihira, did Kiyan need some convincing?
When The Telegraph reached out to me, he was in Goa in the bio-bubble for the ISL and we hadn't seen each other for four months, so he was ready to do anything once he got out of there!
Kiyan, are you into fashion? What are you most comfortable in? 
I definitely do have my own style. I do have a lot of fun putting together my outfits now, especially with Puma. I am obviously most comfortable in a football kit.
Mihira, do you personally love athleisure? Tell us about putting the looks together...
I do some sporting activity almost every day of the week. So athleisure for me is like a transition between my daily routine of sport and something I love the most, fashion. For me athleisure is simply multi-functional. My everyday outfits are mostly inspired by the streetwear style of celebrities through my Pinterest boards, as was this shoot. Kiyan, what did you think of the looks you sported for this shoot?
You can never go wrong with all black. It's my personal favourite. I loved that they were outfits I'd actually wear. The shoot allowed me to put on display my individuality and that is something I really liked.
Mihira, do you often pick things for Kiyan to wear?
Not much since he's mostly in his training or gym clothes but when he's out of town and I need to send more stuff, I take full liberty to choose and also when I want him to match with me then yes, I pick!
Kiyan, what do you think of Mihira's sense of fashion?
I take full credit for her change of sense of fashion. Her Disney-inspired outfits turned to more streetwear style and we actually have fun shopping together so yeah, I like her style now!
Congratulations for the five-year anniversary, guys! How has it been?
Thank you! It has been magical, to put it very very simply. We cannot describe it as anything better than that. And we are so grateful to everyone, our family and friends who have been with us on this crazy journey because they truly know how it has been and have always stood by us.
Where and how did you two meet?
Our parents have always been friends from CC&FC and Parsee Club. So we always had common events to attend, tournaments to play or watch, gatherings to go to, friends. We've always somehow been around each other.
Mihira, how did you celebrate Kiyan's hat-trick?
I cried. I had goosebumps for probably a full day after. I cried some more. I also threw like three different things at the TV! But more than all of that, I went to the gurdwara the next day to just offer my thanks, because all his hard work and all the sacrifices he has made felt worth it, in just those few but larger-than-life moments.
What do you guys bond over?
Coffee. Pizza. Our love for sports and animals. We also love travelling together. We both love being around our own and each other's families. Having a great time with both our families together is very important to us.
Mihira, how much football do you watch?
I watched all of the ISL this past season. So it's more like how many of Kiyan's matches do I watch…. ALL, EVERY MINUTE, but for other leagues and matches, it's basically Ki watching and me scrolling Instagram or shopping apps with the match just in the background!
Kiyan, you are a public figure now. How have you handled fame and ensured that your personal life remains as unchanged as possible?
I don't see any changes. I'm still the same boy who grew up playing football on the Maidan and with my friends at CC&FC. My personal life has always been private and I'll always try my best to keep it that way.
Both of you are very young, but are there relationship goals?
We'll always be here for one another. Together, until the sun is high and the water runs dry.
Pictures: Pabitra Das
Clothes: Puma and Miakee
Hair and make-up: Danielle Jones
Location courtesy: CC&FC