Crossing boundaries
Read more below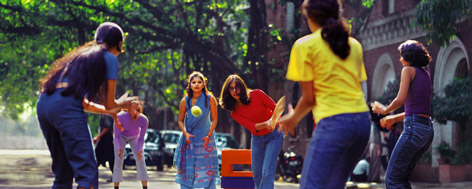 ---
---
Remember when you were a little girl and you pointed your brother's toy pistol at an appalled gathering, shouting, "Bang, you're dead! Kerplatz!"? Kindly but firm hands removed the weapon and led you away, murmuring, "No, darling, no. Girls don't kill."
Mandira Bedi had a similar experience when she was a child, even though she wasn't exactly shooting from the hip. All she had wanted to do was wield a bat. And while that was not wrested from her unladylike fingers, the message was clear: girls don't play cricket. "As the only girl trying to play cricket with the boys, which included my elder brother, I was always confined to the boundary line. I was given a fielding position where not too many shots were played either. So, I would just hang around waiting for my chance to bat or bowl. The boys were very wicked. When I came to bat, they would bring on the best bowlers and get me out of the way within minutes. So, the few balls I would get to play were my only moments of glory!" says Bedi, who has metamorphosed into a sports commentator, TV icon and an actor.
But when Sony Max channel redefined cricket broadcasting in India by positioning a woman among the elite list of cricket panellists, what they had in mind was not an experiment in social engineering, but a sound marketing decision. "Cricket has always been seen as a man's game," says Rajat Jain, executive vice-president and business head of Sony Max. "Till 2002, when we pitched for the telecast rights to the ICC Champions Trophy, 65 per cent of the audiences were men. Sports channels like ESPN and Star Sports broadcast cricket and the whole thing had a male skew."
The channel argued and convinced the ICC that by giving the telecast rights to a general entertainment channel, it would expand the popularity of the game. "Till then, in single TV homes, men wielded the remote when cricket was on, while women, though passionate about the game, were forced viewers. We decided to convert more women viewers with our packaging with Mandira at the helm. The rest, as they say, is history. The strategy dramatically changed the way cricket was watched in this country," says Jain.
It also changed the viewpoint of advertisers. As Jain reasons, "Women are the target audience for the majority of the products on general entertainment channels like ours. They take the decisions to purchase a product. They are at the centre of the universe of advertising. So, when we telecast cricket, advertisers like Hindustan Lever, which never advertised its products on a sports channel, advertised for the first time. It was a paradigm shift in everything — popularising the game, getting more advertising, getting in more viewers and so on."
OFF THE BAT: Mandira Bedi in the ad
The Extraaa Innings programmes that Bedi anchored during Cricket World Cup 2003 had 22.3 million female viewers tuning in the first week — the biggest ever recorded for cricket. "The natural corollary was to extend this connect that Mandira enjoyed. So, we tried the Mandira Aapke Ghar promotion in which she travelled to the homes of our viewers. We thought we had converted passive female viewers into active viewers. So, why can't we make women viewers play the game themselves?"
And so on to the latest cricket promo (airing since June 1) showing Mandira Bedi urging women to step out of their homes and enjoy a game of cricket. Not just any cricket, but "gully" cricket, the kind played in the shrinking lanes and crowded parking lots of our cities and small towns.
The scene is an enclosed space inside a typical Mumbai housing society. Bedi, snappily turned out in sports attire ('nuff with the spaghetti) and expertly balancing a bat, speaks with feeling of the exclusion of girls from what should be everybody's game. Sepia images (indicating the past) show a little girl standing forlornly on the sidelines as she waits to be invited to play and is eventually relegated (by the boys) to fielding in a position isolated from the rest of the group. In the foreground, a tough, confident Bedi continues to rail against the injustice. "Let's show them we're not inferior to anybody," she says to the approving cheers of the (so far invisible) women she's presumably addressing.
"Yes, the promo is inspired by my personal experiences in a way," says Bedi. "And yes, there is a strong social conditioning which works as a barrier for young girls from taking to cricket. But, during the Mandira Aapke Ghar promotion, I could see that things are changing for the better." She will be back wielding the microphone for the ICC Champions Trophy scheduled in England in September 2004. In retrospective, it must be said Bedi walks all the recent talk about women's cricket. In January, she signed up as a brand ambassador for Asmi Diamonds and generated sponsorships for India's women's cricket team. The timely sponsorship saved the team's West Indies tour from being cancelled for the lack of a sponsor. "I have also got Citibank to support the team till the 2005 Women's Cricket World Cup in South Africa," she says with a note of pride.
But advertising and sponsorships aside, will the scheme work? Will women come out of their homes and offices in hordes to take up righteous positions in the gallis and eventually on the playing fields of India? Filmmaker Shujaat Saudagar, who directed the promo, takes it a step further. "It's not just about cricket," he says. We want the promo to make men think about it and wonder, when they're telling their son to play like Sachin Tendulkar, are they also telling their daughter to be a Mithali Raj or a Mamata Mamen? The fact is, most cricket fans don't even know the names of current women cricketers. And yet they're doing a fantastic job, despite the lack of finances and training facilities."
And what do the women cricketers themselves say? Diana Eduljee, former captain of the Indian women's cricket team and the most experienced of Indian bowlers with 46 wickets to her name at an average of 16.84 runs per wicket, had an experience that was no better than Mandira Bedi's.
"When I joined the women's team," recalls the woman whose early games were squeezed into the backlanes of Mumbai, "we had people saying disapprovingly that women didn't know how to play and that it was a man's game. Even some famous cricketers were not keen to see women playing."
Psychiatrists offer an explanation for phenomena that threatens to bend the gender. "Cricket is typically thought of as a male domain, a game which, like football, involves power play," says psycho-analyst Dr Nilanjana Sanyal. "So even before they understand much of the game, let alone play it, an instinctive thought-policing takes place. In our socio-cultural set-up, the role of a female is passive and shy. So if she defies convention, those around her — including her peers — find it hard to accept the deviation."
Twenty-five-year-old Rituparna Roy, a current Bengal player, faced the first bouncer from her father. "I was selected to play for the under-19 Bengal sub-junior tournament in Guwahati but my father simply didn't let me go. My family is conservative: a girl playing cricket wasn't looked upon as the done thing. Fortunately, with her mother's support and Roy's own persistence, her father has now accepted her for what she is — a cricketer as much as a professional working with the Sharad Group of Companies.
Not that all women have stuck by their game. Jobs, marriage or simply feminine vanity have taken their toll on the enthusiasm of many a woman cricketer who began life battling it out with the boys in street cricket. "I used to be very tomboyish when I played cricket as a youngster," says 31-year-old Calcutta bank executive Chandrima Ghatak. "People used to mistake me for a boy — so much so that I was once asked to give up my ladies' seat in a bus. But as I grew up, my identity as a woman became as important. Playing outside in the lanes in the heat and dust darkens the complexion and reduces a woman's worth in the marriage market."
Does that remind anyone of the ad for a fairness cream that has also to do with cricket? How advertising rules women's lives! How central to their existence is television! Perhaps Sony's new venture will do what it has set out to do — get ladies to join the 'gentleman's game'.
Or not. Who cares? What matters is that they be given the choice.