Costume legend Ruth E. Carter on her new film Coming 2 America
'I wanted to bring a new Africa to the screen', the 60-year old became only the second costume designer, after Edith Head, to be honoured with a star on the Hollywood Walk of Fame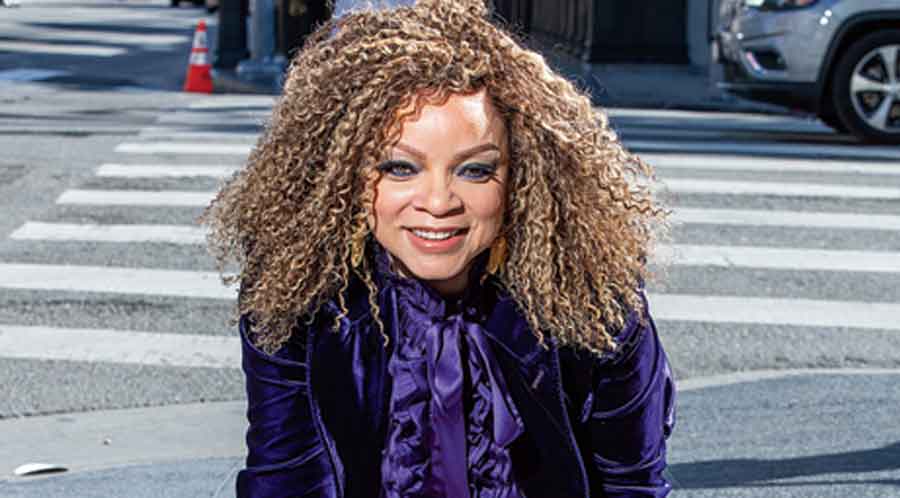 Ruth E. Carter with her star on the Hollywood Walk of Fame
---
Published 05.03.21, 11:15 PM
|
---
Coming 2 America, the sequel to Eddie Murphy's much-loved 1988 film Coming To America, premiered on Amazon Prime Video on March 5. In the sequel, Murphy reprises his role of Akeem Joffer, the king of the fictional African country of Zamunda, with many of the actors from the first film returning. Murphy also plays three other roles in this comedy.
The eyeball-grabbing costumes in Coming 2 America — from tribal streetwear and beaded bathing suits to a wedding gown made of Ankara fabric whose long train had to be supported by two dollies — have been designed by Ruth E. Carter, one of Hollywood's biggest names in the field of costume design.
The 60-year-old costume designer — who tapped 39 designers from across the world, including India's JJ Valaya, to create the film's look — won an Oscar for her costumes in Black Panther, becoming the first African-American woman to win an Academy Award in that category. Last week, Carter became only the second costume designer, after Edith Head, to be honoured with a star on the Hollywood Walk of Fame.
Over a Zoom call, The Telegraph chatted with Carter on the lookbook for Coming 2 America, her endeavour to represent "modern Africa" on screen and what having a star on the Hollywood Walk of Fame means
to her.
 
I absolutely enjoyed Coming 2 America and I thought the costumes were gorgeous. You had said in a recent interview that you need stories to move you, which Coming 2 America did. Can you please elaborate?
It would be the idea of the power of women. Like KiKi Layne's character (Princess Meeka) who believed that she could rule Zamunda. I think that really came through in the film with her acting and her strong presence. I wanted to honour her story and it was wonderful to think that this girl could take on the whole country and rule it.
The sequel arrives 30 years after the first film, Coming To America. Did not working on the costumes of the first film feel like a disadvantage or did you look at it as an opportunity to reinvent and look at the franchise with a fresh pair of eyes?
I did look at it as an opportunity. The first film was more New York City and less Zamunda. This film was actually America in Zamunda. I got to dress up the royals, I got to see a little bit more of their lifestyle, we got to show more majesty, more pageantry.... It's more of a continuation from the first film.
It is 30 years later, there is no denying it, but we have so many of the actors from the first one even in the second film. They are older now and they are parents. Shari (Headley, who plays Queen Lisa) , who was the girl from Queens in the first film, is now the queen of Zamunda. So that posed many opportunities for me.
We actually pulled out some of the dresses in storage from the first film. We put them in the background in the king's court. I was able to bring it forward, modernise it and incorporate it into what I felt Zamunda would be like. How different was it to recreate the looks in Zamunda in comparison to those in Wakanda in Black Panther?
Both have very different aesthetics. When I was working on Black Panther, a lot of people would ask me, 'Is it going to be like Coming To America?' And I would shout out, 'This is not Coming To America!' (Laughs) On Black Panther, we were using tribal art, we were using tribal influences, we were creating military costumes... we were doing the Black Panther and he is totally different from anything in Coming To America. Coming To America is a comedy, it's lighter in tone, it's a different aesthetic.
And then after doing Black Panther, I got on to Coming 2 America and then everyone started asking me if it's going to be anything like Black Panther! (Laughs) On Coming 2 America, I was able to use a lot more Ankara fabrics and I actually incorporated designs from the Indian designer JJ Valaya. In the first film, there was a sari worn by the queen and I thought, 'This is great! I will be able to collaborate with this great fashion designer'.
Our understanding of African culture and history has grown since the first film. How much did that knowledge influence and inform your costume palette for Coming 2 America?
In this film, I wanted to show modern Africa. I think people now realise that Africa is not just one monolithic place. The big cities are as contemporary as any other place in the world. I was well aware of a lot of fashion designers from Africa that were doing beautiful work, like MaXhosa and Palesa Mokubung, whose work is very modern and contemporary and I wanted to showcase that, and bring some of that aesthetic to life. These designers, along with Mimi Plange, are working out of Seventh Avenue (in New York). I thought it was important to bring out the idea of what Africa is as a continent and as a progressive place. I wanted to bring a new Africa to the screen. You have won so many honours, including an Oscar. What does having your star on the Hollywood Walk of Fame mean to you?
Wow, to be cemented in Hollywood, to see how that star is made... they actually jack-hammer and pull up the concrete and pour cement with your name in gold.... For many years, I walked up and down that boulevard carrying bags and going in and out of stores. I have attended celebrations on Hollywood Boulevard and marvelled at the names as you walk down the block. Names of people who have long gone, people who are still here... their names are etched forever in the Hollywood frame of stardom. And for me to be joining them is surreal. I just felt so honoured to be voted in in that way.
I hope it inspires young people who also come to Hollywood like I did 35 years ago and had a dream. It meant the world to me to join the ranks of the other people who are there on the boulevard.
Did you always want to make a career in the business of movie costumes?
Like all young girls, I wanted to do all different kinds of things. But I was always drawing and sewing as a child. I had a sewing machine in my room and I was always creating something. I had two brothers who were artists, so they would loan me chalks and pencils and I would copy their stuff.
I feel the stars aligned for me when I went to college. I changed my major to Theatre Arts because I thought I wanted to be an actress. I didn't get an audition, I didn't get a part in a play.... When I auditioned and didn't make it, the instructor asked me, 'Hey do you want to do the costumes?' And that was my a-ha moment. I looked up what a costume designer does and I saw sketches and I already knew that was something I had already groomed myself to do. It just stuck from that point on.